The Coin 4 Job website appears to provide a nice & easy way to earn money online as you're told that all you need to do is sign up, share your link & that you'll begin getting paid $5 for every person that clicks on it.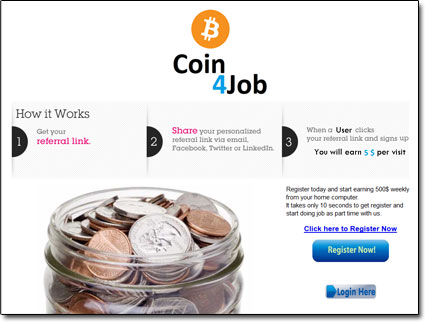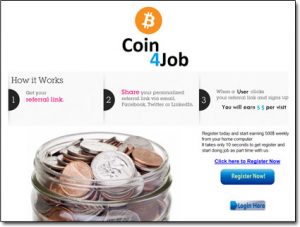 You're led to believe that you'll be able to earn as much as $540 per week from the comfort of your home & that you can get started instantly for free…
But what's the deal here – is it actually legit or is Coin 4 Job a scam?
Thankfully you've landed in the right place to find out because I've taken a closer look into this program & in this review, I'm going to be uncovering how it all really works, including whether or not you can make any money with it.
What Is Coin 4 Job?   |   How Does Coin 4 Job Work?   |   Change Your Passwords   |   Is Coin 4 Job a Scam?   |   A Better Alternative
What Is Coin 4 Job?
At first, you might be thinking that the Coin 4 Job website has something to do with Bitcoin & to be honest since the website incorporates the Bitcoin logo into its own logo I wouldn't blame you, but strangely it actually has nothing to do with Bitcoin.
I've no idea why they've used the Bitcoin logo on their site but hey-ho I've seen crazier things before online.
Anyway, the Coin 4 Job website basically poses as a legitimate get-paid-to website & it claims that it will pay you in return for you sharing their links & getting people to click on them. You're led to believe that you'll earn a whopping $5 per click, which as you can imagine could quickly add up to a substantial amount…
But hold your horses before you go ahead & sign up because I can tell you right from the off that Coin 4 Job is not legit.
You see whilst there are such things as legitimate get-paid-to websites which pay you in return for doing tasks, typically these only pay very small amounts. The reason for that is simply because the tasks are so simple – there is no need to pay a large amount because there are plenty of other people who will do the same task for less money…
So basically when you come across a website offering a fairly large sum of money for completing such an easy task you should always be suspicious.
But yeah, the reason I was able to spot that Coin 4 Job was a scam was that I've seen this exact program before launched under several different names. It's previously been called all sorts of different things like My PC Job & Task Stipend just to name a couple.
Ultimately though despite the different names & slightly different appearance the scam works in exactly the same way & I'll explain how below…
How Does Coin 4 Job Work?
Basically, Coin 4 Job is a scam that has been designed to part you with your personal (and sensitive) details so that the creators can attempt to rob your online accounts – but on top of that, it's also been designed to trick you into suckering other people into the scam without you knowing.
See legitimate get-paid-to sites works with advertisers, so you sign up, they provide you with a bunch of offers from the advertisers then when you complete them they get paid, they keep a percentage of money for themselves & pass the rest down to you.
Now with Coin 4 Job there are no advertisers & there is no money getting paid in or out…
Like I said they just want your details – and the details of as many other people as possible. They simply lure you in with the promise of paying you a whole lot of money for completing a simple task.
So you'll be told that you can sign up, share your link & start earning. This is true, but the link that you're asked to share the link actually leads other people straight to the Coin 4 Job website…
You've got to question why they're paying you money to get other people to come to the Coin 4 Job website? And since the program is allegedly free (and doesn't have any advertisers) where is this money coming from?
The truth is there is no money. They set a stupidly high withdrawal limit of $300 and once you reach it & attempt to make a withdrawal you'll find that Coin 4 Job doesn't actually pay… All of these get-paid-to scams work the same way.
The problem by this point though is that you've already handed over your details & you've already done the dirty work of recruiting other people into the scam so that they can steal their details too.
So I want to stress that if you've signed up to Coin 4 Job you've got to…
You Might Also Like:
Change Your Passwords
As I say, the people behind the Coin 4 Jobs scam just want your details – then if they get them they will just try to log into every account they can find that's associated with your details, using the password that you provided them.
Many people use the same password for every website they login too so they are simply hoping that you use the same password elsewhere that you used to sign up with the Coin 4 Jobs program.
So if you use the same (or a similar) password anywhere elsewhere that you used to sign up to Coin 4 Jobs then I'd urge you to change it ASAP before the people behind this program try to hijack your accounts.
It also comes without saying that you should definitely NOT share the link to this program because ultimately they're just using you to bring more people in so that they can get their details too.
Is Coin 4 Job a Scam?
Yes, Coin 4 Job is definitely a scam & a dangerous one too. As I say this particular scam is not just trying to rob you of a one-time payment or something like that, it's actually trying to get hold of your details to get as much from you as possible.
The other really bad thing about it is that it uses dodgy tactics to try & get you to do the dirty work of suckering other people into the scam, without you actually knowing what you're doing. This program could therefore essentially trick you into getting people you care about involved in the scam too.
So it comes without saying there is no way I am going to be recommending the Coin 4 Job program – instead I'll be doing the opposite and advising that you avoid it. If you do really want to make money online then I suggest you check out a legitimate program like Commission Academy instead where you'll get free training to learn how to do it properly.
Make sure you change your passwords if you did register to the Coin 4 Job site & use the same passwords elsewhere – but hopefully you came to this review before signing up though. Anyway, that's all I've got to say about it but if you happen to have any further questions or comments don't hesitate to leave them below.
A Better Alternative
The sad truth is that unfortunately most of the programs promising to help you make money online are scams. I can say that confidently after exposing over 500+ of them here on this blog.
But the good news is that even though most of them are indeed scams, there are actually some very good programs in amongst them - some programs that can truly help you to earn money.
And out of all of the legit programs I've seen, the one I would recommend the most to anybody looking to get started online is Commission Academy. In my own opinion, that's the best place to start.
At Commission Academy, you'll be provided with everything you need (including the training & tools) to begin earning real money by promoting products or services for companies like Amazon online.
The best part is that there's literally no limit on the amount you can earn with it & the process is pretty simple which means that it's absolutely perfect for people that don't have much experience.
Some wealthy affiliates even earn as much as 5-figures per month... Or more!

I mean don't get me wrong, that kind of money won't just fall into your lap without doing any work... But the harder you're willing to work at it, the more you stand to earn with it.
So if you're looking to get started but don't know which route you should go down or which program you should join (and don't want to waste money on bogus things that don't actually work), then I'd highly recommend checking out Commission Academy first. You can learn more about it here.