Recently I came across a website named My PC Job which promises that you can earn upwards of $4,500 per month from home simply by completing short tasks online which are said to only take a couple of seconds.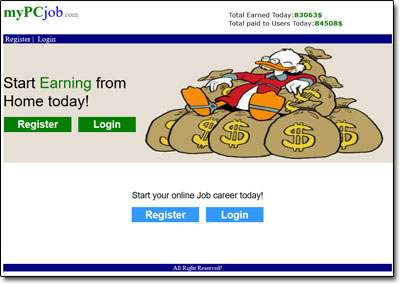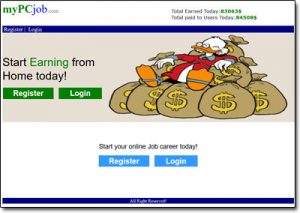 Each "few seconds" task apparently pays $10 which sounds like an awful lot of money for such easy work, so what's the real story here – is this site actually legit or is My PC Job a scam?
Thankfully you've landed in the right place to find out because I've taken a closer look into it at all & in this review, I'm going to be uncovering everything you need to know about it, including how it really works & whether or not you can actually make money with it.
What Is My PC Job?   |   How Does My PC Job Work?   |   Is My PC Job a Scam?   |   A Better Alternative
What Is My PC Job?
My PC Job is a website that poses as being a legitimate Get-Paid-To site. These types of sites provide you with short, easy tasks & then they pay you in return for completing them…
However typically the payouts are very little from these GPT sites – usually, you will be lucky to earn at least $1 per task, often it's even less than that. My PC Job on the other hand claims to pay you a whopping $10 per task which is a little peculiar.
The reason I say it's peculiar is because honestly there's just no reason why these sites would ever have to pay more money than they already do for the simple fact that there's so many people out there willing to do the tasks for much less money.
For example, let's say My PC Job do actually pay $10 per task… I can guarantee you there's somebody out there right now who would do the same task for $5… And I guarantee there's also somebody out there that would do the same task for as little as $1.
Since the tasks are so easy literally anybody can do them – only if there were genuine skills being required would it make sense for the payout to increase, but nope – My PC Job claims that anybody can just sign up & earn…
So it's all a little strange… But after taking a closer look it soon became clear what was really going on here…
How Does My PC Job Work?
You're led to believe that you can simply sign up, start working on the tasks & begin earning money – they even promise a $25 bonus just for creating your account. It initially all sounds fair and well…
However after joining (which I don't recommend you do) and getting inside you'll find out that there's only really 1 task, and that task is to share your link & get people to click on it. This link is supposedly an "advertisers" link but in reality all it does is send people to the My PC Job website.
You're led to believe that you'll be paid $10 for each person you get to click on this link and that once you've earned $300 you'll be able to withdraw – but I can tell you that this whole thing is actually a scam.
And it's a very dangerous scam at that.
That's because this is website is actually just a re-hashed version of a program I recently exposed named Task Stipend. These sites are out to steal your details & then they're trying to get you to bring other people in so that they can steal theirs too…
Basically here's what happens…
The whole My PC Job is a fake, just like the other similar sites that have come before it. They make it sound like you can earn money quickly & easily, which obviously is something everybody would like to do…
However they are not really going to be paying anybody – they are just lying to people to encourage them to sign up. Then, once you sign up (which again I don't recommend you do) they'll attempt to login to any accounts associated with the username/email address you entered.
They're basically hoping that the password you used on their site is the same password that you use on other sites – so if you did already happen to sign up to My PC Job & you use the same password elsewhere I'd highly recommend you change it ASAP.
But the scam doesn't end there – instead they're cunningly trying to take advantage of the unsuspecting person to then get them to bring other people into the scam so that they can steal their details too.
They promise that you will get $10 for each person that clicks through your unique link & arrives at their site – it sounds like a good deal but once you reach the minimum withdrawal limit of $300 you'll find out that your withdrawal request will simply go ignored.
That's the reason why the limit is so high in the first place. Usually GPT sites have withdrawal limits of around $10, often even less – but since the My PC Job website is a scam they've set it really high so that you'll have to refer a whole bunch of people before you're able to find out it's fake.
You Might Also Like:
Is My PC Job a Scam?
I can say with 100% certainty that the My PC Job is a scam, yes. I've seen this exact scam several times before under various different names such as Duty Money & Dollar Tell to name a couple.
I know exactly how it works & the reason they keep changing their name is to try & escape the negative reviews that arise when people find out that the websites aren't actually paying their members.
Overall this is a pretty dangerous scam since it involves the creators actually trying to break into your online accounts. If they're successful at doing so they'll try & take as much as they can from you so once again if you did sign up to the My PC Job site before reading this review I'd highly recommend you change your passwords if you use the same one elsewhere.
So as you can probably guess I won't be recommend this website to you because it does not provide a legitimate way to make money. If you do want to check out a list of legitimate Get-Paid-To sites that actually pay then you can check out the list I've put together here.
Anyway, hopefully this review provided you with the insight you were looking for into this program & more importantly I hope it helped you avoid getting scammed by this program. If you do happen to have any further questions or comments feel free to leave them below.
A Better Alternative
The sad truth is that unfortunately most of the programs promising to help you make money online are scams. I can say that confidently after exposing over 500+ of them here on this blog.
But the good news is that even though most of them are indeed scams, there are actually some very good programs in amongst them - some programs that can truly help you to earn money.
And out of all of the legit programs I've seen, the one I would recommend the most to anybody looking to get started online is Commission Academy. In my own opinion, that's the best place to start.
At Commission Academy, you'll be provided with everything you need (including the training & tools) to begin earning real money by promoting products or services for companies like Amazon online.
The best part is that there's literally no limit on the amount you can earn with it & the process is pretty simple which means that it's absolutely perfect for people that don't have much experience.
Some wealthy affiliates even earn as much as 5-figures per month... Or more!


I mean don't get me wrong, that kind of money won't just fall into your lap without doing any work... But the harder you're willing to work at it, the more you stand to earn with it.
So if you're looking to get started but don't know which route you should go down or which program you should join (and don't want to waste money on bogus things that don't actually work), then I'd highly recommend checking out Commission Academy first. You can learn more about it here.