At a glance landing on the Comercex website might almost seem like a dream come true as they promise to offer a guaranteed ROI of 15% per week which is allegedly paid out to you every day in daily payments…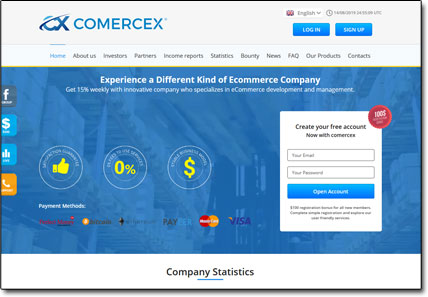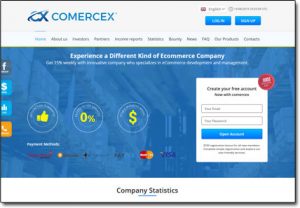 But if you happen to know anything at all about investing you'll likely know that 15% is a crazy high ROI, and you'll also likely know that for a company to promise to "guaranteed" ROI of 15% is even crazier…
So what's the truth about Comercex? Is it really a legit website & do they actually pay out the ROI as promised? Or is Comercex a scam that'll just ultimately see you losing money rather than actually making it?
Well it's a good job you decided to come to do your due diligence and come to this Comercex review prior to signing up because I can tell you that Comercex is NOT as it seems & the risk FAR outweighs the reward in my opinion as you'll soon see when I explain how it works…
What Is Comercex?   |   How Does Comercex Work?   |   The Red Flags   |   Is Comercex a Scam?   |   A Better Alternative
What Is Comercex?
Like I said at the beginning of this review at a glance Comercex almost seems like a dream come true because they promise to provide a whopping guaranteed return on investment (ROI) of 15% per week which is paid out in daily payments.
On top of that they also claim that all new members are provided with a $100 bonus just for signing up…

But how could that be true?
After all a "moderately" risky investment can typically only yield a return of 5% per year & that's not even guaranteed, so how on earth can Comercex promise a guaranteed ROI of 15% per week? What's going on?
Well Comercex claim that they're able to do it because they allegedly own & run various businesses in the affiliate marketing, dropshipping, shopping & crypto industries… And they claim that they share the profits with their members.


However that in itself is a HUGE red-flag, because every business has its ups & downs so to "guarantee" a yield of 15% per week to investors would be a massive risk to the businesses in the event of any slow periods.
But the reality is those businesses are not where the money is coming from.
In fact those businesses aren't even real… They're just fabricated to hide the real con at hand.
You see the truth is that Comercex is actually just a Ponzi scheme, which means that money from new investors is just being used to pay off old investors… And not only is that illegal but it's also extremely risky.
The people at the top of the scheme who got in first (like the creator & his associates) may stand to make a profit from it, but for anyone else joining the chances of losing money are far higher than they are of making it since they are solely relying on new investors coming in after them.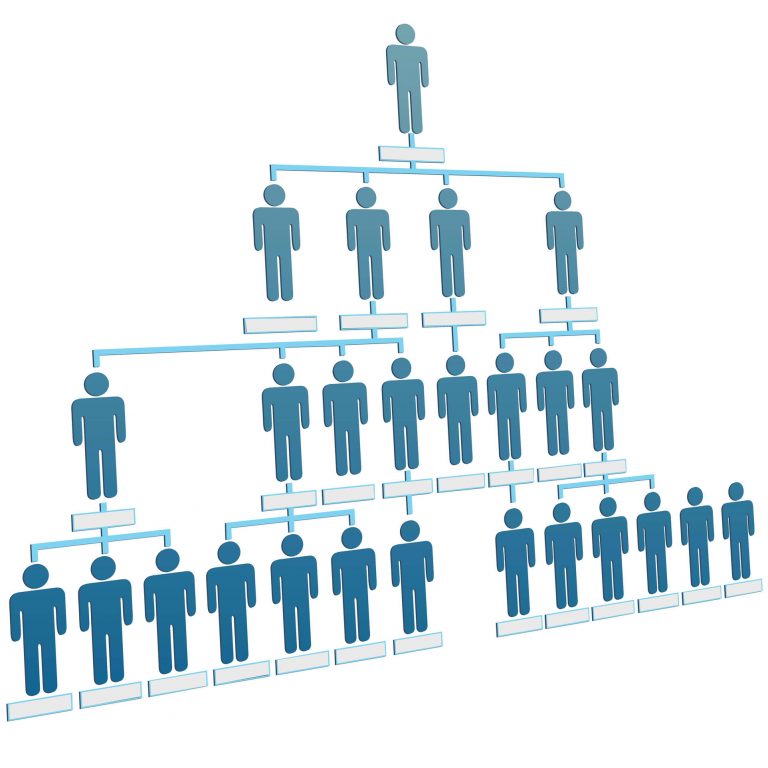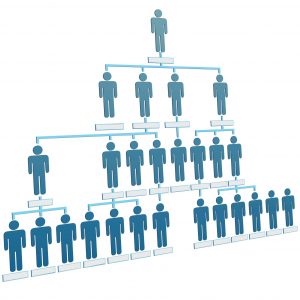 So if you invest & nobody happens to join after you do then you won't make so much as a single penny back.
But you'll soon see all that for yourself below as I explain in greater detail how exactly it all works…
How Does Comercex Work?
The way the con artists behind Comercex want you to believe it works is that you invest, then you get paid a share of the profits from the so-called businesses they run in various different online industries.
However like I mentioned in the previous section of this review the truth is that there are no businesses.
Instead when you pay money in to invest (which I don't recommend doing), that money is just getting split up and going to the investors that bought in before you.
Then in order to make money back you have to hope & prey that new investors come in after you as its their investments that are technically paying out your ROI.
The problem though is that if you invest & then sign-ups slow afterwards you might be left at a loss instead of a profit & this is the typical thing that happens with most Ponzi schemes hence why they're illegal to join or run.
And given that Comercex pays out 15% ROI per week this means that it will take you over 6 and a half weeks before you even manage to get your money back let alone see a profit… And that's a long time in which sign-ups could slow down (and see you losing money).
Therefore in my opinion the risk is NOT worth the reward.
If it really worked & if it was really so easy to make money with these things then everybody would be doing it – nobody would be left working a job… But the reality is that it's not & most people just get burned, hence why they're illegal.
You Might Also Like:
The Red-Flags That Prove It's Not Legit
I'll admit that the people behind Comercex have really gone out of their way to try and make it look legit & if you're new to the world of investing or making money online then it could certainly be quite easy to be fooled.
However as an online marketing expert & as somebody who's earned a full-time income online for several years I can tell you that there are some major flags…
The first one is the obvious one being that it simply sounds WAY too good to be true – and as the saying goes "if something sounds too good to be true, then it probably is". In this instance it definitely is.
The second one though is something a little harder to notice. It's the fact that despite being registered in the UK, they fail to show any license details whatsoever on their website which is a requirement by the FCA (the UK governing body of financial investment sites).
I searched the FCA register and it appears that they don't have a license at all, and you should NEVER invest via a site that's not licensed regardless as to "how great" the opportunity is supposed to be.
That then made me sceptical about the company actually operating in the UK as they claimed so I decided to look up their address which is listed as "2nd Floor College House, 17 King Edwards Road, Ruislip, London, United Kingdom".
According to a Google search it turns out the address is just that of a virtual office (as shown below) so realistically they could be based anywhere in the world.

In an attempt to find out where the company was really located I decided to look up some of the "staff" that are listed on the Comercex website & this is where I discovered that it is 100% a phony.
I decided to look up a lady that you're told is named Judy Sievers (as shown below) and to look her up I used Google's reverse image search tool which allows you to perform a search using a photo.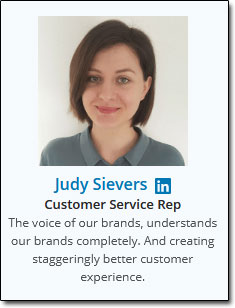 The search brought up a website named Laka & it was there that I discovered that the real name of Judy Sievers (pictured above) is actually Agnieszka Radziszewska (as shown below):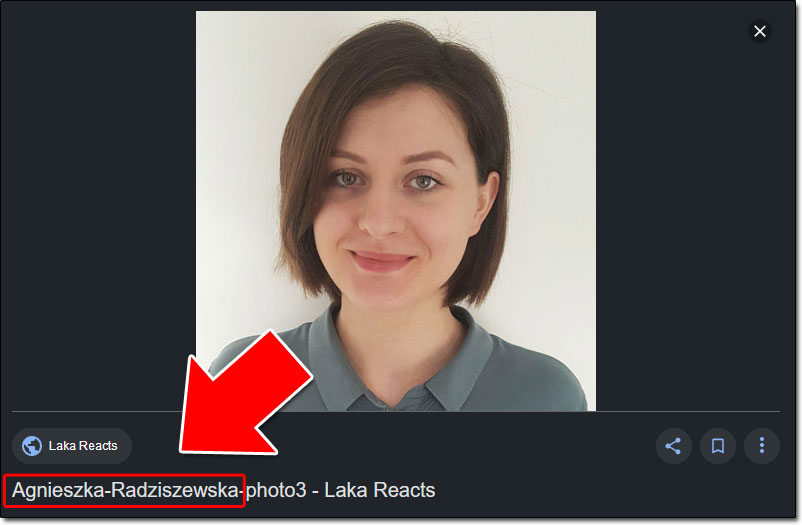 I verified that her name really was Agnieszka Radziszewska by checking various sources including Facebook, which confirmed she did indeed work at Laka & her profile made absolutely no mention about Comercex, in fact she may not even know they're using her photos.
Regardless though it is therefore blatant that Comercex are lying about their "team" and that is absolutely not the tactic of a legitimate investment firm. It is the tactic of a get-rich-quick scam that's out to take your money.
Which brings me onto…
Is Comercex a Scam?
Well it depends how you define scam I guess – I mean yes, there is the "potential" to make money through Comercex however the likelihood is that rather than doing that you will just end up losing it instead as the odds in these types of schemes are seriously stacked against you.
Like I mentioned further up in this review in order to actually make money through Comercex other people would have to keep signing up & investing for over 6 and a half weeks after you do – and that'd only break you even.
If people stopped signing up within that 6 and a half week period, you'd lose money…
So therefore I do not recommend getting involved with Comercex because not only are you likely to lose money, but by participating in a Ponzi scheme (which is what Comercex is) you'd also be breaking the law.
Instead I'd recommend you simply pick a legitimate & proven method from my top picks page here.
Or alternatively you could just check out the method I personally use to make most of my own money online which is something called affiliate marketing. It basically involves you getting paid commissions for connecting people with products/services & there's no limit on the amount you can earn.
Plus you can even get started with affiliate marketing for free over at Commission Academy.
But whatever you decide to do I just sincerely hope that my review of Comercex here has given you a good insight into how it all really works & hopefully it has made you think twice about joining. Feel free to leave any comments or questions below.
A Better Alternative
The sad truth is that unfortunately most of the programs promising to help you make money online are scams. I can say that confidently after exposing over 500+ of them here on this blog.
But the good news is that even though most of them are indeed scams, there are actually some very good programs in amongst them - some programs that can truly help you to earn money.
And out of all of the legit programs I've seen, the one I would recommend the most to anybody looking to get started online is Commission Academy. In my own opinion, that's the best place to start.
At Commission Academy, you'll be provided with everything you need (including the training & tools) to begin earning real money by promoting products or services for companies like Amazon online.
The best part is that there's literally no limit on the amount you can earn with it & the process is pretty simple which means that it's absolutely perfect for people that don't have much experience.
Some wealthy affiliates even earn as much as 5-figures per month... Or more!

I mean don't get me wrong, that kind of money won't just fall into your lap without doing any work... But the harder you're willing to work at it, the more you stand to earn with it.
So if you're looking to get started but don't know which route you should go down or which program you should join (and don't want to waste money on bogus things that don't actually work), then I'd highly recommend checking out Commission Academy first. You can learn more about it here.