Robby Blanchard, the number one ClickBank affiliate in the world, has released his own step-by-step training course named Commission Hero & he claims that it can enable you to make $1,000+ per day.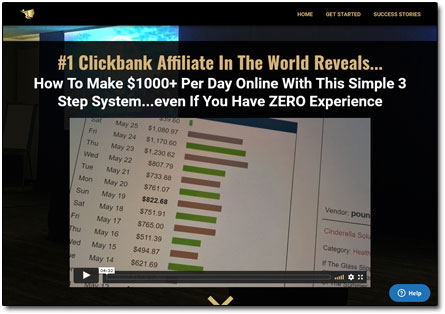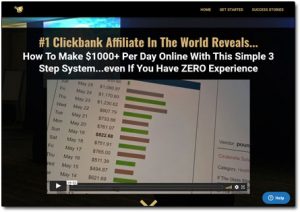 But I think you'll agree when I say that's a pretty darn bold claim…
So what's the deal?
Is it actually legit? And how exactly does the method that he teaches work?
Well, the good news is that you've landed in exactly the right place to find out because I've spent 3 solid days looking into his course & in this super-honest Commission Hero review I'm going to be uncovering everything you need to know.
What Is Commission Hero?   |   Who Is Robby Blanchard?   |   Is He Really The #1 ClickBank Affiliate?   |   How Does Commission Hero Work?   |   What Are The Costs?   |   The Success Guarantee   |   Is Commission Hero Legit?   |   The Bottom Line   |   FAQ
What Is Commission Hero?
In Robby Blanchard's own words, Commission Hero is a 3-step system that will show you how to make $1,000+ per day online even if you have ZERO experience.
But how does that translate into reality?
Well, basically, Commission Hero is a step-by-step training program that outlines the EXACT method that Robby Blanchard claims to have used to generate millions of dollars on ClickBank.
And primarily, it involves 2 things:
So this means that after going through the Commission Hero training course, your job is going to be to promote third-party products as an affiliate by using a method known as paid advertising.
And in case you don't already know, affiliate marketing basically involves you promoting third-party products (such as products from Amazon) and getting paid commissions on any successful sales you generate.
Couple that with paid advertising & your job is to simply advertise at a lower cost than what you earn in commissions.
So, as an example, buy advertising for $1 a click & turn that click into a $2 sale.
That's the theory anyway. It's obviously a little harder in practice, but Robby's Commission Hero training is supposed to be designed to show you EXACTLY how you can do it.
The question is, does it? And are the claims of $1,000+ per day realistic?
I'll go over that in just a moment but first, let's take a closer look at Robby Blanchard himself.
Who Is Robby Blanchard?
Robby Blanchard is, of course, the founder of Commission Hero… But he's also a guy that makes the bold statement of claiming to be "the #1 ClickBank in the world".
So that brings up 2 main questions…
Is he really? And is it actually worthwhile following his advice?
Well, kinda.
I would say that YES, it's definitely worth following his advice because Robby Blanchard is actually just a former personal trainer that went on to make millions as an affiliate in just 4 years.
But I say "kinda" to the #1 ClickBank in the world thing & you'll see why in a second.
First, Robby's backstory…
Robby Blanchard lives in the USA & prior to his affiliate marketing ventures, he was actually a personal trainer & the owner of a fitness gym with no affiliate marketing experience whatsoever.
Funnily enough, he found his way into affiliate marketing after simply using Facebook ads to promote his gym.
You see, Robby initially created a fitness course named 6 Week Shred which he sold through ClickBank (shown below):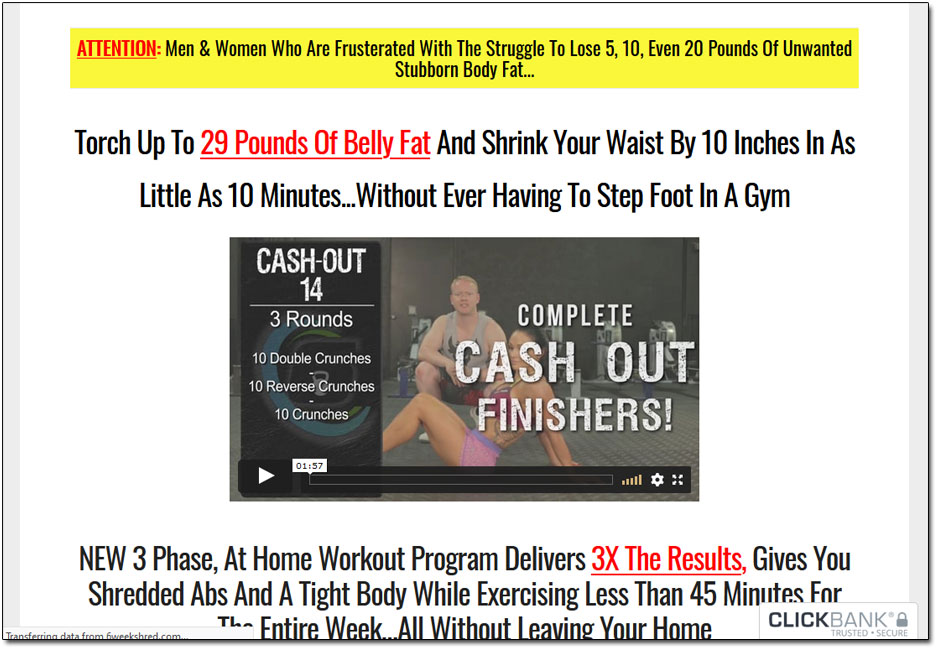 But after seeing the success that the affiliates promoting his course were having, he decided to make the move into affiliate marketing & promote other people's products as an affiliate.
And primarily he focused on promoting the lotions, potions, pills & creams type of stuff.
He realized that this was the type of stuff that people desperately wanted & were willing to pay good money for so he took to Facebook to promote them through the Facebook ads platform.
And quite clearly, he made a huge success of it because in just 4 short years he made literally millions of dollars. In fact, there were even some DAYS when Robby found himself earning over $50,000+.
Yep, $50,000 per day (as shown below):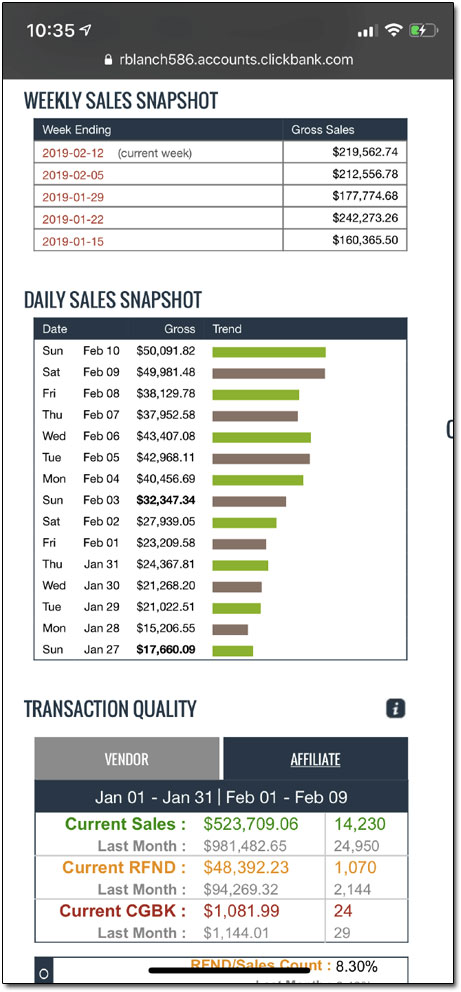 Pretty crazy stuff.
So he then decided to make the move back into product-creation to show others how he was doing it & that's how the Commission Hero program was born… According to Robby, anyway.
Now, back onto the #1 affiliate thing…
Is He Really The World's #1 ClickBank Affiliate?
Yes & no.
I don't want to take anything away from Robby because he's clearly a VERY successful affiliate but I just want to make things a bit more transparent with regards to his claim on this.
You see, when he says he's "the #1 ClickBank affiliate in the world", what he's actually referring to is the fact that he won a contest ran by ClickBank in 2019 to see who could generate the most commissions.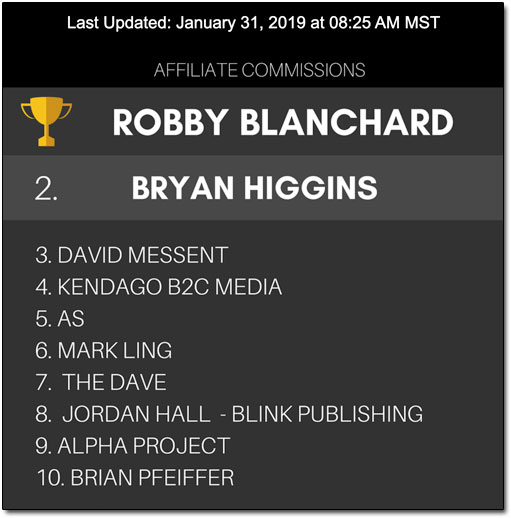 Over a month-long period, he generated the most commissions & that's how his title was born.
But that doesn't necessarily mean that he still is the world's #1 ClickBank affiliate. Heck, it doesn't even necessarily mean that he turned a profit during that month-long contest period.
It just means that he won that month-long contest.
Still, you'd have to be darn good at affiliate marketing to win it & if there is one thing that's certainly very transparent it's that Robby Blanchard is clearly a very good affiliate marketer.
So world's #1 ClickBank affiliate or not, he definitely knows his stuff.
How Does Commission Hero Work?
So as I mentioned a little further up in this review, the Commission Hero program primarily focuses on teaching you how to promote products as an affiliate by using paid advertising.
More specifically, it teaches you how to promote products from the ClickBank network by using Facebook Ads.
And I'll admit, it's a pretty solid method.
As Robby Blanchard and many of his students have already proven, there is a LOT of money to be made from this method. But do be aware that when it comes to paid advertising it can also be pretty easy to lose money, too.
So if you're on a tight budget, it may not be the program for you.
However, if you do have a budget to spare then it could be a very good option for you to pursue because the benefit of paid advertising is that it can enable you to get things rolling pretty quickly.
Robby firstly begins the course by introducing you to affiliate marketing & explaining exactly how it all works. Then, he walks you through the ClickBank network & shows you how to find good products to promote.
And finally, he shows you how to set up a Facebook Ads account & create a campaign so that you can begin sending targeted traffic through to the offers and (hopefully) start earning commissions.
Plus, on top of that, he also goes into detail on how you can monitor the conversions of the campaign & tweak it so that you can ultimately make sure you're spending less than you're earning.
In my opinion, it's a very good course for paid traffic & the training is all really high-quality. Robby also explains everything in a really easy-to-understand fashion as well, making the course more than suitable for beginners.
You Might Also Like:
What Are The Costs?
At a one-time payment of $997 or two payments of $597, it's safe to say that Commission Hero doesn't come cheap but in my opinion, I would say that the price is more than justified by the value.
There are many "gurus" that would probably charge that amount for a mere hour of their coaching, so considering Robby's success & proven track record, I would say the price is pretty fair.
But remember, his method is based around paid advertising so it's important to factor in that you will also need some additional spare funds to invest in advertising. Robby recommends $10 to $20 per day.
The good news, however, is that once you get your campaign up & running (and tweaked), you should be able to turn that $10 to $20 into profits which will ultimately enable you to recoup your initial outlay.
And there are some third-party tools/services recommended as you progress through the training as well such as ClickFunnels, ClickMagick, AWeber & Fiverr. AWeber is free, but the other 3 will mean additional costs.
So all in all, I would say that if you're looking to pursue Robby's program & actually see a profit, you should set aside an initial outlay of at least $2,000. That will include your training, tools & advertising.
But I think you'll probably agree that in the grand scheme of things $2,000 is exactly a great outlay if it results in launching a profitable business. Especially not if it results in one that generates $1,000+ per day.
And thankfully, Robby even provides a success guarantee.
The Commission Hero Success Guarantee
The good news is that Robby Blanchard is so confident in his method & teaching, he offers a success guarantee. This basically means that if you don't find yourself making money, he'll refund your purchase.
No questions asked.
There is only one clause, which is that you must put what he teaches into action for a full 365 days. If you do that & you don't see any success, you can simply reach out & get your $$ back.
Pretty good deal, in my opinion.
But of course, hopefully, you won't need that. Instead, after 365 days of putting the course into action, I'd like to think that you'd find yourself featured as another "$1,000+ per day superstar" on Robby's sale page.
You Might Also Like:
Is Commission Hero Legit?
Yes, absolutely. Commission Hero is 100% legit.
I mean, I'll admit that I did have my doubts about the program when I saw the bold claims of "$1,000 per day" but after reviewing the course I can say confidently that Robby Blanchard is the real deal.
He's made a LOT of money & put simply his training works.
Will you find yourself actually making $1,000+ per day after going through the course? Well, the reality is that will depend entirely on whether or not you actually put what Robby teaches into action.
But honestly, I don't see any reason why you couldn't.
What I will point out, however, is that you won't get to that level "fast". Instead, the initial stages will involve you playing with smaller advertising budgets & tweaking your campaign to get it profitable.
Only once you've actually made your campaign profitable will you be able to start scaling up & achieving those bigger numbers that Robby & his students boast about in the promo videos.
But it's definitely possible to achieve, that's for sure.
The Bottom Line
In my opinion, Commission Hero is a great course for those who are looking to get into affiliate marketing, have a relatively large budget that they can afford to spare & would ideally like to get started quickly.
It's also more ideal for folks who don't have a great deal of time to spend on their business (due to other commitments, such as work) & would prefer to use money in place of their time.
But if you don't have a great deal of cash & you have a lot of spare time, then there may be better options for you. An alternative I would recommend in that instance would be Commission Academy.
Through that course, you'll learn about the free methods of generating traffic rather as opposed to paid advertising. The obvious benefit is that it saves you money, but the downside is that it will take more time & require a lot more work.
So, in short, the bottom line is this:
If you have spare funds & not much time (and would like "quick results") – choose Commission Hero.
If you have a lot of time but not much money (and don't mind results taking longer) – choose Commission Academy.
Either way, whatever you decide to do I just hope that you enjoyed reading my Commission Hero review & most importantly I hope that you have found the information here useful.
If you do happen to have any further questions or comments then, of course, don't hesitate to leave them below.
Commission Hero FAQ
To help you out even further, I decided to look for the most frequently asked questions related to Commission Hero & I've listed my answers to them below:
Is Commission Hero Worth It?
In my opinion, yes. If you want to achieve success with affiliate marketing & you'd prefer to leverage a method than can enable you to get started quickly without taking up a huge amount of your time then Commission Hero is certainly worth it.
What Is The Commission Hero Refund Policy?
You can get a full refund after 365 days. That means you can try the program for an entire year & if you decide you don't like it (or you somehow don't get results), you can get your money back, no questions asked.
Does Commission Hero Have an Affiliate Program?
Sure does. The Commission Hero affiliate program can be found on ClickBank & within the marketplace listing, you'll also find a link to the Commission Hero joint venture page.
Is Commission Hero Real?
Sure is, I saw it with my own eyes. Haha, I don't really understand what people mean when they ask "is it real" but I guess if they mean "does it work" then the answer is yes, it does.
What Is The Commission Hero Phone Number?
Commission Hero doesn't provide a phone number to contact them but that's not unusual. Their billing is handled by a third-party (ClickBank) so it would be ClickBank that you'd need to call in the event of any issues.
Got More Questions?
Feel free to leave them in the comments section below & I'll answer them as soon as I can.