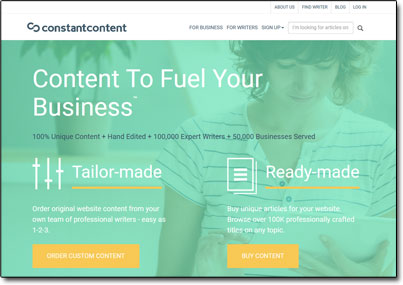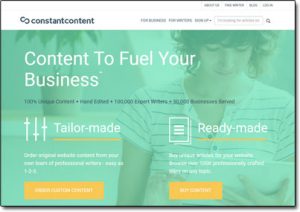 Content writing – apparently a potentially promising stream of income – is easier said than done. On paper, you have your own schedule, you are free to undertake or skip projects, and you get paid for what you love doing. But in reality, things are much different…
Constant Content is yet another content writing platform for a freelancer looking to earn something extra on a regular basis. But does this platform has to offer something new that meets your expectations? You'll find out in this Constant Content review.
Constant Content promises the provision of writing gigs/jobs on a regular basis and as there are clients who want to outsource content writers and they don't find anything reliable than a freelancing service.
On the other hand, Constant Content invites experts to undertake these projects, complete them and get paid. But is it really so simple or is there something you need to worry about? This Constant Content scam review will expose everything in detail.
What Is Constant Content?   |   How Does Constant Content Work?   |   How Do You Get Paid?   |   How Much Can You Earn?   |   Is Constant Content a Scam?   |   A Better Alternative
What Is Constant Content?
Constant Content provides writing services to various companies looking for unique content to upload on their websites and blogs. The platform gets paid but at the same time, it needs reliable content writers to get the job done. This is why Constant Content invites content writers to register and start writing on a regular basis.
Overall, Constant Content is a good platform for content writers looking to earn more than what they are earning from other freelance marketplaces. The thing I like the most about this platform is that the registration process is simple. You sign up as a writer, fill a simple form, pass a quiz, and upload a writing sample, that's all!
Many similar websites only accept academic writers, which a tough ask because you have to deal with different writing formats, referencing styles, and complex statistics.
Constant Content is a better option as you can join as a blogger, web-page writer, and more. These things are simpler than writing a research paper, which obviously takes a lot of time and effort and sucks your mind as well.
Blogging and web-page writing is quicker and entertaining though the price per word is lower than that of academic writings.
Anyway, let's move further to see if Constant Content worth your time…
How Does Constant Content Work?
As mentioned earlier, you are free to undertake different writing projects including:
White papers
eBooks
Articles
Blogs
Product descriptions
There is no limit in terms of the industry type, service/product, or topics. You aim is to improve your profile and ratings. You promote yourself via creating an impressive profile, i.e. a professional display picture, your introduction, qualification, experience, and achievements, etc.
Don't forget that clients are always interested in having a look at your recent writing samples. It gives them an idea of your tone and expression.
Yes, you are free to opt for a job whenever you like but once you commit, you have to meet the deadline otherwise it will hurt your reputation on this platform.
How Do You Get Paid with Constant Content?
There are 2 main different ways that you can earn via Content Content which are as follows;
First of all you need to complete the job at hand and upload the final draft to your Catalogue. This is a simple and promising way of earning via Constant Content.
Basically, your Catalogue features pieces of content and any potential client can visit your catalogue to have a look. If he/she likes any of the content you have uploaded, he/she will buy it and you'll get paid. The best way to sell your content to include promising Keywords for better optimization. This is what most of the clients are looking for.
This is a more conventional method, the client will reach you to submit his/her requirements. You will commit if you like and compose a piece as per the client's instructions.
The client decides whether to submit the request privately or publicly. In the case of a private submission, the client wants you to do the job but in the case of public submission, the client is looking for interested writers before selecting one of them.
Once you have submitted the required content, the client reviews it. He can deny the submission if he finds mistakes or anything that violates the given instructions.
Normally, the clients tend to take from 3 to 5 days to complete the review process. Realistically speaking, it doesn't take more than 48 hours. Generally, clients are quick to review and approve your content.
How Much Can You Earn with Constant Content?
Well, it really depends on how much you work and how consistent you are. It totally depends on the time you have for content writing. Though the website claims that top-rated writers on the platform are making over $90k/year but I honestly don't agree.
Anything near $50k a year is acceptable because, on an average, you can write 3000 words of quality content per 24 hours…
Which means 15000 words (5-days) a week.
Realistically speaking, the figure is around 700k to 800k words a year.
Even if you are lucky enough to earn $5 per 100 words, the yearly income hits $36k, still not bad by any means.
Is Constant Content a Scam?
We are happy to conclude this Constant Content scam review with a smile because this platform is by no means a scam. It is 100% legitimate, the process is in accordance with the industry standards.
This is one of those rare online money-making opportunities which we can happily recommend to anyone interested in content writing. Nothing is malicious at all, you get paid for your hard word, you are free to write whenever you like, and everything is fairly transparent. This really is a major go!
However what is worth pointing out is that whilst you can indeed make good money writing content for others, in my opinion it is better to leverage your own content to make money from it yourself as this way you can earn more money overall.
You see when you are writing for somebody more often that not they are paying you because they are making money from the content, and they are paying you less than what they are earning as it wouldn't make sense to pay more.
But I know what you're probably thinking – how can you make money from your own content? Well there's actually a place called Commission Academy which shows you exactly how you can do just that, step-by-step.
It teaches you about something called affiliate marketing which is basically where you write content, it gets ranked in search engines (like Google, Bing etc) & then companies pay you to promote their products/services.
I won't go into detail too much about it here but I will tell you that it's the same way I personally make most of my own money online & as I mentioned above if you want to get started with it (or learn more about it) yourself you can do so over at Commission Academy.
Plus there's also these other great ways to earn aside from writing as well.
But whatever you decide to do I just sincerely hope that my review of Constant Content here has given you a good insight into the platform & helped you to decide if it is a good fit for you. Feel free to leave any comments or questions below. 🙂
A Better Alternative
The sad truth is that unfortunately most of the programs promising to help you make money online are scams. I can say that confidently after exposing over 500+ of them here on this blog.
But the good news is that even though most of them are indeed scams, there are actually some very good programs in amongst them - some programs that can truly help you to earn money.
And out of all of the legit programs I've seen, the one I would recommend the most to anybody looking to get started online is Commission Academy. In my own opinion, that's the best place to start.
At Commission Academy, you'll be provided with everything you need (including the training & tools) to begin earning real money by promoting products or services for companies like Amazon online.
The best part is that there's literally no limit on the amount you can earn with it & the process is pretty simple which means that it's absolutely perfect for people that don't have much experience.
Some wealthy affiliates even earn as much as 5-figures per month... Or more!

I mean don't get me wrong, that kind of money won't just fall into your lap without doing any work... But the harder you're willing to work at it, the more you stand to earn with it.
So if you're looking to get started but don't know which route you should go down or which program you should join (and don't want to waste money on bogus things that don't actually work), then I'd highly recommend checking out Commission Academy first. You can learn more about it here.