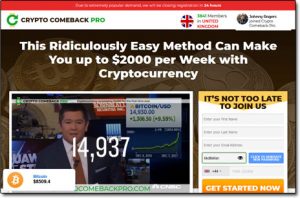 The newly launched Crypto Comeback Pro trading system promises to provide its visitors with access to a "ridiculously easy method that can make you up to $2,000 per week with cryptocurrency" & claims to be completely free.
You're led to believe that you can simply sign up, deposit some money with the broker & then have the Crypto Comeback Pro system trade cryptocurrency automatically on your behalf to generate you a completely passive income.
But I think you'll agree when I say that just sounds WAY too good to be true… So what's the deal? Is this new system actually legit or is Crypto Comeback Pro a scam system that you should just avoid?
Well I'm really glad that you decided to come here to my review before you signing up to it because I've actually seen this exact same system before launched under a different name & I can tell you that it's not what it seems.
I'll explain more on that in just a moment but first before I do I'll point out that if you'd prefer to just head straight to something legitimate which is actually proven to work then you can do so via the link below:
Go here to see my no.1 recommendation for making money online
(This 100% free training shares my exact strategy for making 5-figures per month)
Click Here To See My #1 Recommendation For Making Money
Or simply keep on reading for my full review of Crypto Comeback Pro…
What Exactly Is Crypto Comeback Pro?
Crypto Comeback Pro essentially claims to be an automated trading system or app & it leads you towards believing that it'll trade cryptocurrency profitably on your behalf & make you money without you having to do anything.
You're told that you can just sign up, deposit some money with the broker that's recommended to you & then "activate" the system (or app – whatever you want to call it) in order to begin generating profits.
And the creators of Crypto Comeback Pro (who suspiciously remain anonymous) even claim that you'll be able to earn as much as $2,000 per week with it.

But if that's true then why on earth isn't everybody using it?
Why are people still working at jobs they dislike if they could simply sign up to Crypto Comeback Pro for free & earn a lot more money without actually having to do anything? It doesn't make sense, does it?
Well the answer is because as you likely already suspect the Crypto Comeback Pro system doesn't work as promised. The truth is that it's actually nothing but a get-rich-quick scam & it's one that I've seen several times before.
The people behind it simply keep on changing its name in an attempt to escape the reviews that expose the truth about it (like this one you're reading right now) so that they can continue tricking people into signing up & spending money.
Some of its previous names include Bitcoin Circuit, Green Gold & AI Stock Profits. If you click those links you'll be taken to my reviews of those systems & you'll see that they're almost identical to Crypto Comeback Pro & that they all make similar promises.
But how exactly does the scam work? And what about if you've already signed up? Keep on reading because that's exactly what I'm going to explain below…
How Does Crypto Comeback Pro Work?
So as I touched on in the previous section of this review the "concept" is that you'll simply be able to sign up to Crypto Comeback Pro, deposit with the broker that they recommend to you & then activate the system to have it began making automated yet profitable trades on your behalf.
But in reality it works nothing like that – its not designed to help you make money at all… It's just been designed with the intention of making its creators (and the broker) wealthy at your expense instead.
You see there's one very important thing that the Crypto Comeback Pro system website fails to make clear & that's the fact that the person behind it is actually affiliated with the broker that you're recommended.
This means that if you sign up with the broker they recommend & make a deposit, the person behind Crypto Comeback Pro will get paid a commission.
Now typically there's nothing wrong with this – it's a method called affiliate marketing & earning commissions like this is how many people earn a full-time income online. The problem in this instance though is the trickery involved.
You see the broker that you're recommended to deposit with is what's known as a binary options broker – and they're actually unlicensed which means that they're operating illegally too.
The reason the fact they're a binary options broker is bad news is because binary options brokers work very differently to normal brokers. They don't allow you to invest in stocks or anything like that, instead they just allow you to place bets on whether the values of things go up or down.
This means that they only make money when you lose money – and if you win money then they actually lose money (since they have to pay you your winnings out of their own pockets).
Put simply there's NO way a binary options broker would want you to win money because if you do, it costs them… So ask yourself this – why would they pay commissions to the creator of the Crypto Comeback Pro system for getting you to join?
The Crypto Comeback Pro system is supposed to be able to generate you guaranteed profits, so why would a broker want people to use that system to win money from them? They wouldn't – no way!
The real reason they're paying the creator commissions is because they know that the system is actually designed to make you LOSE money…
And It's Designed To Make You Lose LOTS…
You might be thinking that after signing up with the recommended broker & depositing money you'll just be left to find out the hard way that the system doesn't really work as promised & that it doesn't really make winning trades…
However no, that's not what happens. The creator of it is actually much more cunning than that.
The person behind Crypto Comeback Pro has instead actually created a fake trading system. This means that after depositing with the broker you will indeed get access to a trading system as promised & it will appear to be generating profitable trades.
Your account balance will increase with almost every trade & you may be thinking that you're actually getting rich (which is what the creator is hoping).
The problem though is that it's all a fake. The trading system that you're given access to is basically just a video game, it's not really connected to any live markets & none of the profits or trades shown are all.
It's all just a ploy to get you to deposit more & more money with the broker so that the creator can keep on earning commissions at your expense.
Remember, the broker is unlicensed, they're operating illegally & they're essentially in cahoots with the creator of the Crypto Comeback Pro system so if you think you'll just be able to withdraw your money, think again.
The broker will either ignore your withdrawal requests, refuse them – or they may even ask you to pay them to release it. They'll claim it's a "release fee" or something along those lines, but it's just a further part of the scam.
And just in case you're still considering "trying it out" despite what I've said above…
Here's The Proof It's Not Real
Well obviously there's the fact that it's just simply WAY too good to be true (because like I mentioned at the start of this review if it really worked then everybody would be using it – nobody would be working jobs)…
But on top of that there's also some other proof that the website's full of lies, such as the countdown timer displayed on its website as shown below:

The timer is a total fake & the reason I know that is because I actually first discovered the Crypto Comeback Pro system 2 days ago but only just got around to writing a review about it today. The timer said the exact same thing back then as it still does now…
The system will NOT be closing registrations in 24 hours – the creator of is just trying to create false scarcity. He wants to rush you into signing up so that you don't feel like you have to time to look for reviews because he knows that if you look for reviews you'll find out it's a scam.
On top of that though there's also the fake testimonials… The website for the Crypto Comeback Pro system boasts several so-called "member" testimonials & outlines how much profit they've allegedly made, but they're all fake.
The reason I know that is because I ran a reverse image search on the photos using Google & it revealed that they'd just been pulled from stock-image websites as shown below: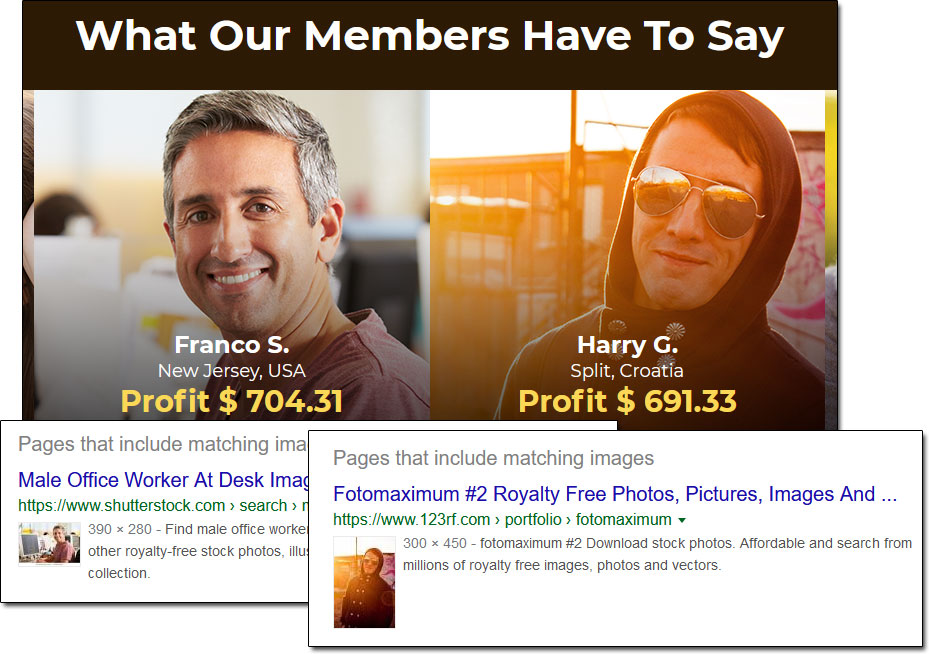 There's simply no way that you could ever trust a website that deploys such shady tactics, and certainly not an investment/trading related website. If their system really worked as promised why on earth would they need to lie?
Clearly it doesn't work as promised, which brings me onto…
My Verdict – Is Crypto Comeback Pro a Scam?
There's absolutely no doubt about it, the Crypto Comeback Pro system (or app – whatever you want to call it) is definitely a scam. The whole thing has just been built with the sole intention of parting you with your cash.
The whole thing is essentially just a ploy to trick you into depositing with an unlicensed binary options broker & the trading system is basically nothing more than a video game. It's not really connected to any live markets & the trades are all faked to try to keep making you deposit even more money.
And as I proved in the previous section of this review you just can't trust a single word that's said on the Crypto Comeback Pro website. The whole thing has just been built up on lies & deceit & should definitely be avoided.
If you truly want to make good money online then I suggest you simply stick with one of these legitimate methods.
And I'll also share with you the method that I personally use to make money online which is called affiliate marketing. It's my all-time top recommended way to make money because I believe it's easy to get started with & the amount you can earn with it is totally uncapped.
I even put together a free guide here on how to make $100+ per day with it…
But whatever you decide you to do I just hope that my honest review of Crypto Comeback Pro here has given you a good insight into how the system really works & I hope it's helped you to save your money.
If you still happen to have any further questions or comments about it though then of course don't hesitate to leave them below. 🙂