Cynthia Sprinter is a name that's associated with many make-money-online programs & it's likely that if you've spent any amount of time looking to earn an extra income online that you've probably already come across her.
Now whilst she is indeed associated with several programs ultimately they're all very similar & they all claim to provide you with access to easy wealth online, even if you've never made a penny online before.
But obviously that's a pretty bold claim to make – so you might be wondering are her programs really legit or is Cynthia Sprinter a scam artist that'll just flee with your cash & leave you feeling red-faced?
Well, I've done the digging & in this review, I'm going to be exposing the truth once & for all about Cynthia Sprinter & her work from home programs.
Who Is Cynthia Sprinter?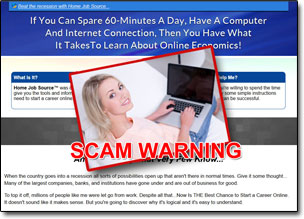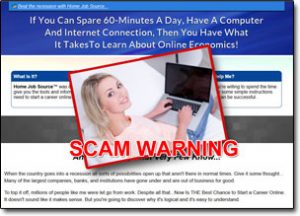 Naturally, when it comes to handing money over for something it's a good idea to do your due diligence beforehand, so if you come across a make-money program then it's a good idea to research a bit about the creators behind it, you know – to see if they're actually genuine.
So if you've come across any of Cynthia Sprinter's work from home programs (such as the Accelerated Income Program or the Secure Job Position system) then you'll likely want to get a bit of info about Cynthia herself, especially since she goes into such detail about her story… You'll want to see if it backs up & holds true.
However here's the problem – if you do run a search of Cynthia Sprinter you'll quickly see that it seems she's associated with a whole bunch of work from home scams & appears to have a very bad reputation online.
That's because Cynthia Sprinter is indeed a scam artist. Well, kind of anyway – you see Cynthia Sprinter isn't actually a real person, it's a just name that's been made up by the real scam artist behind these programs to keep their own name safe from negative criticism.
But I have reviewed many of the programs that have been allegedly produced by Cynthia & I can confirm that they are all indeed scams. They're merely designed to part you with your cash to make the creators of the program wealthy at your expense – just typical straight forward get-rich-quick style scams.
I'll explain in a little more detail how Cynthia's scams actually work in a second, but first let me show you how I was able to determine that Cynthia Sprinter isn't actually a legit person.
Taken from one of her work from home programs this is supposedly a photograph of Cynthia working on her laptop: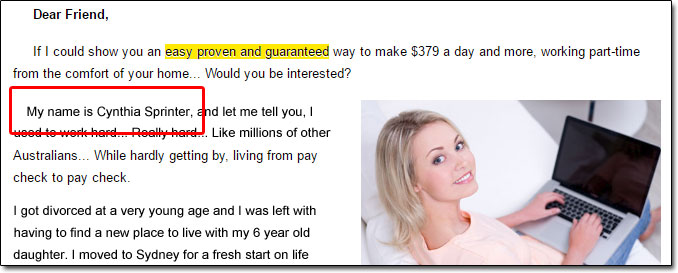 However, if you carry out a reverse image search on the photograph (which is easy to do via Google) then you will see that the photo is not actually of Cynthia at all, it's merely an image taken from a stock photo website as shown below: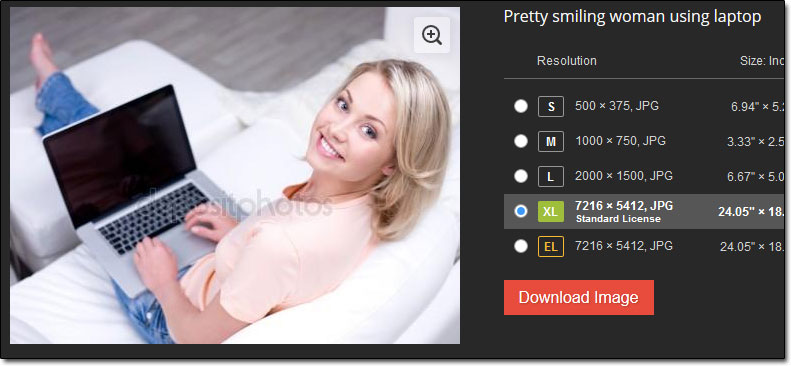 And if that wasn't proof enough, in another program I reviewed named Online Income the exact same photo is used but the lady is referred to as a Heather Smith instead of Cynthia Sprinter (likely because people were catching on that Cynthia was, in fact, a fake or a scam).
But the takeaway here is that Cynthia Sprinter is not a real person. Even Facebook, the largest social network in the world shows zero results for the name.
About Her Work From Home Scams…
All of the work from home programs associated with Cynthia Sprinter are based on the exact same concept, link posting. They all claim that you can make a fortune online simply by "posting links" and getting paid by companies for doing so.
Cynthia of course claims that she does it herself & that thanks to the method she now lives a life of complete freedom. She then claims that she can share the exact method with you, for a fee of course.
And whilst it all sounds a little bit sketchy the likelihood is that after reading her story you'll probably be willing to hand over the cash to see what it's all about (and whether or not it's real) because she really pushes it as being the ultimate "dream job".
Cynthia (or should I say the person pretending to be Cynthia) hopes you will anyway because that's how the creator of this program is making their money. They're essentially just feeding you a bunch of lies to get you to hand over your cash, then once you do so you'll find out that the "guide" you bought is actually junk & that even if you followed it to the letter you'd be unlikely to even make a single penny.
Then, if you decide you want a refund (which you almost certainly will) you'll be left to find out that the creators of these work from home programs (aka Cynthia) doesn't like offering refunds… So you'll merely be left with some useless BS & an empty wallet.
Now There's Something I Want To Make Clear…
Okay so I don't want to confuse you here, but there's an important point about these "link posting" scams that I want to get across. The point is that the method itself is actually legit (it's what's known as affiliate marketing) but the guide these scams provide you with & the way they sell you in on it is not legit.
So basically the method itself is legit, you can indeed earn commissions from companies by sending visitors to their websites – however, these scammy programs created by Cynthia & her gang make it seem far easier than it actually is.
There are many legitimate programs like Commission Academy for example where you can learn how to make money with affiliate marketing for free – but know that whilst you can generate a large income through affiliate marketing it's not going to happen overnight like many of those work from home programs claim it will.
The other thing to note about affiliate marketing is that it's not a "job". You're not getting paid a set hourly rate for how many links you post or anything like that, you're simply in charge of posting the links & you get paid commissions on any of the sales made as a result of people clicking your links… So you're in control of your income, meaning it's up to you to work hard to make money.
My Verdict – Cynthia Sprinter Is a Scammer
I'm always very careful when it comes to calling things or people a flat out scam but in this instance, there is no doubt about the fact that the programs associated with Cynthia Sprinter are all scams designed to make the creators wealthy at your expense.
It is very, very unlikely that you will make any money as a result of buying into any of Cynthia's work from home programs & instead after purchasing the initial program you'll be pitched several other more expensive ones that claim to contain the "missing ingredient" for your success.
Do yourself a favour & if you see a program claiming to have been created by Cynthia Sprinter then give it a miss as the likelihood is that it will merely be yet another scam preying on people who are new to the world of affiliate marketing.
Instead, I recommend you check out my free ultimate guide for making money online, that will provide you with plenty of legitimate ways to get started & you'll find out more about how money is really made online.
But yeah, overall Cynthia & her programs are getting a big thumbs down from me. If you do happen to have any comments or questions about them though then feel free to leave them below.