The Accelerated Income program is something that's just recently launched online & claims that it can enable it's new members to start making money within just 25 minutes of joining without any prior experience or skills being required.
The program claims that even if you've never made money online before can simply sign up & start profiting – but is it actually legit or is the Accelerated Income program a scam that's just set to part you with your cash?
That's exactly what I'm going to be getting to the bottom of right here in this Accelerated Income review, where I'll also be uncovering what it's all about, how it actually works & whether or not you can really make any money with it.
So basically if you've been thinking about signing up then you can rest assured that you've landed in the right place to find out everything you need to know about it before you hand over your cash.
What Exactly Is The Accelerated Income Program?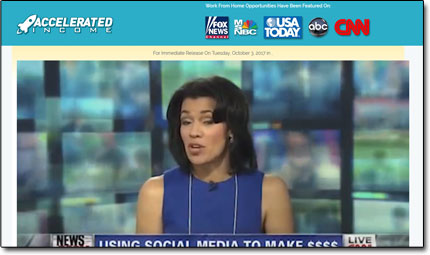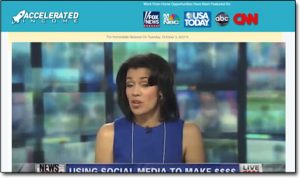 As I briefly touched on above the Accelerated Income program is something that claims to be able to help you generate a full-time income online quickly & easy. You're told you can choose your own hours & start earning immediately after signing up.
At a glance it seems like the perfect job – but sadly I've seen this system being promoted before under several different names such as the Steady Home Income system & Secure Job Position system.
I know exactly how the program operates & I can confirm right from the off that it is in fact a scam. The program keeps launching under different names to part even more people with their hard earned cash.
I'll explain exactly how it all works below but to cut a long story short it basically hypes people up on the opportunity of making lot's of easy money to part them with their cash then merely provides them with an outdated, defunct method that no longer works (and probably never did).
But if you'd like to see the finer details keep reading, I'll explain everything about it & I'll also explain how you can actually make a real income online legitimately.
How Does The Accelerated Income Program Work?
Basically you're led to believe that after signing up to the Accelerated Income Program you'll be shown how to place ads online & that you'll be able to make commissions from the sales of products.
This is something that's called affiliate marketing & on it's own it is indeed a legitimate way to make money online. It's actually a very good way to make money & it's a method I personally use myself.
Basically with affiliate marketing all you need to do is affiliate yourself with a company (like Amazon) & then they'll give you unique tracking links for their products. From here if you refer somebody to their website via your unique link & they go on to make a purchase then you'll get credited a commission.
However the Accelerated Income program makes out like you can just start posting your links anywhere online & start making money immediately – it would be nice if that was the case but let me tell you it isn't.
Whilst I truly believe anybody can be successful at affiliate marketing if they put their mind to it, at the end of the day it's not something that's quite as easy to do as the Accelerated Income program makes out.
I mean sure it's easy in the sense that yes you could potentially post your links anywhere, but this doesn't necessarily mean they will convert into sales. You need to know where & how to promote your links effectively – which is something that's taught at Wealthy Affiliate (a free training company that I recommend you join).
So basically in my opinion the Accelerated Income Program is just getting you really hyped-up about the opportunity of making money & making it sound really easy in an attempt to part you with your cash.
Because as you continue through their program you'll quickly realize that in order to get access to their training you'll need to pay a whopping fee of $97 which I think you'll agree certainly isn't cheap.
But what's worse is that all you get in return for your $97 is some bogus outdated affiliate marketing training which you probably wouldn't be able to make any money from even if you followed it to the letter.
This is what's commonly known in the industry as a link posting scam.
Nothing But Misleading Claims…
As I mentioned above affiliate marketing in itself is a genuine method that you can use to make money online, but essentially being an affiliate marketer is like owning your own online business.
The Accelerated Income Program almost makes out as if you'll get some guaranteed pay in return for each of the links you post but in reality that's not the case – it could be weeks or even months before you start earning money from your efforts, just like as if you were to start any other normal business from scratch.
You see whilst the internet is a great tool & certainly makes it much easier to start in business for yourself sadly it's not magical & there are no ways to make lot's of money without really doing anything like the Automated Income Program makes out.
Ultimately the program is just trying to sell you the dream, they're basically telling you anything they can just to get you to part with that $97 then once you do they'll make it very difficult for you to get it back.
How Can You Make Money Online Legitimately?
Earlier in this review I mentioned a free training company named Wealthy Affiliate, if you haven't already I definitely recommend you sign up with them as they'll give you free training which will teach you how you can get started with affiliate marketing the right way. They'll also provide you with all the tools you need as well – it's definitely worth checking out.
If you're serious about building a real income online then Wealthy Affiliate will pretty much be the only program you'll ever need. All you need to do is take action on the training that there is inside.
And the other good thing about Wealthy Affiliate is that there's a whole community of people inside so if ever you've got any questions you can just ask somebody for help – there's never any feeling "stuck".
But anyway, back onto the Accelerated Income Program…
Final Verdict – Is The Accelerated Income Program a Scam?
In my opinion yes the Accelerated Income Program is a complete scam that's set out to do nothing other than part you with your hard earned cash & make the creator rich at your expense.
The program feeds you nothing but lies & hyped-up BS in an attempt to get you to part with $97 & then in return for your money all they provide you with is some old, outdated affiliate marketing training.
I am absolutely confident in saying that if you bought into this program you would definitely find yourself disappointed as it's certainly not worth the money & you won't make fast, easy money like they claim.
The other bad thing is that handing over the $97 is just where the scam starts because from there onward you'll be promoted even more money-making opportunities some of which like MOBE or Aspire for example could see you paying out thousands (even tens of thousands) of dollars with no guarantee of getting anything back in return.
So as you can probably guess I will be giving this system a big thumbs down because in my opinion it's a complete scam & it's safe to say that I won't be recommending as something for you to try.