The Steady Home Income program claims that if you've got just 60 minutes to spare each day along with a computer & an internet connection then it can help you on your way to generating a full-time income online.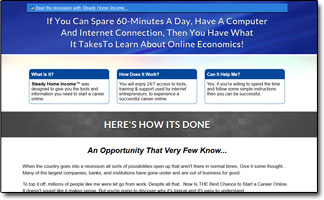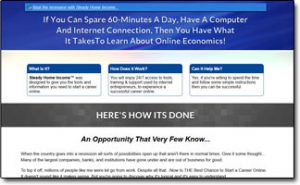 However it makes some pretty bold income claims & states that all you need to do to make money is post a few links each day, so is it actually legit? Or is Steady Home Income a scam that's out to take your cash?
That's exactly what I'm going to be getting to the bottom of here in this Steady Home Income review where I'll be taking a closer look at it to find out what it's all about, how it all works & whether or not it's legit.
What Is Steady Home Income?   |   How Does Steady Home Income Work?   |   The Fake Guarantee   |   Is Steady Home Income a Scam?   |   A Better Alternative
What Is Steady Home Income?
The Steady Home Income program is something that claims you can begin making money online almost immediately after signing up, even if you've never made a single penny online before.
You're said that literally, all you need is a computer, an internet connection & around 60 minutes or so to spare each day. At a glance, I think you'll agree it sounds like the perfect online job.
But the problem is that it's nothing more than a scam.
How do I know that? I've seen this exact system before launched under several different names, such as Home Job Source & Secure Job Position. It keeps changing its name to escape negative reviews.
And the reason it keeps trying to escape the negative reviews is so that it can continue parting people with their hard-earned cash. No doubt it will shortly disappear again & launch under yet another name…
How Does Steady Home Income Work?
Well firstly let me clarify that in reality the Steady Home Income system doesn't work – but I'll run you through how it's supposed to work so that you can see how the scam actually operates.
Basically, it sells you on the concept of affiliate marketing, which is basically where you promote third party products online & get paid commissions when people click through your links and buy them.
Affiliate marketing on its own is a genuine way to make money online & there's no cap on the amount you can earn. A great place to get started with affiliate marketing for free is Commission Academy.
However, the problem is that the Steady Home Income system sells you on a bunch of lies.
Basically, you're led to believe that after handing over $97 you'll be given access to some kind of "job" where you'll be paid directly in return for your time. So you go out & post links, then get paid in return.
However this isn't how it works – what you're actually paying $97 is for some training on the concept of affiliate marketing, but the training is so poor that it's unlikely to see you earning a single penny.
The training you get basically teaches you to become a spammer, as through the training you'll be told to post your affiliate links all over social media & various classified ad websites.
And whilst you can make good money through affiliate marketing as I mentioned above, you certainly won't make anything using tactics like this. Basically, they're just giving a flat-out defunct method.
But they don't care because all they're looking to do is part you with your $97, that's why the program itself is so hyped up. I mean yes it is possible to make money online but it requires time & effort – you can't just expect to start making loads of money without really doing anything like the Steady Home Income system claims.
The Guarantee? It's Fake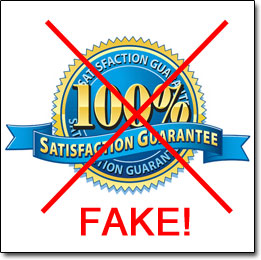 You'll notice that the Steady Home Income system claims to offer a 100% satisfaction guarantee, meaning that if you decide you don't like the product then they'll supposedly give you your money back.
However what you've got to be aware of is that this is a scam – so they are not going to hold true to their word, hence why they keep relaunching the system under various different names as mentioned above.
Basically, they are just saying & doing anything they can to get you to part with your $97, then once they've got the money they'll make it extremely difficult for you to get it back & certainly won't honour the guarantee.
In fact from this point onward you'll even end up getting pitched into even more make-money programs like Aspire, each which claims to help you make more money faster & easier than the other.
So overall whilst the system starts out at just $97 you could potentially end up parting with thousands of dollars before you realize that you've fallen victim to a scam, which is when they'll shut up shop.
You Might Also Like:
Is Steady Home Income a Scam?
In my opinion yes, this program is undoubtedly a scam. It's clear to me that they're selling you into the program on a bunch of hyped-up lies & then once you've handed over the cash you'll find out the truth.
But once you've handed over the cash & found out that in reality you've been provided with nothing but extremely poor quality training they'll make it almost impossible for you to get your money back.
Instead, they'll then pitch you even more make-money offers which could potentially see you parting with thousands of dollars as each program claims you help you make more money even quicker & easier.
The fact alone that this system keeps relaunching under different names like Home Job Source & Secure Job Position is a massive red flag & shows that it is clearly set out to part people with their cash.
Therefore as you can probably imagine this system is going to be getting a huge thumbs down from me & I certainly won't be recommending it to you as it's clear to me that it's nothing but a scam.
A Better Alternative
The sad truth is that unfortunately most of the programs promising to help you make money online are scams. I can say that confidently after exposing over 500+ of them here on this blog.
But the good news is that even though most of them are indeed scams, there are actually some very good programs in amongst them - some programs that can truly help you to earn money.
And out of all of the legit programs I've seen, the one I would recommend the most to anybody looking to get started online is Commission Academy. In my own opinion, that's the best place to start.
At Commission Academy, you'll be provided with everything you need (including the training & tools) to begin earning real money by promoting products or services for companies like Amazon online.
The best part is that there's literally no limit on the amount you can earn with it & the process is pretty simple which means that it's absolutely perfect for people that don't have much experience.
Some wealthy affiliates even earn as much as 5-figures per month... Or more!

I mean don't get me wrong, that kind of money won't just fall into your lap without doing any work... But the harder you're willing to work at it, the more you stand to earn with it.
So if you're looking to get started but don't know which route you should go down or which program you should join (and don't want to waste money on bogus things that don't actually work), then I'd highly recommend checking out Commission Academy first. You can learn more about it here.