Dollars True poses as a legitimate Get-Paid-To website & claims that by using their service you can begin generating hundreds of dollars per day quickly & easily simply by completing small tasks through their platform…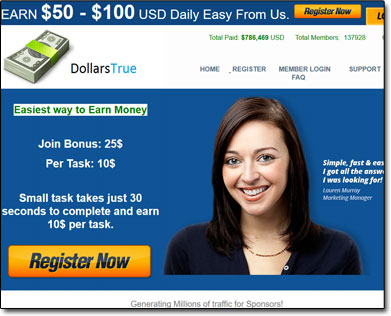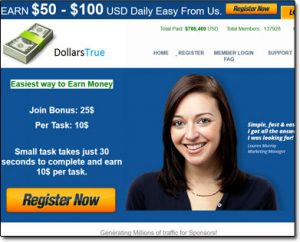 However the income claims such as $10 per task are very bold & there's a lot of negative reports about it online, so what's the deal – is it actually legit or is Dollars True a scam that'll somehow part you with your cash?
Thankfully you've landed in the right place to find out because I've done the digging & in this review, I'm going to be sharing everything you need to know, including whether or not you can actually make money & why I don't actually recommend you join.
What Is Dollars True?   |   How Does Dollars True Work?   |   What If You've Already Joined?   |   Is Dollars True a Scam?   |   A Better Alternative
What Is Dollars True?
As I briefly mentioned at the start of this review Dollars True poses as a legitimate Get-Paid-To website, but notice the key word "poses". In case you don't know a Get-Paid-To website is basically a website through which you complete small tasks & get paid in return.
There are indeed some legitimate Get-Paid-To websites (you can find a list of some here) but similarly, there are an awful lot of scams. I've lost count of how many scam Get-Paid-To sites I've exposed here on this blog & it looks like Dollars True is going to be another program to join the list.
Anyway, the concept here with Dollars True is that you simply sign up & start referring others… They claim it's really that easy to start making money with their platform, and they're allegedly willing to pay you insane amounts for doing so.
You're said to get a whopping $25 just for signing up, and then on top of that, you're said to get an extra $10 for each new member you refer. You might be thinking that it's a dream come true but don't get your hopes up too soon.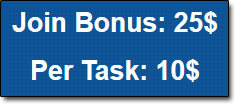 The problem with Get-Paid-To websites is that whilst there are some legitimate ones, usually, they pay very little because the tasks are so simple. Typical Get-Paid-To sites ask you do things like complete a survey, download a file or something along those lines… Tasks that generally only take around 5 minutes.
There is no need to pay excessive amounts for these tasks because they are super easy & they are many people willing to do them. Even if the Get-Paid-To website was offering $1 per task it's likely that someone somewhere out there would be willing to do the task for much less.
So when you hear that Dollars True wants to pay you such large amounts you such immediately be suspicious.
Not only do you need to ask yourself why they are willing to pay such large amounts, but you also need to ask where the money is actually coming from. Typically Get-Paid-To sites make money from advertisers, but when it comes to Dollars True there are no advertisers in sight… So what's really going on here?
Let's take a look…
How Does Dollars True Work?
Well, after signing up to Dollars True (which I don't recommend you do) you'll get access to your account & $25 appears to be credited as promised. You can't withdraw it right away though as you're told you need a minimum balance of $300 to withdraw.
So how do you get to $300? Well from here you're instructed to refer new people to the system in order to build up your balance. You're said to be able to earn $10 for every new person that joins via your link…
I decided to create a spoof account & $10 was credited as promised – at least it seemed that way anyway.
But where is all this money coming from?
The truth is there is no money. The whole thing is actually a scam that's been designed to steal your personal details. I've seen the exact same scam under several different names before, such as DollarTell & DollarZip.
Here's how it really works…
Basically this whole thing has been purely developed to steal your email address & password – and it's been cleverly designed so that you actually end up promoting it thinking that you are making money so that they can steal the details of the people you refer too.
Once you hit the withdrawal limit of $300 you'll realize that the whole thing is total BS as they'll either completely ignore your withdrawal request or they'll run you round in circles whilst they continue not to pay you…
And that's the reason the withdrawal limit is set so high – to get you to recruit as many new members as possible before you realize it's a scam & that they don't actually pay. Most Get-Paid-To websites have withdrawal limits of around $10, some are set at just $1.
A super-high minimum withdrawal limit of $300 is a major red flag for this type of thing.
You Might Also Like:
What If You've Already Joined?
If you've already signed up to Dollars True prior to reading this review & you use the password you signed up to Dollars Tell with elsewhere then I'd recommend changing your passwords immediately.
If you've already begun recruiting others to the opportunity I also recommend you reach out to them & let them know about what's going on too so that they can change their passwords as well. It might be easier for you just to share this review with them.
If you don't change your passwords it's likely that the creators of Dollars True will try & log in to your accounts, or they will sell your details onto other people. It's also likely that your email will begin getting bombarded with spam… Sadly there isn't much you can do about this other than report the emails as junk as & when they come through.
Often it's best not to hit the "unsubscribe" links because these can be fake, and can be used by the senders to see if they have actually got a real address… So if you hit "unsubscribe" you may actually end up getting more mail.
But yeah, you get the idea…
Is Dollars True a Scam?
Absolutely, Dollars True is a huge scam & unlike many of the other scams I expose which just part you of a one-off fee Dollars True is actually a pretty dangerous scam because they could be trying to access your bank account or anything…
These guys are stealing your personal info & I can tell you that they're not planning on doing good things with it. They are intending on getting as much cash from you as they possibly can, one way or another.
They may even try & login to your social media accounts & bribe you with screenshots of private messages – I've known several scammers to have done that in the past so it's definitely a realistic possibility.
Ultimately you just need to make sure you update all your accounts that use the same password & change it before the crooks behind these scam start attempting to log in & gain access.
But yeah, obviously it comes without saying that I won't be recommending this program to you because it's a dangerous scam. If you have any further comments or questions don't hesitate to leave them below but hopefully, this review provided you with the insight into this system that you were looking for.
A Better Alternative
The sad truth is that unfortunately most of the programs promising to help you make money online are scams. I can say that confidently after exposing over 500+ of them here on this blog.
But the good news is that even though most of them are indeed scams, there are actually some very good programs in amongst them - some programs that can truly help you to earn money.
And out of all of the legit programs I've seen, the one I would recommend the most to anybody looking to get started online is Commission Academy. In my own opinion, that's the best place to start.
At Commission Academy, you'll be provided with everything you need (including the training & tools) to begin earning real money by promoting products or services for companies like Amazon online.
The best part is that there's literally no limit on the amount you can earn with it & the process is pretty simple which means that it's absolutely perfect for people that don't have much experience.
Some wealthy affiliates even earn as much as 5-figures per month... Or more!

I mean don't get me wrong, that kind of money won't just fall into your lap without doing any work... But the harder you're willing to work at it, the more you stand to earn with it.
So if you're looking to get started but don't know which route you should go down or which program you should join (and don't want to waste money on bogus things that don't actually work), then I'd highly recommend checking out Commission Academy first. You can learn more about it here.