The DOSH app is a relatively new mobile app that claims to pay you cashback on things like eating out, shopping at certain stores & even booking hotels. Unlike most other cashback apps there's no need to scan receipts & you don't need to mess around with promo codes – instead, with the DOSH app, you're simply told that all you need to do is link your card & that they'll take care of the rest.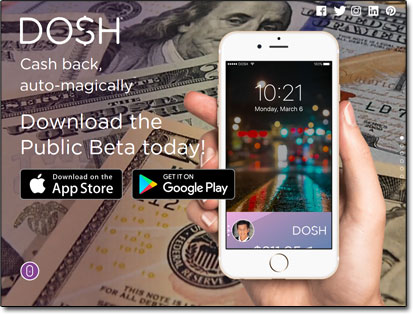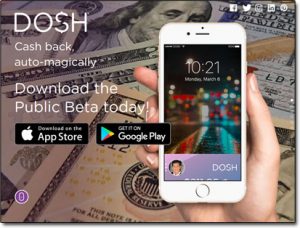 However whilst the app does sound really good it's understandable that a lot of people get a little worried when it comes to linking their card up to something, so what's the deal here?
Is it actually legit or is the DOSH app a scam that'll just see your card getting bled dry?
I've decided to take a closer look at it & in this review, I'm going to be uncovering everything there is you need to know, including whether or not the DOSH app will really be worth your while… So if you've been thinking about trying it out be sure to read this review first.
What Is The DOSH App?   |   How Does The DOSH App Work?   |   Getting Cashback For Spending   |   The Referral Program   |   How Do You Get Paid?   |   Is The DOSH App Legit?   |   A Better Alternative
What Is The DOSH App?
The DOSH app is a relatively new cashback app & despite still only being in beta stages it's already created quite a stir & has been getting very heavily promoted online so it's likely you've come here to find out what all the fuss is about…
Well basically the DOSH app pretty much does what it says on the tin – they give you money back for doing things like shopping at certain stores, booking hotels through their app or eating out at your favourite restaurants.
And I kinda like the idea of these cashback apps because ultimately they're paying you money for things you likely would have been doing anyway.
The only problem is that whilst there are already plenty of legitimate cashback apps around like Ibotta & MobiSave it can get a bit tedious having to upload photos of receipts or dig out promo codes all the time… Anyway, DOSH claim to be putting an end to that because instead of having to "prove your purchases" all you need to do with the DOSH app is simply link up your debit or credit card & let them handle the rest…
That's half the reason the app is creating such a stir (there's another big reason too which I'll explain shortly)…
But yeah, DOSH claims to be one of the highest-paying & easiest to use cashback apps ever launched. You just link your card up, do your thing & collect cashback through the app without any messing around… That's the theory anyway!
So how does it all work? Let's take a look…
How Does The DOSH App Work?
When you fire up the DOSH app for the first time you'll be asked to input your card details – this can be any Visa, Mastercard or American Express (debit or credit) & then your card will become linked to the DOSH app.
Now I know this can be a little bit worrying for some but I can point out here that the DOSH app is indeed legitimate & if you do hook up your card it's not some scam that's going to suck it dry. The reason they want your details is not to charge you, it's so that they can credit cashback to your account.
Basically DOSH work directly with the card companies & they automatically locate your purchases so that cashback is added straight to your account whenever you take advantage of their offers. This saves you having to upload photos of receipts, pull out promo codes or use coupons.
I'll admit here that I personally really like this concept a lot – it is so much easier to earn cashback with the DOSH app because there's nothing extra for you to do, you can literally just shop as normal and you'll earn cashback if you happen to spend on something that's listed as an offer in their app.
Note: It's worth pointing out that if you link a debit card rather than a credit card your cashback will only be credited if you "swipe" the card rather than inserting it & entering your pin. If you use your pin they are unable to track the transaction.
Getting Cashback For Spending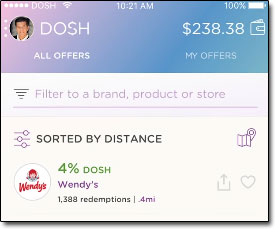 DOSH work with so many retailers than generally, you don't even have to worry about checking the offers inside of the app – with it being linked to your card you could just go out, do your thing & you'll automatically collect cashback whenever & wherever it is available…
However, you may decide you want to pick stores based on whether or not they will offer you cashback (since that means it could be cheaper). The good news is this is also super easy to do.
Basically, once you've linked your card up with the DOSH app you'll get full access to the app, and from the main page, you'll be provided with a screen that enables you to select between "nearby" & "online" offers.
These are probably self-explanatory but let me explain…
Nearby Offers
If you select "nearby offers" from within the DOSH app then the app will use your GPS to find your location & it will show you all the places closest to you where you can earn cashback.
It likely comes without saying that if you live in a big city you are going to find out a lot more offers on this page, and similar if you live out in a remote area you probably won't find so many… But DOSH appear to work with a LOT of companies so the likelihood is that no matter where you are there will at least be something near to you through which you can claim cashback.
If not, don't fear because that brings me onto the next one…
Online Offers
If you happen to live in the most rural of rural areas then maybe there won't be any "nearby offers" for you listed within the DOSH app but don't fear because all is not yet lost. Instead, you can select "online offers".
Rather than going out & physically spending all you need to do is head into DOSH's directory of online offers, browse the stores, click the special link that they provide you with & do your shopping as normal.
Providing you went to the stores by following the link in the app then you'll earn cashback on all of your purchases – and with this section of the app, it doesn't really matter where you are located. All the offers shown are likely to be the same across the entire country that you are in (just about).
Earn Money With DOSH By Referring Friends
Remember earlier in this review I mentioned that the DOSH app has been creating quite a stir & getting heavily promoted online? Well, one of the reasons is because the app is indeed pretty darn awesome… But the other reason is that they run a really cool scheme through which you can earn good money by referring friends.
For each friend you get to sign up you'll get paid a whopping $15 when they proceed to link up their card… It's a pretty amazing amount & to be honest, I'm not even sure how they can afford to pay it but apparently they can & they do!
My guess is that they get paid some pretty nice cash from the credit card companies for encouraging people to use cards but I don't know, that's just my own personal speculation (but probably likely).
Anyway, another perk is the fact that they give your friends a $5 bonus when they sign up via your referral code so it's actually pretty easy to tempt your friends into trying it out. Those $15's could soon mount up!
But yeah this is one of the reasons that so many people have been promoting the DOSH app online. You'll have probably seen videos about it on YouTube, read blog posts about it… seen it on social media, it's everywhere.
You Might Also Like:
How Do You Get Paid From The DOSH App?
Here's the other great thing about the DOSH app – you can transfer your funds directly to your bank account, to your PayPal account or have them sent to a charity of your choosing (providing you have at least $25 in your wallet).
This is amazing! Many of the other cashback apps merely pay you out in gift cards or require you to have a ton of money stacked up in your balance before you can request a real cash withdrawal.. Not DOSH though!
As soon as you've got $25 just hit withdraw & boom, money in your bank. ?
FYI it's a good idea to keep withdrawing as & when you earn $25 because DOSH have a note on their website saying that larger amounts over $350 may be subject to a review which means there'll be an extended waiting time for your withdrawal. Makes sense just to withdraw it as & when you get it instead.
Plus no matter how great the company I never recommend storing money in online accounts, always get it to your bank as soon as you can.
Is The Dosh App Legit?
I'm not gonna lie, this is the first cashback app I've truly got excited about. I mean don't get me wrong cashback, in general, is great since you're earning money for things you would have likely done anyway, but DOSH, well this app takes it to the next level.
I mean it's just so easy – how could you not want to use it? Link it up, forget about it & earn money for doing things that you would have done anyway… That's pretty much how simple it is.
So overall it's safe to say that the DOSH app is going to be getting a massive thumbs up from me & if you're thinking about downloading it then stop thinking, just go ahead & download it… It's awesome!
Feel free to leave any comments or questions you might have below.
A Better Alternative
The sad truth is that unfortunately most of the programs promising to help you make money online are scams. I can say that confidently after exposing over 500+ of them here on this blog.
But the good news is that even though most of them are indeed scams, there are actually some very good programs in amongst them - some programs that can truly help you to earn money.
And out of all of the legit programs I've seen, the one I would recommend the most to anybody looking to get started online is Commission Academy. In my own opinion, that's the best place to start.
At Commission Academy, you'll be provided with everything you need (including the training & tools) to begin earning real money by promoting products or services for companies like Amazon online.
The best part is that there's literally no limit on the amount you can earn with it & the process is pretty simple which means that it's absolutely perfect for people that don't have much experience.
Some wealthy affiliates even earn as much as 5-figures per month... Or more!

I mean don't get me wrong, that kind of money won't just fall into your lap without doing any work... But the harder you're willing to work at it, the more you stand to earn with it.
So if you're looking to get started but don't know which route you should go down or which program you should join (and don't want to waste money on bogus things that don't actually work), then I'd highly recommend checking out Commission Academy first. You can learn more about it here.