The eCom Success Academy is a popular new platform which promises to teach you the secret to making money via effective strategies for different eCommerce platforms.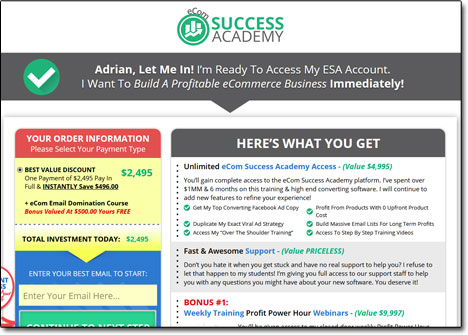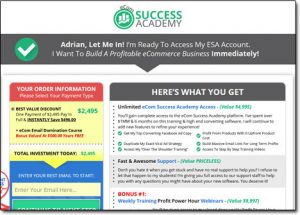 In this honest eCom Success Academy review, we are going to evaluate the potential of this income-generating opportunity. This will help you make the right decision about whether or not to go for this platform.
There are already various other eCommerce educational platforms and some have disappointed the subscribers to an extent that people now hardly trust any of the new schemes that jump in… So be sure to read this comprehensive eCom Success Academy scam review to know the truth well ahead of time.
What Is eCom Success Academy?   |   How Does eCom Success Academy Work?   |   The Costs   |   Is eCom Success Academy a Scam?   |   A Better Alternative
What Is eCom Success Academy?
Dropshipping is a popular adventure for all eCommerce geeks these days and large online stores including AliExpress offer an opportunity for people to earn something by selling their products…
The concept is simple. eCom Success Academy is actually an online course that teaches you how to successfully earn money through drop-shipping. Adrian Morrison has come up with this educational stuff. The course teaches you how to successfully do this stuff with the help of Shopify.
eCom Success Academy teaches you how to set up a store, pick the right niche, create Facebook ads while avoiding violations, and scale the store.
But it's worth pointing out that eCom Success Academy isn't the first program to offer such training as there have actually been several before it. Sadly though many of them, like the AliProfits System & My Ecom Club have been nothing but scams, so it's important to tread carefully & do your due diligence before spending money.
Let's start by taking a look into how it all works…
How Does eCom Success Academy Work?
There are various videos in the member's area and the first one is basically the orientation about the overall course content. Once you move ahead, it introduces you to different modules one by one which are as follows:
1. Shopify
This module comprises of 8 sections. The first one is really detailed and teaches you the process of setting up Shopify. Remaining sections cover the steps to setting up your store. These sections include Dropshipping, Adding Products, Promotional Strategies, Sales Page Creation, Branding, Shopify App, and QuickStart.
2. Sourcing Products
This section guides you through the processing of sourcing products. The problem here is that Adrian talks a lot about different products but leaves you confused or inconclusive about the selection of the right product. Even after completing this module, you don't really have a clear idea of which products to select. This section covers various big players in the industry including AliExpress, Vendor Facebook, Best Vendors, Top Selling Products, Dropshipping Template, and more.
3. Facebook
The 3rd module covers everything about Facebook marketing, page setting, types of FB ads, audience targeting, and more. This module is good because you get a lot of insight into Facebook ads policies, violations, and how to avoid violations.
4. Email Marketing
Nothing is new in this section. It serves you with the stuff that you already have access to via YouTube tutorials and various free-guides on email marketing.
5. Building Your Team
This module guides you about outsourcing and how to select the best team members. This is only helpful when you actually have done the basics right. Once again, nothing new in this section as most of us are already aware of how to select the best freelancers from different platforms who can remotely join your team.
6. Project Management
This thing is useful at a stage where your eCom business is actually up and running. The course tells you how to maintain success level and manage everything in the right way.
7. Longterm Exit
People love establishing something only to sell it as a big fortune. Here the course content teaches you how to sell your established eCom dropshipping platform if you want to. Well, this is basically for those who have reached the ultimate level where they wanted to. This is going to take time so it really early to get into this.
8. Bonus Section
This section comes with daily updates featuring live coaching. Adrian's brother Anthony Morrison (the man behind Success With Anthony) is there to serve you with some tips on email marketing. They are also offering some additional tools or basically promoting them as add-ons.
Is eCom Success Academy Right For You?
In my opinion I would say it is only good for you if you are a good marketer and already have a taste of the eCommerce industry. On paper, this thing portrays the idea that you will cash in millions within a year but in reality, the competition is too high on trendy products. If you are good at target marketing and you have a good sense of selecting the right niche wisely, then you can think of joining this course.
You DO NOT need to join this academy if you are not into digital marketing. The reason for that is the high price of this course…
eCom Success Academy Costs – $2795
If you have been thinking of joining it, I am sure that now you have different ideas. I mean, $2795 is a huge amount regardless of how good this course is. The reality is, you learn by experience and it takes time to make a difference.
In my opinion there is a much better alternative available which is something called affiliate marketing. With affiliate marketing you don't need to mess around sourcing products or dealing with customers, instead you just promote products or services from third party companies & let them deal with it all.
So sure, you could indeed make money with dropshipping, but it requires a LOT of work… Whereas with affiliate marketing you only have to focus on the promoting part & then the companies pay you commissions on the sales you make. Many companies pay very large commissions too.
That's why I personally do affiliate marketing, not dropshipping – and the majority of my own income that I make online actually comes from affiliate marketing so I definitely highly recommend it. Plus the good news is that you can actually get started with affiliate marketing for free over at Commission Academy.
But back onto the eCom Success Academy, I think it's time for…
Is eCom Success Academy a Scam?
In concluding this eCom Success Academy scam review I have no difficulty in judging that the program is completely legitimate… But, in my opinion the price is extremely high – it is beyond logical proportion.
I don't see too much unique content in the program that you can't find anywhere else. Most of the content is similar to what you find with free courses and online tutorials. On top of that, eCommerce is something different than conventions. Things keep changing and you can only achieve success if you learn from your own experiences, trials, mistakes, and experiments.
This means it should not be seen as something that you can just buy into, copy & profit because that is not how it works. You could actually end up spending money on it, following the training & never managing to see a profit because dropshipping & paid advertising are actually pretty difficult to find success with, especially without a huge budget to hand.
That's why like I mentioned in the previous section of this review I personally prefer affiliate marketing, because in my opinion that is much easier since you only have to focus solely on the promoting rather than the sourcing of products or dealing with customers.
Plus there are places like Commission Academy where you can actually get started with affiliate marketing for free. Or alternatively you could also check out these other great ways to make money online…
But whatever you decide to do I just sincerely hope that my honest review of eCom Success Academy here has given you a good insight into how it really works & hopefully it has helped you to figure out if it's really right for you or not.
If you have any further questions or comments then of course don't hesitate to leave them below. 🙂
A Better Alternative
The sad truth is that unfortunately most of the programs promising to help you make money online are scams. I can say that confidently after exposing over 500+ of them here on this blog.
But the good news is that even though most of them are indeed scams, there are actually some very good programs in amongst them - some programs that can truly help you to earn money.
And out of all of the legit programs I've seen, the one I would recommend the most to anybody looking to get started online is Commission Academy. In my own opinion, that's the best place to start.
At Commission Academy, you'll be provided with everything you need (including the training & tools) to begin earning real money by promoting products or services for companies like Amazon online.
The best part is that there's literally no limit on the amount you can earn with it & the process is pretty simple which means that it's absolutely perfect for people that don't have much experience.
Some wealthy affiliates even earn as much as 5-figures per month... Or more!

I mean don't get me wrong, that kind of money won't just fall into your lap without doing any work... But the harder you're willing to work at it, the more you stand to earn with it.
So if you're looking to get started but don't know which route you should go down or which program you should join (and don't want to waste money on bogus things that don't actually work), then I'd highly recommend checking out Commission Academy first. You can learn more about it here.