My Ecom Club is a website that's allegedly been put together by a guy named Rocky Lin & it claims to provide you with easy to follow step-by-step training that will supposedly enable you to find massive success online through e-commerce, even if you're brand new…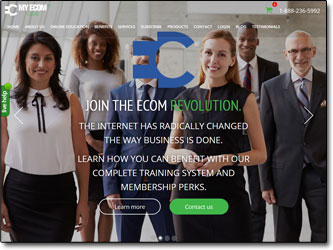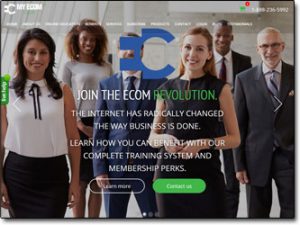 You're led to believe that even without technical experience or marketing know-how you'll be able to simply sign up, follow the training & build your own successful e-commerce business… But is it actually legit, or is My Ecom Club a scam that'll ultimately just see you spending more money than you ever manage to make?
Thankfully you've landed in the right place to find out because I've took a closer look into the whole thing to see how it all works & in this review I'll be uncovering everything you need to know, including whether or not you can really make any money with it.
What Is My Ecom Club?   |   How Does My Ecom Club Work?   |   Can You Make Money With It?   |   Is My Ecom Club a Scam?   |   A Better Alternative
What Is My Ecom Club?
As I briefly touched on above My Ecom Club is a program that claims to teach people how they can start a profitable e-commerce business – plus on top of that they also claim to offer various "done-for-you" solutions too.
According to the website the whole thing has been put together by a guy named Rocky Lin who's supposedly an "e-commerce powerhouse" & industry leader – but as you'll soon see in my review that's likely not true.
You're led to believe that even as a total newcomer the step-by-step training Rocky's put together will walk you through the entire biz-building process, right from choosing a niche all the way through to actually launching the store on the web.
So initially the whole thing might have come across to you as being a potentially great opportunity, especially since you're told that you can access for the program for just a mere $97… But as you'll soon see when I explain how it all works, things aren't quite what they seem…
However before I get onto that, let me firstly point out some of the immediate red-flags I noticed when I landed on the My Ecom Club website…
Red Flag #1 – The Creator's Name
You're led to believe that the person who's put all of the training together is named Rocky Lin & that (according to their website) he is an industry leading "e-commerce powerhouse"… Yet there's absolutely no information to be found about him anywhere online.
This is a little odd in itself – I mean how can you be an industry leader if nobody actually knows who you are?
But what's even more worrying is the fact that the name sounded familiar & eventually it clicked in my mind… Rocky Lin was the same name that was used in the My Secret Sites scam that I previously exposed on this blog around a year ago.
Red Flag #2 – The Company's Address
When I landed on the My Ecom Club website I noticed they had their office's address listed on their website which I thought was pretty good, and initially it made me a little less sceptical of the whole thing…
However after actually looking up the address on Google I found out that the exact same address was associated with the Countdown To Profits scam that I also previously exposed on this blog last year (as shown below):

Red Flag #3 – Shady Promotions
The way I actually discovered My Ecom Club was through something called Free Biz Account which was basically an extremely misleading sales pitch that pretty much "tricked" you into buying My Ecom Club.
The Free Biz account system claimed that you were going to get access to a free program (which later turned out to cost $97) and the creator claimed he would personally invest $200 to help you get started (which was just another lie).
After spending the $97 on the Free Biz Account system which promised you easy riches you were merely left to find out that what you had really bought was the My Ecom Club Gold Membership… A kind of "scammy" sales approach if you ask me & it's safe to say it certainly made me a lot more sceptical about the whole thing.
How Does My Ecom Club Work?
Well after doing some further digging it seems that the My Ecom Club program does indeed provide legitimate training BUT it's what's known as a high-ticket program which means it's very expensive.
So whilst initially it might seemingly cost only $97, overall it will end up costing a lot more. I'm not sure on the exact prices involved but as you can see below one reviewer mentioned that it will cost at least $1,997 to move forward through the training: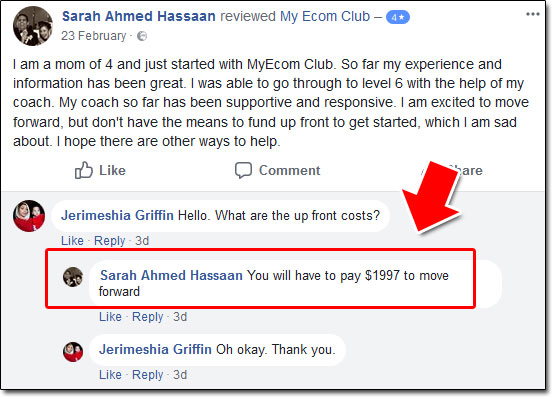 And this where the coaches come into play – because whilst you're offered a "coach" with your membership, in reality the coaches are very likely just sales people who are there to nudge you into spending more money.
Now don't get me wrong, I'm sure the coaches will indeed provide some help with the steps – but ultimately the help is likely being offered with the simple intention of encouraging you to upgrade. The problem with this is that once you do upgrade, you'll find the coaches no longer have as much "help" to offer because at this point they've already earned their commission from you…
The reason I am saying it likely works in that way is because one of the coaches is a lady named Christy Snape & she was formerly a "coach" at a company named Digital Altitude which was closed down by the FTC primarily because of the following reason (quoted from the FTC website):

So with her now being involved with the My Ecom Club program (according to a customer review left on Facebook) I would imagine that the whole "coaching" thing is operating the exact same way it did over at Digital Altitude… It's likely that she's just "jumped ship" so to speak now that DA has been closed down.
But anyway yeah, even if the coaching is legit I'm still not a big fan of how the "true cost" is kept hidden away here, however that's not the only problem…
The bigger problem in my eyes is why the creator of the whole thing has chosen to keep himself hidden. I mean on the My Ecom Club website you're led to believe that the creator is a guy named Rocky Lin as shown below:

However after running another Google search on the company's address I ended up landing on a website named The Online Store Summit which as shown below was clearly associated with My Ecom Club:

The creator of this program went by the name of Teo, and after some more digging I later managed to find out that his full name was Teo Vanyo – and based on his Udemy profile below it seems more likely that he is the REAL creator of the My Ecom Club program:

I don't know why he's decided to create a fake alias & keep himself hidden from the My Ecom Club website… But in my opinion it's worrying to say the least.
You Might Also Like:
So Can You Make Any Money With It?
Well to be honest it's hard to tell – I mean yes, if the training is high quality then it could certainly put you on the right path to building a successful e-commerce store… But ultimately the trainer is an unknown guy named "Rocky Lin" so how do you know you're learning from someone who's actually found success?
And would you really want to pay $1,997+ for training that's been put together by somebody who could ultimately just be a beginner like yourself? I mean that's the reality here… Because we having nothing to go off regarding this "Rocky Lin" guy…
Well, nothing other than this at least (which is from a review left on the BBB):

So as far as I'm concerned there's just no reason for you to risk your money in a program like this when you could just get started with a legitimate & proven program like Commission Academy instead – a program which also doesn't involve any crazy investment.
That's just my 2 cents though…
There's also a lot of complaints on the BBB about people struggling to get a refund after finding themselves disappointed with the program too.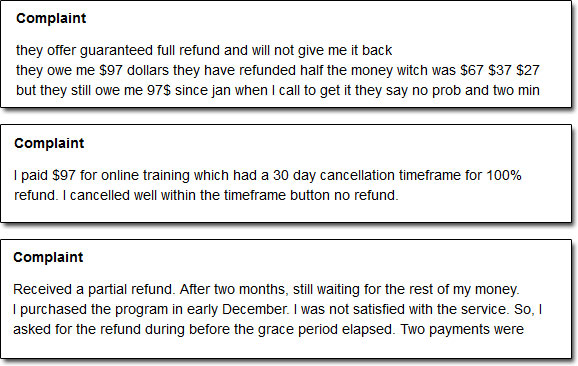 Is My Ecom Club a Scam?
Well it's not a scam as such since they do seem to provide legitimate training – but clearly there's a lot of hidden extra costs involved & overall in my opinion I think the whole thing is just hard to trust.
Not to mention that the training which your success with the program is entirely reliant upon has supposedly been put together by a random unknown guy allegedly named "Rocky Lin" who has no background whatsoever.
I mean sure, if this training had been put together by an absolute expert who had a proven track record of creating super successful e-commerce business then maybe it would be worth it's high price tag of $1,997+, but as it is there is just no way I could possibly recommend spending that amount of money on this thing.
And like I mentioned earlier in this review as far as I'm concerned I just don't see any reason why you would want to risk so much money with the My Ecom Club program when there are already several proven, reputable & legitimate programs out there like Commission Academy that can help you get started properly.
So ultimately despite me coming to the conclusion that the My Ecom Program is technically legit – I am not going to be recommending it to you because in my opinion I believe it's just way too costly & I'm not gonna lie I'm still pretty sceptical about the whole thing due to the whole "fake name" scenario…
But anyway hopefully this review gave you a good insight into how it all works & hopefully you got the information you were looking for about it. If you do happen to have any further questions or comments then don't hesitate to leave them below & I'll do my best to respond to you as quickly as possible.
A Better Alternative
The sad truth is that unfortunately most of the programs promising to help you make money online are scams. I can say that confidently after exposing over 500+ of them here on this blog.
But the good news is that even though most of them are indeed scams, there are actually some very good programs in amongst them - some programs that can truly help you to earn money.
And out of all of the legit programs I've seen, the one I would recommend the most to anybody looking to get started online is Commission Academy. In my own opinion, that's the best place to start.
At Commission Academy, you'll be provided with everything you need (including the training & tools) to begin earning real money by promoting products or services for companies like Amazon online.
The best part is that there's literally no limit on the amount you can earn with it & the process is pretty simple which means that it's absolutely perfect for people that don't have much experience.
Some wealthy affiliates even earn as much as 5-figures per month... Or more!

I mean don't get me wrong, that kind of money won't just fall into your lap without doing any work... But the harder you're willing to work at it, the more you stand to earn with it.
So if you're looking to get started but don't know which route you should go down or which program you should join (and don't want to waste money on bogus things that don't actually work), then I'd highly recommend checking out Commission Academy first. You can learn more about it here.