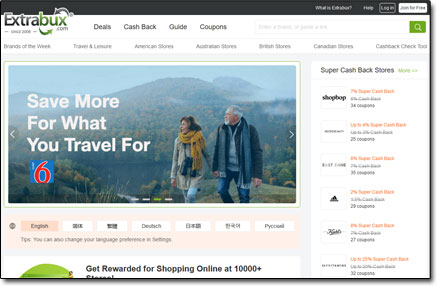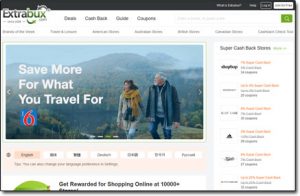 Extrabux is a cashback website that promises to provide you with good and legitimate earnings.
You'll have likely heard about it already if you've spent any amount of time looking into online money-making sites, cashback websites in particular.
Well, we recently decided to take some time out to put together an in-depth, impartial Extrabux review & in it, we'll be covering all the details you need to know prior to getting involved with it.
You'll learn how it works, how much you can earn and whether it is legitimate or not.
What's more is that you'll also learn whether or not it's really worth your time, and what better alternatives are available.
What Is Extrabux?   |   How Does Extrabux Work?   |   What Are The Payment Methods?   |   How Long Does It Take To Get Paid?   |   Is Extrabux a Scam?   |   A Better Alternative
What Exactly Is Extrabux?
Extrabux is your conventional cashback website. It leverages the affiliate marketing model which helps the owners make profits from your purchases & then they pass on a share of the profits down to you, the purchaser.
The good news is that it's free to join for everyone. There are some countries mentioned on the website which include the US, China, Japan, and Russia. However, we can confirm that you can access it anywhere worldwide.
One important thing to note though is that you should consider the shipping cost to your country if you are from a country other than the four nations mentioned above as it may not make the opportunity worthwhile.
Extrabux is actually one of the oldest cashback websites out there. It has been in business since 2006 and has a considerable customer base too. Once you become a member, you get access to their affiliate stores. You can then use their links to purchase whatever you like & if you do that rather than going to the stores directly then you'll earn some money back (or "cashback") in return.
The reason Extrabux is able to pay you this money is because they're affiliated with the stores, which means when you purchase via their links they get paid commissions from the stores for referring you.
It's worth pointing out that you can also become an affiliate too & earn money by promoting things online (that's how I actually make most of my own money online). If that interests you then you can learn more about it over at Commission Academy.
Back onto Extrabux though, the site actually works with over 2,500+ online marketplaces. They work with Amazon, Walmart, eBay, Best Buy, Target and other well-known online stores (as highlighted below from some of the current cashback offers featured on their website):

You can buy any items you want using the Extrabux affiliate links. However, you must remember that not all the products carry cashback offers.
This website connects you with legitimate, well-known and trusted online marketplaces. And lets you get cashback on the money you spend shopping through Extrabux. You always know what and from whom you are shopping. As a plus, they have a good support team too. They generally reply quickly enough and address the problems too.
So let's now take a closer look into how it all works & how much you can potentially earn with Extrabux…
How Does Extrabux Work?
It's simple, very simple to say the least. You can sign up at Extrabux free of cost. You will get a bonus of $5 for joining this website. After that, you can use any affiliate links from their large collection of offers. You can purchase anything you want from the 2,500 web stores listed on the site. You can get anything there, from household items to rent a car. It's all available!
Once you have checked out with your cart, you would have to wait for 48 hours for the cashback to appear in your account. You get some dollars back from the amount you had paid.
Let's say for example that you bought something for $100 and the product had a cashback of 8%. You will have $8 deposited in your account as a cashback… However, you cannot withdraw cash from Extrabux unless you have received at least $10 as that's the minimum withdrawal limit they have in place.
They have also recently launched the Extrabux Boost Card feature. This card can help you increase the cashback margins. If a product offers 10% cashback, using the card would boost that to 13% or something. You can check your cash account on the website to check how many you have.
On top of that, they have a great referral system too. You get paid to invite people to join Extrabux. You can get paid $5 for every person you manage to get to join their website and then keep getting 5% of that person's earning for the next year. Pretty cool, we say!
In fact, out of all of the cashback websites I've come across I would say that's probably one of the best referral programs I've seen.
What Are the Payment Methods?
When you are paying for the products you purchase, you can use any of the following options:
Mastercard
Visa Card
AliPay
PayPal China
Chinese Credit Card
Google Checkout
American Express
You can withdraw your cashback money via:
PayPal
Check (for US residents only)
Amazon e-gift cards
Charity
Ukraine Express (Beta)
JustTalk gift cards
WeChat (Beta)
Amazon e-vouchers (for UK residents only)
You Might Also Like:
How Long Does It Take To Get Paid?
Now, this is where we were disappointed. We found that the minimum threshold for withdrawal may be as low as $10 but the duration is way too long.
You cannot withdraw your cashback earnings until 90 days after they show up in your account. This happens because the web stores only pay Extrabux after their exchange and return periods have expired. Waiting for three whole months isn't going to be easy. We'd get frustrated, to say it frankly.
I mean yes, don't get me wrong getting money back for spending money you would have spent anyway is a bonus, but once you see the earnings sitting in your Extrabux account it will certainly be annoying to have to wait such a long period until you can actually withdraw them.
But aside from that Extrabux is pretty simple, there isn't a great deal to it which brings me onto…
My Verdict – Is Extrabux a Scam?
No, it isn't a scam by any means. Extrabux is a legitimate website with legitimate, traceable and well-reputed web stores as clients. It has a very good referral system and considerable cashback rates as well.
The main downside is the fact that it has a very long waiting time for withdrawals & as a result, I've seen a lot of withdrawal complaints surfacing online. It's not a scam though and it is a good option to check out but in my opinion, it isn't necessarily the best cashback website out there.
Also, Extrabux is just geared towards helping you save money on your spending, but aside from the referral program it doesn't really help you to earn money so if you're looking to actually earn then I'd recommend you check out one of these other methods.
And like I mentioned earlier in this review a good thing to check out is affiliate marketing. That's how the creators of Extrabux make their money when you purchase things via their links & you too can make money from other peoples purchases just like they do.
Believe it or not, affiliate marketing is actually pretty easy to get started with thanks to programs like Commission Academy & the best part is that the amount you can earn from it is totally uncapped. Plus this way you would be earning from other people's spending – you don't actually need to spend anything to make money.
You can also read about how I personally make money with affiliate marketing right here.
But whatever you decide to do I just sincerely hope that my review of Extrabux here has given you a good insight into how it all works & I hope that it has helped you decide if it's worthwhile you joining or not.
If you still happen to have any questions or comments though then, of course, don't hesitate to leave them below & I'll get back to you as soon as I can. 🙂
A Better Alternative
The sad truth is that unfortunately most of the programs promising to help you make money online are scams. I can say that confidently after exposing over 500+ of them here on this blog.
But the good news is that even though most of them are indeed scams, there are actually some very good programs in amongst them - some programs that can truly help you to earn money.
And out of all of the legit programs I've seen, the one I would recommend the most to anybody looking to get started online is Commission Academy. In my own opinion, that's the best place to start.
At Commission Academy, you'll be provided with everything you need (including the training & tools) to begin earning real money by promoting products or services for companies like Amazon online.
The best part is that there's literally no limit on the amount you can earn with it & the process is pretty simple which means that it's absolutely perfect for people that don't have much experience.
Some wealthy affiliates even earn as much as 5-figures per month... Or more!

I mean don't get me wrong, that kind of money won't just fall into your lap without doing any work... But the harder you're willing to work at it, the more you stand to earn with it.
So if you're looking to get started but don't know which route you should go down or which program you should join (and don't want to waste money on bogus things that don't actually work), then I'd highly recommend checking out Commission Academy first. You can learn more about it here.