The Fast Cash App which has allegedly been created by a man named Robert Fisher boasts that will give you access to a highly confidential & "insanely profitable" method for making money online which will supposedly see you earning as much as $22,750 in your very first week…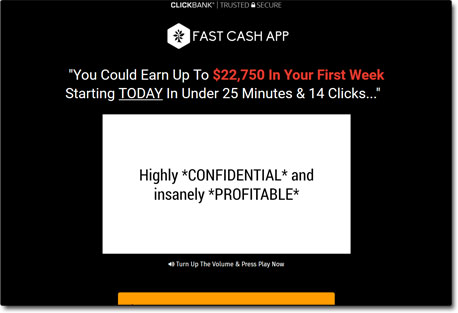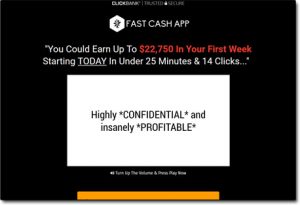 And if that claim on its own wasn't already bold enough the whole thing then goes on to state that you can set everything up within just 25 minutes & 14 clicks… But is it really legit & can you really make money with it or is the Fast Cash App a scam that's set out to rob you instead?
Thankfully you've landed in the right place to find out as I myself have personally take a closer look into this system & in this review I'll be uncovering the REAL truth about how it all works as well as outlining whether or not you can truly generate any profits with it… So keep on reading to find out everything you need to know.
What Is The Fast Cash App?   |   How Does The Fast Cash App Work?   |   The True Cost   |   Big Problems   |   Is The Fast Cash App a Scam?   |   A Better Alternative
What Is The Fast Cash App?
Despite repeatedly promising easy riches the website promoting the Fast Cash App doesn't actually give a great deal away as to how it's all supposed to actually work & instead in order to find out more you're pushed towards handing over $37 of your own hard earned cash first…
But that doesn't sound very legit does it? After all if this Fast Cash App can really make so much money so easily then why on earth are you being required to pay money upfront to get started?
In my opinion right from the off it sounds like a typical get-rich-quick scam.
And I can actually confirm right away that it IS indeed a scam as I suspected – the reason I can say that so confidently & so soon is because after researching the name Robert Fisher I realized he was behind the Smart Cash App scam which I previously exposed on this blog a few months back.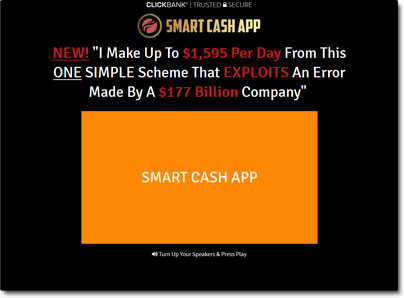 The two websites are literally identical & all that Robert has changed is the name – which I assume he has done to try & escape the negative reviews that exposed his previous scam (like mine) so that he can continue parting people with their hard earned cash.
Sadly therefore as you can likely imagine the system or "app" does NOT work as promised – in fact there isn't even any "app" at all on the other side. It's all just BS to get you to hand over your cash.
And as you'll soon see $37 also isn't the true cost of the program either, but keep on reading & I'll let you see that for yourself as I fully explain how it all works – or should I doesn't work below…
How Does The Fast Cash App Work?
Well like I just mentioned above in short it doesn't work – but there is some slight substance behind the whole thing as essentially it's all a big play on something called affiliate marketing which in itself is actually legit.
Affiliate marketing is actually the same way I make most of my own money online & it basically involves connecting people with the products that they're looking for online in return for commissions.
So you could affiliate yourself with a company like Amazon for example (which is free to do) and then if somebody clicked via your link to go check out one of the products & then made a purchase, you'd earn a commission as shown below: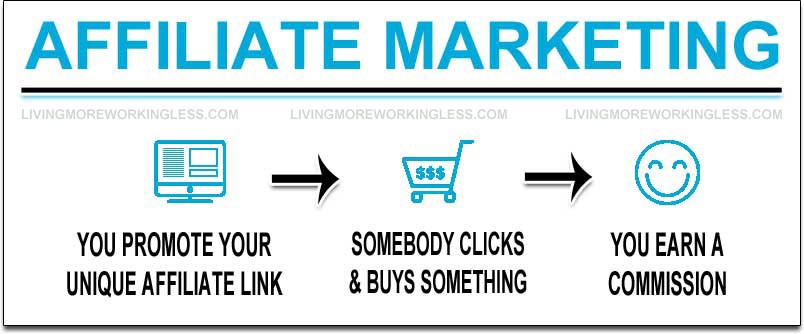 Like I say, in itself affiliate marketing is legit, and there are legitimate places you can get started with it like Commission Academy – however the big problem here is that the Fast Cash App system itself is NOT legit & therefore it won't really help you get started.
You see to find success with affiliate marketing it does actually take quite a bit of work. I mean don't get me wrong it's obviously well worth it (and I can say that having built up an income of over $10k/mo with it) but yeah, it's not just going to make you money without you doing anything.
And the truth is there's nothing online that will make you good money without you doing anything, and there's nothing that'll make you good money fast either. Anything that promises it will is just a get-rich-quick scam (hence the name!).
But regardless that's exactly what the Fast Cash App is doing. Its creator Robert Fisher is essentially claiming that he's come up with some sort of easy & automated way to make money with affiliate marketing. He wants to give you a "done-for-you website"…
And whilst after handing over your money you do indeed get the website as promised, not only do you have to pay for additional hosting, but even if you get it hosted you still won't make a penny with it.
The reason I say that is because you can't just get a website & begin making money – in order to make money you need visitors & that's the one thing that the Fast Cash App fails to provide you with.
So you'll get your website but you'll then be left to try & get visitors on your own – which without proper training is a tough task indeed.
And in short there's simply no need to pay for anything that's provided via the Fast Cash App website because you could actually just follow my free guide here & get a money-making website setup without paying a penny.
Which brings me onto…
The True Cost of The Fast Cash App
Robert makes his system sound great, and he makes the price seem really low at just $37 which may sound super tempting… But if you do hand over your cash (which I don't recommend) what you'll be left to find out is that $37 isn't the true cost at all.
Robert just wanted to tempt you in & then it's on the inside that you're left to find out the REAL cost of the whole thing.
Immediately after joining you're presented with upsell after upsell & they could end up setting you back hundreds of dollars – and you're left to believe that if you don't buy them, you won't find success.
Upsell number 1 is Fast Cash 2.0 which costs $197…
Upsell number 2 is Fast Cash Pro which costs $177…
And upsell number 3 is Fast Cash Social which costs $97…
But remember what I said above in this review? There's literally no need to pay for anything offered to you via the Fast Cash App website because you'd have more chance of success by simply following my free guide right here on this blog.
You Might Also Like:
There Are Some Other Big Problems Too…
Robert Fisher claims to be the man behind the whole thing but not once does he prove his identity & nor have I ever come across any online money making expert named Robert Fisher in my life.
My guess is that it's a fake name which the true creator is using to simply protect his own real identity.
But aside from that there's also no verifiable testimonials & that's a huge red-flag. I mean come on, if this thing could really generate people so much money so easily then everybody would be saying good things about it, but they're not.
The only things I can find about the Fast Cash App are scam reports online.
So it's safe to say that it sure doesn't look good at all which brings me onto…
Is The Fast Cash App a Scam?
In my opinion there's no doubt about it, the Fast Cash App is a scam. The reason I say that (even though you do get access to "some" material inside) is because as far as I'm concerned it simply does not live up to its promises.
People are buying into the Fast Cash App on the expectation of being able to make lots of money really easily & really quickly but that's not going to happen, they're just being lied to by the creator.
So as far as I'm concerned the whole thing has just been setup to make the creator wealthy at your expense & it hasn't really been set up to help you make any money at all (despite what you're told in the video). For those reasons I am going to tell you to AVOID the Fast Cash App as if you sign up you'll likely just end up losing money.
Like I mentioned earlier in this Fast Cash App review though, if you truly want to learn how to make good money online through affiliate marketing (which in my opinion is one of the best methods) then there's no need to pay anything outright as you can get started for free at Wealthy Affiliate.
And there's also all of these other great ways to make money too…
But whatever you decide to do I just sincerely hope that my review here has helped you to save some of your hard earned cash & hopefully you can see why I don't recommend this so-called "app". If you do however still happen to have any further questions or comments then feel free to leave them below & I'll get back to you as soon as I can.
A Better Alternative
The sad truth is that unfortunately most of the programs promising to help you make money online are scams. I can say that confidently after exposing over 500+ of them here on this blog.
But the good news is that even though most of them are indeed scams, there are actually some very good programs in amongst them - some programs that can truly help you to earn money.
And out of all of the legit programs I've seen, the one I would recommend the most to anybody looking to get started online is Commission Academy. In my own opinion, that's the best place to start.
At Commission Academy, you'll be provided with everything you need (including the training & tools) to begin earning real money by promoting products or services for companies like Amazon online.
The best part is that there's literally no limit on the amount you can earn with it & the process is pretty simple which means that it's absolutely perfect for people that don't have much experience.
Some wealthy affiliates even earn as much as 5-figures per month... Or more!


I mean don't get me wrong, that kind of money won't just fall into your lap without doing any work... But the harder you're willing to work at it, the more you stand to earn with it.
So if you're looking to get started but don't know which route you should go down or which program you should join (and don't want to waste money on bogus things that don't actually work), then I'd highly recommend checking out Commission Academy first. You can learn more about it here.