Fast Rewards (the newly launched website located at FastRewards.co) claims to provide you with a way to earn an easy over $300 just by sharing your opinion…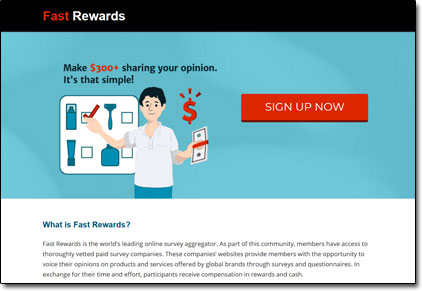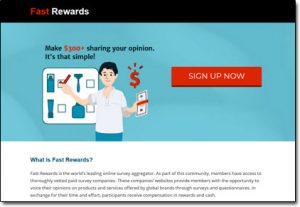 You're led to believe that so long as your aged over 18 you'll be able to get immediate access to some of the highest paying surveys & quickly begin earning cash & rewards for giving up just a few moments of your time.
But is Fast Rewards legit? $300+ is quite a lot of cash to earn from a survey site & Fast Rewards don't give much away about themselves so what's the deal? Is it just a scam to avoid or can you really make good money?
Well I can tell you right from the off that Fast Rewards is NOT what it seems & I'll explain why in more detail below
What Is Fast Rewards?   |   How Does Fast Rewards Work?   |   Is Fast Rewards a Scam?   |   A Better Alternative
What Is Fast Rewards?
Initially Fast Rewards leads you towards believing that it is a paid survey website, and a high paying one at that – but it's actually neither of those things. It's actually something called a paid surveys aggregator.
So what does this mean?
Well basically a paid survey website is a website that provides you with surveys & pay you in return for completing them. They connect companies looking for feedback with consumers who are looking to earn a little extra cash.
But Fast Rewards doesn't provide you with any surveys, and nor will it be paying you any money…
That's because Fast Rewards is merely an aggregator which means that they simply act as a middleman between you and the paid survey websites. So if you sign up to Fast Rewards you'll just be redirected through to other survey sites…
And as you'll soon see when I explain how it works below there's NO need to sign up to Fast Rewards (in fact I actually advise that you don't)…
How Does Fast Rewards Work?
So like I mentioned in the previous section of this review, Fast Rewards doesn't actually provide you with any surveys, nor does it pay you – instead it merely recommends 3rd party paid survey companies to you.
They do however claim that their "experts do all the work for you & match you with the highest paid survey companies"…
But is that true?
Well in my opinion no, it's not. It seems to me that Fast Rewards are actually recommending the paid survey companies that are paying them the highest commissions for referring you, NOT the companies that are offering the highest payouts.
And that's not the only misleading thing on the Fast Rewards website, because remember the $300+ income claim? Well at the very bottom of their website they also include a small-text disclaimer that contains the following text:
We also offer income-earning opportunities such as becoming a call car driver to qualified users. Not all users will qualify for these offers and we may not display every offer to each user, therefore the advertised payout may not be available to every user.
So it seems the advertised income claim of $300+ doesn't really relate to paid surveys, it relates to some other opportunity altogether…
But regardless the truth is that there is really no need to sign up to Fast Rewards because you can get access to lists of paid survey companies quite easily elsewhere for free without having to sign up.
I myself have put together a list of paid survey companies right here too.
The reason Fast Rewards want you to sign up so much is because they'll then begin promoting various things to you via email & that's how they're making most of their money, as affiliates (which is where you promote products/services for commissions).
I mean there's nothing wrong with being an affiliate – I myself am an affiliate & I make a living doing it – and you too could learn how to be an affiliate… But the problem is that Fast Rewards are doing it in a misleading way.
They haven't really set up their website to help you like they claim they have, they've just set it up to get you to sign up to so that they can bombard you with various offers & earn themselves money at your expense.
That's why they promise the whopping figure of $300+, to get you to sign up… But as you suspect that kind of income will never materialize through the the use of their site or it'll be very unlikely too anyway.
Which brings me onto my next point…
Is Fast Rewards a Scam?
Well no, it's not a scam as such however there's no real use for it whatsoever & if you sign up to Fast Rewards then you'll likely just find yourself being subjected to small emails (and potentially text/calls) unnecessarily.
In my opinion it seems that the creators of Fast Rewards are more interested in making themselves money rather than you & it seems like they're simply promoting the survey companies that pay them the highest commissions for referring you rather than the ones that actually let you earn the most.
So instead of signing up to Fast Rewards if you want to access paid surveys I'd suggest you check out the list that I've put together here (you don't need to sign up to get access to it).
But to be honest I'm not gonna lie, overall I think paid surveys are pretty lame because they pay out such little money in return for your time. As far as I'm concerned there are many better ways to make money online.
One of my all-time favourite methods is something called affiliate marketing which is the same way I make most of my own money online. It basically involves you connecting people with the products/services they're looking for & getting paid commissions in return.
The great thing about affiliate marketing is that it's totally scalable (so you can earn as much as you like) and it's actually pretty easy to do. Plus you can get started for free with it over at Wealthy Affiliate.
Whatever you decide to do though I just sincerely hope that my review of Fast Rewards here has given you a better insight into how it really works & hopefully you can now see why you don't really need to sign up to it. 🙂
A Better Alternative
The sad truth is that unfortunately most of the programs promising to help you make money online are scams. I can say that confidently after exposing over 500+ of them here on this blog.
But the good news is that even though most of them are indeed scams, there are actually some very good programs in amongst them - some programs that can truly help you to earn money.
And out of all of the legit programs I've seen, the one I would recommend the most to anybody looking to get started online is Commission Academy. In my own opinion, that's the best place to start.
At Commission Academy, you'll be provided with everything you need (including the training & tools) to begin earning real money by promoting products or services for companies like Amazon online.
The best part is that there's literally no limit on the amount you can earn with it & the process is pretty simple which means that it's absolutely perfect for people that don't have much experience.
Some wealthy affiliates even earn as much as 5-figures per month... Or more!


I mean don't get me wrong, that kind of money won't just fall into your lap without doing any work... But the harder you're willing to work at it, the more you stand to earn with it.
So if you're looking to get started but don't know which route you should go down or which program you should join (and don't want to waste money on bogus things that don't actually work), then I'd highly recommend checking out Commission Academy first. You can learn more about it here.