FB Dollars is a relatively new website that promises to provide an innovative way to easily earn as much as $500 from your Facebook account by simply renting out of business side of it to a so-called social media marketing agency…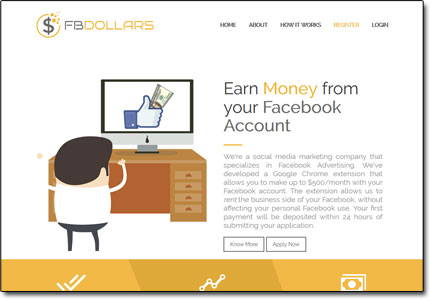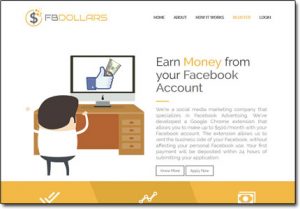 But can you really make money by doing this? And is it actually safe & legit? Or is FB Dollars a scam that'll just end up costing you money instead or result in your account data being stolen and shared?
It's a good job you've decided to do your due diligence on this before diving in head first & in this honest FB Dollars review I'll be uncovering the REAL truth about how it all works as well as outlining whether or not you can really (safely) make money with it… So keep reading to find out everything you need to know.
What Is FB Dollars?   |   The Red Flags   |   How Does FB Dollars Work?   |   The 2 Possible Outcomes   |   Is FB Dollars a Scam?   |   A Better Alternative
What Is FB Dollars?
FB Dollars claims to be a social media marketing agency that specializes in Facebook advertising – and for some reason rather than use their own account or the account of their clients to run the ads (like every other marketing agency I've ever seen) they seem to want to pay other people (aka YOU) in order to rent Facebook accounts to run their ads instead.
They promise that you'll earn $500 per month (without having to do anything) and such a whopping sum of easy money may seem pretty tempting, but you shouldn't dive into this head first because there are definitely some big risks…
However firstly before you even consider it at all you must check if you're eligible. FB Dollars claim that in order to get accepted onto their team of partners you must meet the following criteria:
You must be aged 21+
You must have at least 100+ friends on the account
The account must be 1+ years old
The account must be your own
You must never have previously used the Facebook ads account at all
If you don't meet any of that criteria then don't even bother looking into FB Dollars any more because you won't be accepted – instead just check out one of the legit recommendations for making money on my top picks page here.
But if you do meet the criteria & you're still interested in joining FB Dollars to earn some cash then there are definitely some red-flags you need to be aware of…
The Red-Flags To Be Wary About…
The first red-flag (and probably the biggest) is that which I mentioned above – about FB Dollars wanting to rent accounts in the first place. That's extremely suspicious behaviour & I'll touch on why in the next section.
But alongside that the other red-flag is that FB Dollars give absolutely NO information whatsoever about who's running the whole thing. No names, no address & the website itself has only just gone live.
Would you really trust giving an anonymous person access to your Facebook account? I hope not – not even for $500. Heck if I had a Facebook account I wouldn't even trust giving half my friends access, LOL!
On top of that though there's yet another red-flag, which is the fact that FB Dollars talks about being a social media marketing agency, yet shows no proof of this absolutely anywhere on their website.
All they talk about is renting Facebook advertising accounts, they don't actually mention anything about what ads they run, who they run them for – and there's no pages on their website that even offer any marketing services at all.
In short this is massively suspicious, but let's take a closer look into exactly how it works to see what's really going on here…
How Does FB Dollars Work?
So in order to get started with FB Dollars (which again, I don't recommend you do until you read this full FB Dollars review) you're required to firstly download Google Chrome if you don't have it already, and then you're required to input some details about yourself to apply.

They ask for your full name (as it's shown on your Facebook profile), your email, password, phone number & PayPal email you wish to be paid to. Then after submitting that info they ask you to setup their Google Chrome extension which allegedly enables them to use "just" the business side of your Facebook account.
How true this is I personally do not know, after all that app (since it's been given access to your Facebook profile) could potentially do anything… But for the purpose of this review let's take their word for it.
Anyway from here you have to submit your application & wait. They'll review the details you entered, check the account matches the criteria that they specified & then they claim to send the payment within 24 hours of approval.
But as you'll see below thing's likely ain't gonna be so great…
The 2 Possible Outcomes With This…
Being an online marketer myself & also a person that regularly exposes scams I can tell you from my experience that there are only really going to be 2 possible outcomes with FB Dollars & you are likely going to lose in both instances.
(so if you really want to make good money, stick with one of these legit methods)
The First Possible Outcome
The first possible outcome I can see happening is that FB Dollars do not actually pay the money & that they are just using the offer of a large sum to trick people into connecting their Facebook accounts so that they can steal & sell the data.
The reason I say that this may be an outcome is because this would explain why FB Dollars have absolutely no information about themselves or their marketing services on their website. It would it easy for them to "disappear" after they steal enough data.
But that may not happen, instead something else might happen…
The Second (And Likely) Possible Outcome
Okay maybe (but unlikely) FB Dollars are actually telling the truth. Maybe they will pay you $500, but since they're paying through PayPal you should know that this means they will be able to claw the money back.
So what I assume will happen is that if you meet their criteria they will indeed pay you – and then they will begin to run ads from your account… However the only reason I can see that they want to use other people's accounts is because they're running adverts that are against Facebook's TOS, meaning that the accounts are likely to get banned as a result.
And when a Facebook gets banned for going against the advertising TOS it is extremely difficult to get it opened again.
So they run the ads, your account gets banned (like after a couple of days or weeks), then the people behind FB Dollars just claw the money back that they sent you through PayPal & you earn nothing.
Either way there doesn't seem to be any good outcome of all of this because the pure fact that they're wanting to use other people's accounts rather than their own says to me that they're up to something suspicious – and that brings me onto…
Is FB Dollars a Scam?
Well I don't really have any solid proof to say it's a scam as such, however based on my experience in marketing & making money online (and exposing scams) I can say that the whole thing looks extremely suspicious.
The company claims to be a social media marketing company yet no marketing services are actually offered via their website & nor do they mention anything about what they'll actually be marketing via your account either… On top of that they give absolutely no trace as to who they actually are or where they're located, so you're essentially being asked to give an anonymous person access to your Facebook account.
Yes $500 is a fair sum of money but in this instance in my opinion the risks far outweigh the rewards & it seems to me that the people behind FB Dollars are just trying to suck people in on desperation, hence the bold promise of providing the money within 24 hours of signing up. I don't believe it will happen.
Instead if you really want to make good money online I suggest you stick with one of these legitimate methods & steer clear of places like FB Dollars which promise things that just seem way too good to be true.
Hopefully my review of FB Dollars here has given you a good insight it how it likely works but if you do still happen to have any further questions or comments about it though after reading my review here then don't hesitate to leave them below & I'll get back to you as quickly as I can.
A Better Alternative
The sad truth is that unfortunately most of the programs promising to help you make money online are scams. I can say that confidently after exposing over 500+ of them here on this blog.
But the good news is that even though most of them are indeed scams, there are actually some very good programs in amongst them - some programs that can truly help you to earn money.
And out of all of the legit programs I've seen, the one I would recommend the most to anybody looking to get started online is Commission Academy. In my own opinion, that's the best place to start.
At Commission Academy, you'll be provided with everything you need (including the training & tools) to begin earning real money by promoting products or services for companies like Amazon online.
The best part is that there's literally no limit on the amount you can earn with it & the process is pretty simple which means that it's absolutely perfect for people that don't have much experience.
Some wealthy affiliates even earn as much as 5-figures per month... Or more!


I mean don't get me wrong, that kind of money won't just fall into your lap without doing any work... But the harder you're willing to work at it, the more you stand to earn with it.
So if you're looking to get started but don't know which route you should go down or which program you should join (and don't want to waste money on bogus things that don't actually work), then I'd highly recommend checking out Commission Academy first. You can learn more about it here.