Social media marketing prevails the world these days as social media serves as an extremely good promotional tool to elevate your business online. It's, therefore, no doubt that Tai Lopez's Social Media Marketing Agency training program has become fairly popular over the course of a few months.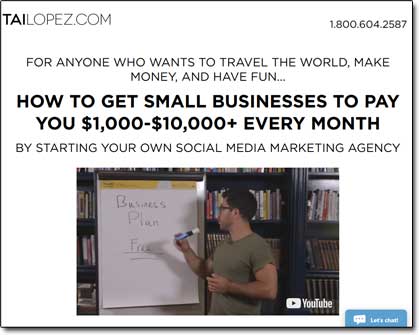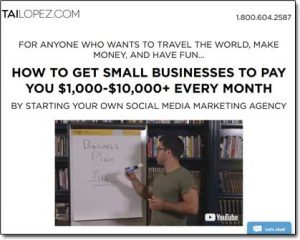 I've personally checked it all out and have a good idea of exactly how his training program works. Thankfully this time I didn't have to spend a lot of time to prepare for this review since I've already gone through the course myself, so I hold myself a perfect fit to write an honest Social Media Marketing Agency review.
And I know what you're likely wondering… Is the Social Media Marketing Agency a scam? Well if you are looking to benefit from Tai Lopez's training program then you must first read through this review first to get the right answers to your questions about the legitimacy of this increasingly popular training program.
What Is SMMA?   |   How Does SMMA Work?   |   How Much Does It Cost?   |   Is SMMA a Scam?   |   A Better Alternative
What Is Tai Lopez's SMMA Program?
The truth is I'm really excited about reviewing this program because at last, it's something which is highly impressive and fact-based (unlike most of the other scammy programs that I often review). Tai Lopez does well in presenting his legitimate offer by pointing out some impressive statistics.
Have a Look at This…
There are some impressive statistics about Social Media Marketing Agency Training program from Tai Lopez. And believe me, these statistics shown on the website are completely legitimate. I have verified each of them!
College and University Professors are referring to Lopez's videos and teaching their students the art of social media marketing
Lopez's videos on YouTube have hit millions of views and the Minutes Watched score is 635 Million
Lopez's Social Media Marketing Agency Training program has earned its place as TedX's top 15 all-time talks
Lopez has actually generated about $22M by testing social media marketing programs
There remains no reason to doubt Lopez's credibility as a social media marketing expert. But can his training really help your business? Can this comprehensive course help lift your business to untouched heights? Is there a chance to help a small business generate anywhere from $1,000 to $10k a month as he claims?
Well, all the above statistics speak loud and clear of Lopez's talent. A scam could never come close to such magnificent exposure. His personal portfolio also talks loud as Lopez has managed to impress various celebrities (as shown below one of his videos even features Rihanna & he has another on his YouTube channel where he is speaking 1 on 1 with the billionaire Mark Cuban). It's clear to see his talent has been accepted and respected across the high-end community.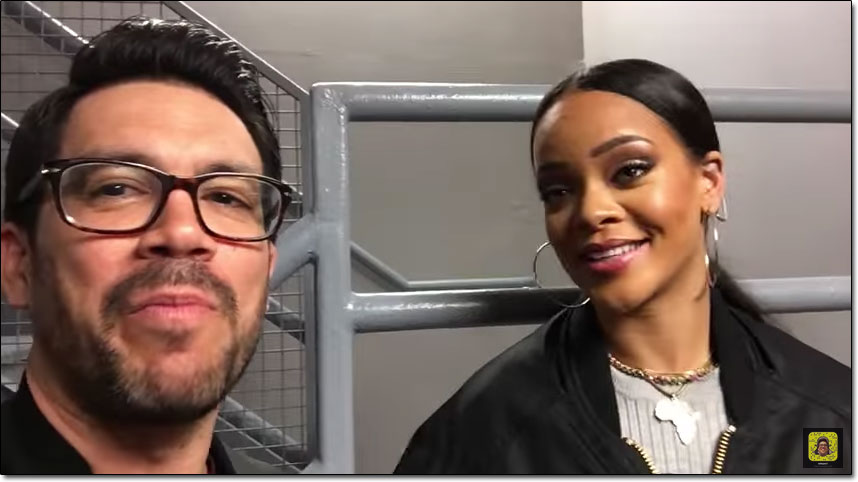 How Does Tai Lopez's SMMA Program Work?
It's an established fact that Lopez's Social Media Marketing Agency Training program actually offers a lot. Unlike many of the other programs that I review, there's nothing covered by a magician's sleeve when it comes to Tai's program. Let's now have a look at the phases of Lopez's training program.
Comprehensive Training
The training program has been divided into 4 sections, each encompassing a month. During the first month, you'll be taught and trained about the niche selection.
1. Niche Selection
During the training, you can actually test the techniques and knowledge by implementing it on your own business.
2. Master the Art of Social Media Marketing
The second month features the latest updates including social media guides, checklists as well as updated templates. During this phase, Lopez will guide you about the art of mastering this promising marketing practice of the contemporary world.
3. Customer Acquisition
During the third phase, Lopez and his team will teach you secret and working techniques for acquiring customers. He is not talking about ordinary customers, but he promises high-value customers.
How does he do that? Lopez is one of those few guys around who have contacts with established businesses. He helps his students with the provision of contacts of the clients who have no issues paying over $1,000/month. This phase also features the training of signing and finalizing the deal.
4. Hands-Free Ride
During the last phase, Lopez and his team will teach you how to serve your clients to the best of your capabilities. He'll teach you to manage and automate the workflow. Social Media Agencies actually look to make things as automated as possible. Lopez's training will not only walk you through the content but will also let you experiment and test your skills.
Once you'll successfully complete the training, Lopez will award you with Social Media Marketing Certificate.
How Much Does It Cost?
You'll have to pay $997 for this comprehensive social media marketing training program. In addition, Lopez also offers some bonuses without any additional charges.
These bonuses include:
1. Free Ticket to Live Event
You'll get a free ticket to Lopez's live event. The ticket will be valid for one year and you can use it once. Otherwise, the ticket is priced at $1,400!
2. Cool Lifestyle Program
Priced at $497 but you'll get it free!
3. Free Credentials
After the completion of your training, Lopez will enlist your name on the website featuring social media experts. This will help your credibility and clients will reach you easily.
Is Tai Lopez's SMMA Program a Scam?
No way! This is a completely legitimate social media marketing agency training program from Tai Lopez. Everything is fact-based and we all know the power of social media marketing. Every business – small or big – is actually looking to go global.
Social media marketing is one of the primary considerations to boost sales to unrealistic proportions. I am happy to have reviewed Lopez's training program. This is something of high value and as far as I'm concerned the claims are 100% true and realistic.
I personally know a number of social media experts who are actually earning in excess of $1,000 by serving their client's businesses. Even smaller retailers are paying up to $500 these days, let alone big companies… So I'll definitely rate this training program as highly recommended for anybody interested in becoming a social media marketing expert & make money online.
The only downside I would say is the cost – his program is pretty expensive & the cost probably puts it out of reach for many people that are interested in it. If that's you though then don't worry – there are several other "just as good" legitimate training programs that can help you make good money online. One of which that I highly recommend is Commission Academy & you can actually get started there for free…
So whilst Tai's program is good & all, if you're struggling with your budget or if you'd prefer to try something free first then I'd definitely recommend Commission Academy instead… But otherwise, if you have the money & you're specifically interested in social media marketing then Tai's program would definitely serve as a good investment in my opinion.
But anyway whatever you decide to do I just hope that this review provided you with the insight into the program that you were looking for & I hope it helped you decide whether or not his program is really right for you. If you do happen to have any further comments or questions though then don't hesitate to leave them below & I'll get back to you as soon as possible.
A Better Alternative
The sad truth is that unfortunately most of the programs promising to help you make money online are scams. I can say that confidently after exposing over 500+ of them here on this blog.
But the good news is that even though most of them are indeed scams, there are actually some very good programs in amongst them - some programs that can truly help you to earn money.
And out of all of the legit programs I've seen, the one I would recommend the most to anybody looking to get started online is Commission Academy. In my own opinion, that's the best place to start.
At Commission Academy, you'll be provided with everything you need (including the training & tools) to begin earning real money by promoting products or services for companies like Amazon online.
The best part is that there's literally no limit on the amount you can earn with it & the process is pretty simple which means that it's absolutely perfect for people that don't have much experience.
Some wealthy affiliates even earn as much as 5-figures per month... Or more!


I mean don't get me wrong, that kind of money won't just fall into your lap without doing any work... But the harder you're willing to work at it, the more you stand to earn with it.
So if you're looking to get started but don't know which route you should go down or which program you should join (and don't want to waste money on bogus things that don't actually work), then I'd highly recommend checking out Commission Academy first. You can learn more about it here.