Fetch Rewards is a cashback app which you can use to earn points your grocery shop, then later once you've earned enough points you can redeem them & get various rewards in return.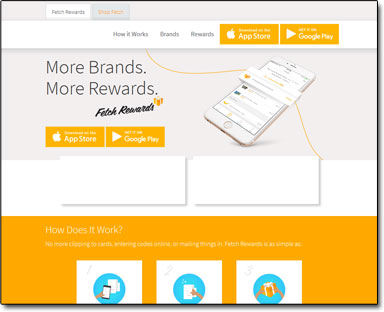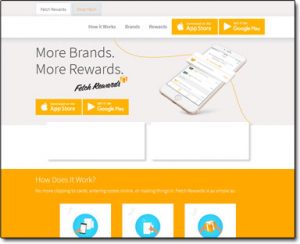 It sounds good in theory, but lately, there's been an ever-increasing amount of new cashback apps popping up so what's the deal here with this one?
Is Fetch Rewards legit & can you get good rewards from it or will it ultimately just be a waste of time?
Thankfully you've landed in exactly the right place to find out because I've taken a closer look at it & in this review, I'm going to be uncovering everything there is you need to know, including how it all works & whether or not you can really get good money back from it.
What Is Fetch Rewards?   |   How Does The Fetch Rewards App Work?   |   How Does Fetch Rewards Pay You?   |   Is Fetch Rewards Legit?   |   A Better Alternative
What Is Fetch Rewards?
Launching just a little over 6 months ago from the time of writing this review, Fetch Rewards is a relatively new cashback app (similar to Ibotta) & it's currently available to download on both the Apple App Store & Android's Google Play.
The concept is that you download it, then after each grocery shop, you take a photo of your receipt which you'll submit through the app to earn points. Then, later once you've accrued enough points you can redeem them for rewards.
It's a pretty cool, easy concept & I'm all for these types of apps since they're essentially giving you money back (in one way or another) for everyday things that you'd likely be doing anyway… Such as your grocery shop.
I appreciate though that there's quite a lot of people who think that the whole scanning receipt malarkey & what not can get a bit annoying – especially just for a few points & that's fair enough. Sometimes I also feel that way too & more often than not I simply just forget altogether…
So these things are good, but you've really got to get into the habit of using them regularly for the points to add up to anything worthwhile.
Unless you live in the USA or Canada that is… Because if you do you're in luck, I recently reviewed a new cashback app that launched out there named DOSH and that just links directly to your card so there's no need to fiddle around with receipts or coupons. Honestly, it's one of the best cashback apps I've reviewed to date it's just a shame it's not over here in the UK yet. ?
But anyway back onto the Fetch Rewards app…
How Does The Fetch Rewards App Work?
The Fetch Rewards app is pretty straight forward to use. Initially, after downloading it you'll need to create yourself an account… You can this by either entering your email & phone number or alternatively by logging in with Facebook…
Whichever method you choose it doesn't really matter, the registration process is super quick & easy either way.
Then, once you've registered you'll have immediate access to the app so you can go out & begin using it right away if you wish. What you'll notice though is that there are actually 3 different ways you can earn with it – I'll explain about each of these in a little more detail below…
1. Special Offers
The first screen you come to inside the app will show you a whole bunch of special offers. From here you'll be given product names & the quantity you must buy in order to qualify for the cashback offer.
This is good in a sense, but at the same time in my personal opinion, it has a bit of a downside… The downside being that the whole idea of cashback is that you are saving money, but essentially this screen could lead you into buying things that you might not necessarily have spent money on if you didn't have the app.
I have done it myself… I joined a flyer scheme to earn points & I went points crazy. I started spending on things I didn't even really want or need just because they had a good points offer on – it's easy to get sucked into it all.
2. Brands
The next screen you can navigate to inside the app is the "Brands" screen. On this page, you'll just be shown a huge list of brands (there's over 250 in total) and if any of these appear on your receipt then you'll earn points when you scan it in.
The brands on this page include many of the big names too so even if you don't specifically look for certain brands & just do your shop as normal the likelihood is that you will still earn some cashback on at least a few items.
And to be honest that's how I prefer to use these apps… I just do my shopping as normal & then scan my receipt in later without specifically looking for certain brands. This way it takes away the temptation to make impulse purchases just to earn points.
3. Referral Program
If you dig a little deeper into the app you'll find that they have a referral program which is pretty cool – in fact, if you have a lot of friends or people to share it with then this is probably the easiest way to earn rewards through the app.
Basically you get a unique code & if you share the app with somebody & they enter this code when they sign up then you earn 1,500 points… It's as simple as that, plus there's an added bonus too because the person you give the code too also gets 1,500 points for themselves. This makes it a lot easier to get people to try the app out using your code, meaning you can easily earn quite a lot of points this way.
1,500 points equate to around $1.50 – it's not bad just for sharing the app.
You Might Also Like:
How Do Fetch Rewards Pay You?
Once you've racked up a minimum of 3,000 points you'll be able to claim one of the rewards from the rewards store inside the app. You're pushed into choosing gift cards but there is the opportunity to get cash too… kinda.
If you want to get paid money that you can spend anywhere rather than opting for a gift card then your option is to select a Visa/Mastercard virtual rewards card which will be sent to your email address.
The minimum amount of points you'll need to go for this option is 11,500 & that will see you receiving a $10 Visa/Mastercard virtual rewards card (yes it costs more points to choose this over a gift card).
Once it lands in your inbox you will be able to use it right away – it's just a case of entering the details into websites like you would do if you were purchasing using a real card. The only issue is that some websites do not accept this type of payment.
Aside from that like I say you can choose to get gift cards instead – these start at just $3 so you can redeem your points pretty regularly if you wish which is a pretty good thing in my opinion. In total there are 55 gift cards & they do have the Amazon gift card which is often the most popular.
Is Fetch Rewards Legit?
Yep, Fetch Rewards is indeed legit & it does provide a fairly decent way to earn money back on your grocery shopping. The only thing I'd say though is that with it being new, in comparison to other apps like Ibotta I felt it was a little limited in terms of offers that qualify you for cashback.
Also, the Fetch Rewards app does require you to take photos of your receipts in order to claim your points – this isn't the end of the world but if you live in the USA or Canada then you might prefer DOSH which doesn't require any of that – it just links directly to your card instead.
Overall though it's a thumbs up for Fetch Rewards because you can't really fall off with these apps… They're helping you earn money on everyday things you would be doing anyway so there's no room to complain.
Plus it's totally free to download & join so whilst it's not going an app that's going to make you rich by any means, there's certainly no harm in trying it out to see if you can save/earn yourself a little bit of money.
And to find out more ways to can make (or save) money be sure to click here & check out my list… On top of that if you have any further questions or comments about the Fetch Rewards app don't hesitate to leave them below.
A Better Alternative
The sad truth is that unfortunately most of the programs promising to help you make money online are scams. I can say that confidently after exposing over 500+ of them here on this blog.
But the good news is that even though most of them are indeed scams, there are actually some very good programs in amongst them - some programs that can truly help you to earn money.
And out of all of the legit programs I've seen, the one I would recommend the most to anybody looking to get started online is Commission Academy. In my own opinion, that's the best place to start.
At Commission Academy, you'll be provided with everything you need (including the training & tools) to begin earning real money by promoting products or services for companies like Amazon online.
The best part is that there's literally no limit on the amount you can earn with it & the process is pretty simple which means that it's absolutely perfect for people that don't have much experience.
Some wealthy affiliates even earn as much as 5-figures per month... Or more!

I mean don't get me wrong, that kind of money won't just fall into your lap without doing any work... But the harder you're willing to work at it, the more you stand to earn with it.
So if you're looking to get started but don't know which route you should go down or which program you should join (and don't want to waste money on bogus things that don't actually work), then I'd highly recommend checking out Commission Academy first. You can learn more about it here.