If a program doesn't offer something beyond imagination, nobody pays attention… And so following suit to most of the other similar money-making schemes Financial Freedom Forever is yet another single-page website that features a promotional video claiming an impressive yield of over $2,000 a week.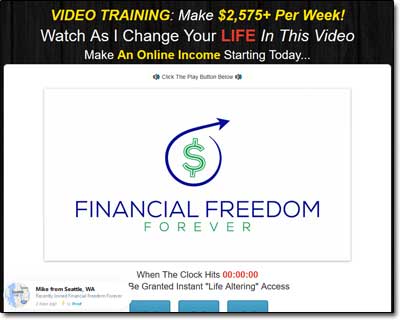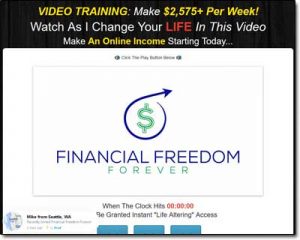 I am thankful to my follower who brought this website to my attention & today I am here to present an unbiased Financial Freedom Forever review in which I'll be sharing my opinion on the whole thing…
So if you're interested in trying this offer then you first need to go through this review. The website looks extremely suspicious & I don't want anybody out there to make a quick decision just to regret it later on.
Are the Financial Freedom Forever scam rumours true or is there actually something legitimate about this offer? Keep reading until the end to reach a realist and justified conclusion.
What Is Financial Freedom Forever?   |   How Does It Work?   |   The Truth   |   Is Financial Freedom Forever a Scam?   |   A Better Alternative
What Is Financial Freedom Forever?
The website is a simple single-page which primarily focuses on the promotional video and a couple of bold claims. Financial Freedom Forever, at first seems quite similar to scores of those money-making platforms which actually attempt to sell you something into else rather than what's actually being talked about in the video.
Like many of my followers, I also received an email talking about the rare opportunity to make over $2,500 a week on a regular basis. These emails somehow make their way into your mailbox but I wouldn't really advise checking any of them because most of these platforms generally mislead their subscribers.
The title on the website's promotional video suggests that they are inviting you to some training program that helps you generate $1,000's a month. The statement also claims that this training program is going to change your life forever and that you can start earning immediately.

To know the truth about the scheme we first need to know what's actually going on behind the scenes…
How Does Financial Freedom Forever Work?
First of all, I must talk about the basic idea behind such websites. They are mostly all affiliate offers – meaning people have the ability to promote them & to get paid for each new member they get to sign up. As a result, they're often promoted heavily through things like social media posts and paid email marketing. They also often have really hyped-up video sales presentations in an attempt to trick as many people into signing up as possible (just like Financial Freedom Forever). However more often than not visitors are just left to find out the hard way that they were lied too, and generally, the promises made are never delivered upon.
Now I do want to point out here that affiliate marketing is indeed a legitimate way to make money online, and it's actually a very good way to make money online (you can learn more about it for free at Commission Academy if you're interested)… But anyway basically the issue here is not with affiliate marketing itself, it's with the fact that the Financial Freedom Forever system is tricking people rather than being honest with them…
The Video Presentation
The video talks about a secret "Eff It program" and that if you don't act now, the offer will be closed for you. While watching the video, a pop-up message keeps appearing by the lower right corner of the screen updating the visitors about the latest subscriber. This is something new but an impressive move to convince the visitors that the platform is really time-sensitive. Is it really true though? I don't think so!

Then the speaker in the video denies the system using anything of the notorious methods including multi-level marketing, pyramid schemes, or expensive packages. So what it is? The speaker then comes to the point by telling the viewers that there is very private system – Financial Freedom Forever – and that you're allegedly lucky enough to be one of the very few individuals who've been invited to join.
But wait, does he know you? And what's his reason to invite you to this out of everyone in the world? Why doesn't he keep this private money making opportunity limited to his friends and family? Why is he giving you, a random stranger the opportunity to join this $2,500+ per week program?
Then he moves on to hint why do the subscribers call it the "Eff It" program and believe me, the explanation miserably failed to make any sense. Finally, the speaker tells some facts. He claims to make regular money from this program for over a decade. But he doesn't say that it always worked the right way. There had apparently been unfortunate failures, he said. He also recalls purchasing some expensive training programs like AWOL Academy. Then he says that learning from mistakes had been his best habit over the years and this program helped him to connect with a few most powerful people on the internet. Wow! An impressive story for sure… I mean, the video content is clearly unlike those misleading presentations which never explain how the thing actually works (yes – sarcasm involved LOL).
Connecting With The Most Powerful People on The Internet…
This is really interesting! The speaker now takes you to another world that is ruled by the tech-geeks who continue to discover and invent impressive online money making systems. The whole video tells you that this offer will let you connect with these experts who will train you how to generate steady and healthy income online.
The Truth
The video content is too impressive to ignore and this is what convinces me that more and more viewers must have been joining this program every day. It is important to reveal the truth behind these claims.
As soon as you proceed further, the website takes you to more videos one after the other. You have no option but to watch these videos first. They talk about even bigger deals promising up to $5,000 a week. The truth is that there is no secret team of "the internet's most powerful people" and there is no legitimate program which helps you earn $2,500 a week without any work.
In reality, the whole game simply resolves around buying into the program then promoting the exact same program onto other people in the hope of earning commissions at their expense… You know, just like how a pyramid scheme works which the creator explicit stated it wasn't…
Is Financial Freedom Forever a Scam?
In my opinion, absolutely yes! The Financial Freedom Forever is a scam for various reasons. The first is that it advertises a training program which doesn't even exist. Secondly, there is no such secret community that earns $1,000s every week ready to teach you inside of the system… It's just a lie to trick you into signing up.
So overall I recommend that you stay away because there is nothing of real value & if you do happen to hand over your cash I can almost guarantee that you'll just find yourself disappointed at what you receive (or should I say what you don't receive)…
The truth is though that you can actually make good money online like the Financial Freedom Forever system claims but the problem is that this particular system will not help you. The good news though is that if you are still interested in learning how to properly make money online then there are legitimate programs out there such as Commission Academy for example through which you can get all the training & tools you need to get started.
But anyway whatever you decide to do I really hope this review provided you with the insight into this program that you were looking for & more importantly I hope it helped you save some of your hard-earned cash. If you do happen to have any further questions or comments about it though then don't hesitate to leave them below & I'll get back to you as soon as possible.
A Better Alternative
The sad truth is that unfortunately most of the programs promising to help you make money online are scams. I can say that confidently after exposing over 500+ of them here on this blog.
But the good news is that even though most of them are indeed scams, there are actually some very good programs in amongst them - some programs that can truly help you to earn money.
And out of all of the legit programs I've seen, the one I would recommend the most to anybody looking to get started online is Commission Academy. In my own opinion, that's the best place to start.
At Commission Academy, you'll be provided with everything you need (including the training & tools) to begin earning real money by promoting products or services for companies like Amazon online.
The best part is that there's literally no limit on the amount you can earn with it & the process is pretty simple which means that it's absolutely perfect for people that don't have much experience.
Some wealthy affiliates even earn as much as 5-figures per month... Or more!


I mean don't get me wrong, that kind of money won't just fall into your lap without doing any work... But the harder you're willing to work at it, the more you stand to earn with it.
So if you're looking to get started but don't know which route you should go down or which program you should join (and don't want to waste money on bogus things that don't actually work), then I'd highly recommend checking out Commission Academy first. You can learn more about it here.