FinTech Mining claims to be a legitimate cloud-based Bitcoin mining company operated out of the Netherlands by a group named Aorta Digital LTD & they promise that they can help you generate a high ROI as an investor.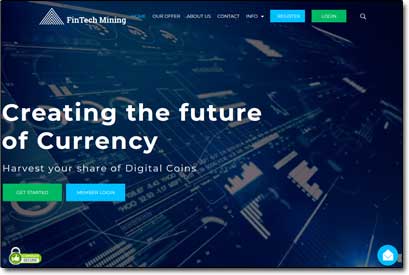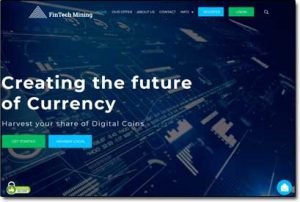 But when it comes to these so-called mining schemes you have to tread very carefully as many of them are totally fake…
So what's the deal with this one?
Is it actually legit, or is FinTech Mining a scam like the others?
Thankfully you've landed in exactly the right place to find out as I've taken a closer look into it all & in this review I'll be uncovering the honest truth about it, unlike the fake reviews that actually praise & endorse it.
Plus I'll also be determining whether or not you can really make any money with it.
What Is FinTech Mining?   |   How Does FinTech Mining Work?   |   Is FinTech Mining a Scam?   |   A Better Alternative
What Is FinTech Mining?
Basically, just in case you don't know there are 2 ways of obtaining a cryptocurrency like Bitcoin, Ethereum, etc… You can either purchase it – so for example right now you could buy 1 Bitcoin for around $6,270, or alternatively you can do what's called "mining it".
Mining it is actually pretty simple, but nowadays to actually mine a cryptocurrency it requires quite a lot of computing power (which is costly) – and that's where cloud-based mining platforms like FinTech Mining come into play.
So how does mining work?
Well, cryptocurrencies are digital currencies, and so they are electronically generated & in short, they are basically generated by completing a mathematical problem. The more of the cryptocurrency that gets released, the harder the maths problems become (in order to keep a "balance" of currency).
Initially when Bitcoin first launched you could have used your home PC to mine a coin as the maths problems were pretty simple. But now as you can imagine with the value of Bitcoin being much higher, the problems are much harder – and therefore as I mentioned above it requires a LOT more computing power.
So much power, in fact, that it's unreasonable & generally unprofitable for 1 person to attempt to mine coins (due to electricity costs)…
Now like I say, this is where companies like FinTech Mining come into play. FinTech Mining basically relies on multiple people investing in a "mining farm", and then the profits are split between the investors… So this way people can still profit from the mining process without having to set up their own mining rigs or without having to face the super high energy costs of doing it alone.
However, you have to be VERY careful because there are a lot of fake mining companies out there. They "pretend" to have a mining operation going on but in reality, there is nothing, they are just well covered up Ponzi schemes & the profits being paid out are coming directly from investors, NOT from any cryptocurrency mining.
Some fake mining companies I've already exposed include:
So is FinTech Mining one of them? Or is FinTech Mining real? Well, in my opinion, I believe FinTech Mining is FAKE – but I don't just expect you to take my word for that, so instead let me show you how it works…
How Does FinTech Mining Work?
Well, the idea is that you purchase a "mining package" from the FinTech Mining website which essentially grants you a lease on their mining equipment, from which you get paid a residual profit each day from the process.
They offer the following packages (but note they do not state the estimated ROI on any):
Beginner – 6 Months – $299
Steady Income – 3 Years – $3710
Advanced – 3 Years – $6700
Experts – 5 Years – $18340
One thing they also fail to mention is that you could actually end up losing money. That's right… Losing. The reason for that is because when the price of Bitcoin (and other cryptos) drop, the mining process can become unprofitable. So if you happened to invest, and the price of the coin fell below the cost of mining it then you end up at a loss on your investment.
Every legitimate investment site I've ever come across has stressed the risks associated with investing – yet FinTech Mining doesn't, instead it just boasts profits and "easy high ROIs" all over the website which is very suspicious and typical of a get-rich-quick scam.
But anyway, aside from that the big issue is that there are also several others, as outlined below:
No Proof of The Mining Process!
Literally the mining process is the one thing that determines whether or not these schemes are legit or phoney. If they actually have a mining rig setup & the profits are truly coming from the mining then OK, it's legit – but if not, it's definitely a Ponzi scheme.
So given the importance of the mining process been proven, why do FinTech Mining have no solid proof of a rig actually existing?
In fact, in their FAQ they have a question that reads "how do I verify that you are mining for me?" and take a look at the answer:

That's absolutely ridiculous – that's no proof at all, those dashboard & mining statistics could easily be faked. So as far as I'm concerned without proper proof their mining operation just simply doesn't exist.
There's no way you should be expected to "just take their word for it".
Another problem…
Aorta Digital LTD Doesn't Seem To Exist!
Yup, the company that's behind FinTech Mining which is named Aorta Digital LTD (as shown in the footer on their website) doesn't even seem to exist. I ran various searches and found nothing…

Now obviously as you can likely imagine that's a HUGE red flag when it comes to an investment site. Investment requires a lot of trust, and for the owner to hide or potentially use a fake name… That's not a good sign.
I know there's no way I for one would be able to trust the site based on that alone.
Heck, you could invest then they could just shut up shop & disappear… And it does happen.
Finally, we have the biggest red flag…
The FinTech Mining Referral Program
The FinTech Mining FAQ reveals that the company has a referral program in place which means that investors can refer new investors & earned commissions based on the money they invest.
It also looks like the referral program works on multiple levels, so the structure of it looks similar to the image shown below: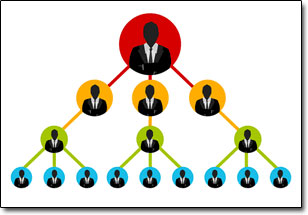 Investments, no proof of a mining rig, potentially a fake company name & a referral program that looks like a pyramid scheme…
It doesn't look good right? Which brings me onto…
Is FinTech Mining a Scam?
Well, there's no way I can prove for certain that it's a scam but given all the red-flags that I've just highlighted above, there is absolutely no way I would ever consider making an investment with FinTech Mining. The risk is not worth the reward.
On top of that I also recently exposed a scam named FinTech Limited – which may or may not be related, but the similarity in name is quite uncanny.
To be honest, though I am not really for cryptocurrency, I never have been – in my personal opinion there are much better (and safer) ways to make good money online & those have been my primary focus. Crypto as far as I'm concerned is just way too risky & most people I've spoken to have lost money as opposed to have earned it.
One of the best ways I've found for making money over the years is something called affiliate marketing (which you can learn more about for free at Commission Academy). That's been one of the main ways I've been earning an income online for around the past 6 years or so now and I'd highly recommend it to anyone. It's definitely better than crypto IMO.
But anyway whatever you decide to do I just hope that my review here has given you a better insight into the FinTech Mining company & hopefully it's made you rethink your decision about getting involved. If you do still happen to have any additional questions about it or any comments though then don't hesitate to leave them below & I'll get back to you as soon as I can.
A Better Alternative
The sad truth is that unfortunately most of the programs promising to help you make money online are scams. I can say that confidently after exposing over 500+ of them here on this blog.
But the good news is that even though most of them are indeed scams, there are actually some very good programs in amongst them - some programs that can truly help you to earn money.
And out of all of the legit programs I've seen, the one I would recommend the most to anybody looking to get started online is Commission Academy. In my own opinion, that's the best place to start.
At Commission Academy, you'll be provided with everything you need (including the training & tools) to begin earning real money by promoting products or services for companies like Amazon online.
The best part is that there's literally no limit on the amount you can earn with it & the process is pretty simple which means that it's absolutely perfect for people that don't have much experience.
Some wealthy affiliates even earn as much as 5-figures per month... Or more!

I mean don't get me wrong, that kind of money won't just fall into your lap without doing any work... But the harder you're willing to work at it, the more you stand to earn with it.
So if you're looking to get started but don't know which route you should go down or which program you should join (and don't want to waste money on bogus things that don't actually work), then I'd highly recommend checking out Commission Academy first. You can learn more about it here.