The Four Percent Challenge is a program that's been put together by a guy named Vick Strizheus & it promises to be able to help you make lot's of money online in the shortest time-frame possible with relative ease.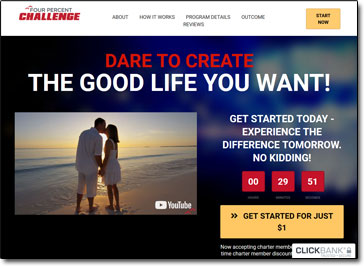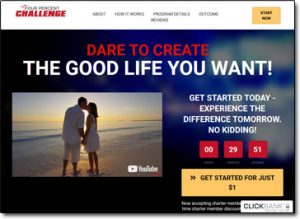 You're told that the system will enable you to create "the good life that you want", even if you have no prior experience at this sort of stuff at all…
But is it actually legit, or is The Four Percent Challenge a scam that'll just end up costing you money rather than helping you make it?
Thankfully you've landed in the right place to find out because I signed up, tried it out & in this review I'm going to be uncovering everything you need to know about it including how it all works & whether or not you can really make any money with it.
What Is The Four Percent Challenge?   |   Who Is Vick Strizheus?   |   How Does The Four Percent Challenge Work?   |   The Truth   |   Can You Really Make Money With It?   |   Is The Four Percent Challenge a Scam?   |   A Better Alternative
What Is The Four Percent Challenge?
The Four Percent Challenge is, as the name suggests a challenge that's been put together by Vick Strizheus as part of his program named The Four Percent Group which he launched around the middle of 2016.
The idea is that Vick will show you what you need to do to make money online & if you take action on what he teaches within the steps (or "the challenge") then you'll allegedly be able to find massive success.
He actually states that if you follow through on his training you'll be able to make $10k, $100k & even as much as $1 million dollars in a relatively short space of time – even if you're totally brand new to the whole thing…

But that's obviously a pretty bold claim to make, and when you couple that with the fact that you have to pay money upfront to access the challenge it might leave you feeling a little sceptical about the whole thing…
Rest assured though you'll soon find out exactly what's really going on with this "challenge" in just a moment when I show you all how it all works, but first I know there's one thing you're probably wondering…
Who Is Vick Strizheus?
Since the whole program is focused around Vick & his teachings you're probably wondering who the heck he is & whether or not you should trust him so I figured before I explain more about his program, I should probably explain more about him…
The first thing I can confirm is that Vick is indeed a real person – and he is actually pretty darn successful like he claims. The reason I want to clear that up is that a lot of the scams that launch use fake names & actors in their videos so if you've come across any of those you have been wondering whether or not he's actually like the real deal.
So yeah, he is the real deal – and from what I have seen he has certainly made a ton of money online. He's been around the online marketing industry for a long time so he sure knows his stuff, but it's worth pointing out that he has also been involved with some sketchy multi-level-marketing programs over the years like Empower Network..
However, when it comes to learning online marketing I would say he'd be a pretty good guy to learn from because as I mentioned above with the amount of success he's had he obviously knows his stuff meaning he should have some good knowledge to give out.
So is The Four Percent Challenge program any good? Let's take a look…
How Does The Four Percent Challenge Work?
Well with all the hype that's been surrounding The Four Percent Challenge I was actually pretty excited to join & check it out, but I'm not gonna lie shortly after doing so I found myself rather disappointed…
I mean whilst I could see that Vick had certainly packed a lot into it his program, one of the initial problems I faced was "where to start"… There were simply too many things I could click on & too many different sections I could start from…
It didn't feel very "step-by-step" and here's a snapshot I took to show you what I mean: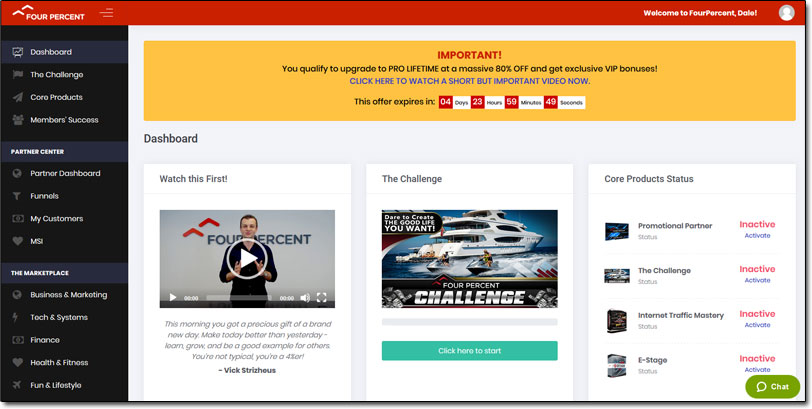 But anyway, the other reason I found myself pretty disappointed with it all was because it quickly became clear to me that there was a going to be lot of money required to be invested to properly get started with it.
Don't be fooled by the $1 entry fee to get started…
I was presented with several messages pushing me into upgrading to different levels & purchase different products… One of them even asked me to invest as much as $5,000 per year just moments after joining!
So it immediately became clear to me what this really is & why people are really hyping it up so much… It's what's known as a high-ticket program (which basically means it's expensive) and through it you're able to earn commissions by getting new members to join, which is what the real focus is on here.
Here's What I Found…
I finally managed to figure out how to progress through the "challenge" and the whole challenge is based around affiliate marketing – so the training videos basically teach you how to get started with it.
In case you don't know affiliate marketing is where you promote 3rd party products or services online & get paid commissions in return. It's legitimate & it's actually a pretty good to way to make money (though I believe Commission Academy is a better program to get started with).
However, as you progress through the training videos inside The Four Percent Challenge you begin getting pitched various products & services which Vick claims are absolutely essential for your success.
These products include things like ClickFunnels, GetResponse, BlueHost & ClickMagick…
Now I'll admit that these products are good, and if you have an online business they could certainly help you out… But I wouldn't go as far as to say they're a requirement if you're just brand new.
In fact, if you're brand new all these tools (except for BlueHost) would likely just make things more confusing if I'm being honest.
It would certainly make things more expensive that's for sure because take a look at the pricing of those products:
BlueHost web hosting – around $8 per month
ClickFunnels – around $97 per month
ClickMagick – around $12 per month
GetResponse – around $15 per month
So that's at least around $133 that'll be coming out of your pocket each month before you even get started, and those are only some of the products you're recommended – there's actually even more… Tecademics is another one & that could cost you thousands of dollars on its own…
But it quickly became clear to me why you're pushed into buying these products…
How The Four Percent Challenge Really Works…
It's only towards the end of the training after purchasing all of the stuff you've been pushed into buying that you find out how The Four Percent Challenge really works & I can tell you that it's not good at all.
Basically the way you make money with The Four Percent Challenge is simply be recruiting other people into it & getting them to buy all the stuff just like you did – but you're only left to find that out towards the end.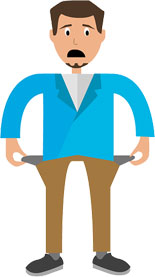 So like I say the tools I talked about above aren't really required when you first start, they're just pushing them on you because whoever referred you is earning money whenever you buy them.
They basically just want you to spend as much money as possible, because everybody in The Four Percent Challenge program is basically making money at other peoples expense.
And there's all sorts of different costs involved…
There's the cost for The Four Percent Challenge itself which can set you back anywhere between $49 per month & $5,000 per year, then there's the cost for all the additional tools… And on top of all that you even have to pay them an extra $19/mo for the privilege of being able to sell it onto other people.
It's safe to say it's a VERY expensive program!
You Might Also Like:
Can You Really Make Money With It?
I'll be honest here – yes you can make money with The Four Percent Challenge, but as I mentioned above the way you will be doing that is simply by selling the program onto other people & getting them to invest just like you did.
If you're expecting to just sign up & start making money, think again. In reality, it'll take a LOT of work to see profits from The Four Percent Challenge because it's all based around recruiting.
So whilst yes you can make money from it – it's not going to be anywhere near as easy as you're led to believe it will be. In fact, you'll much more likely find yourself spending more money than you actually manage to make.
That is unless you work extremely hard or already have a strong background in online marketing…
Because after all before you even get the ball rolling you'll be spending around $200 per month (potentially more) in fees just to keep access to the training & to all of the costly tools that you apparently require.
Is The Four Percent Challenge a Scam?
Well, it's certainly not a scam because you do get access to some training & there is actually the potential to make money, but I'm not gonna lie overall this is not a program I'm particularly fond of & there are a couple of reasons for that.
Firstly I think that whilst the training does give you a fairly good insight into affiliate marketing, it's way too heavily geared around getting you to promote The Four Percent Challenge itself… This means it's kinda lacking in value in terms of promoting other things… So if you wanna learn how to promote Amazon products, for example, it's probably not the right program for you.
Secondly I don't like these types of programs in general that involve selling the same thing you invested in onto other people & earning money at their expense because it kind of reminds me of a pyramid scheme. I mean obviously, I'm not saying it is one, but it sure runs close & I personally wouldn't want to risk getting involved in something like that.
And lastly, I will say that in my opinion, I think the whole thing is just way too costly. I mean if you sign up to it you could see yourself paying out hundreds of dollars in subscriptions (or potentially thousands) and that's before you even manage to get the ball rolling… So as you go through the training your bank balance will likely be falling into the red & it will end up as a race against the clock to make it work… Too much pressure in my opinion.
Therefore overall I'm not going to be recommending The Four Percentage Challenge to you because if you end up joining I just think you'll likely find yourself disappointed when you find out how it all really works.
If you do still want to learn more about affiliate marketing though then I suggest you check out a legitimate program like Commission Academy instead – it's there that you'll get access to all the training you need to get started the right way.
But anyway I hope you found this review useful & hopefully it gave you the insight you were looking for into this so-called "challenge". If you do happen to have any further questions or comments though then don't hesitate to leave them below & I'll get back to you as soon as I can.
A Better Alternative
The sad truth is that unfortunately most of the programs promising to help you make money online are scams. I can say that confidently after exposing over 500+ of them here on this blog.
But the good news is that even though most of them are indeed scams, there are actually some very good programs in amongst them - some programs that can truly help you to earn money.
And out of all of the legit programs I've seen, the one I would recommend the most to anybody looking to get started online is Commission Academy. In my own opinion, that's the best place to start.
At Commission Academy, you'll be provided with everything you need (including the training & tools) to begin earning real money by promoting products or services for companies like Amazon online.
The best part is that there's literally no limit on the amount you can earn with it & the process is pretty simple which means that it's absolutely perfect for people that don't have much experience.
Some wealthy affiliates even earn as much as 5-figures per month... Or more!

I mean don't get me wrong, that kind of money won't just fall into your lap without doing any work... But the harder you're willing to work at it, the more you stand to earn with it.
So if you're looking to get started but don't know which route you should go down or which program you should join (and don't want to waste money on bogus things that don't actually work), then I'd highly recommend checking out Commission Academy first. You can learn more about it here.