In today's blog post I'm going to be putting together a review of The Four Percent Group (or 4% Group however you want to spell it) which is an online marketing training course that's been put together by a guy named Vick Strizheus.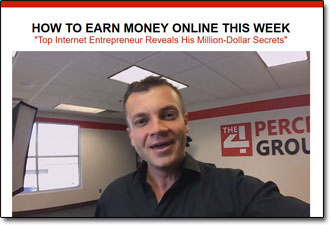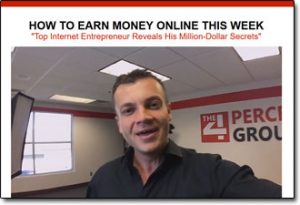 The course has got quite a lot of people talking online & it's hardly surprising as it claims that new members joining The Four Percent Group will be able to make money within literally their very first week – a pretty bold claim I think you'll agree.
So in this review, I'm going to be taking a closer look at it myself to find out exactly what it's all about, if it's legit, how it all works & whether or not you can really make money with it. Plus I'll also be finding out if there's any truth behind The Four Percent Group scam rumours that have been surfacing over the past few weeks too.
What Is The Four Percent Group?   |   Inside The Member's Area   |   How Does It Work?   |   The Things I Like   |   The Big Problem   |   The Reality   |   Is The Four Percent Group a Scam?   |   A Better Alternative
What Is The Four Percent Group?
As I briefly touched on above The Four Percent Group is an online marketing training program that's been launched by a guy named Vick Strizheus, but the thing that stands out about this particular course is that it claims that new members can literally start earning money in their very first week – and Vick actually puts quite a lot of stress on that claim too.
He claims that through the training course he's put together you'll learn a "resistance-free marketing strategy" that will help you generate more sales & commissions faster than anything else in existence (his words, not mine).
So I've been in this game a while & I can safely say that that's a massively bold claim – sure, I have seen people make money in their first week of getting started but it's rare, and it's rarer for it to be anything even remotely substantial.
The other issue here is that the product has been launched by Vick Strizheus – I mean don't get me wrong there's no denying that Vick knows his stuff & has made a fortune online but the problem is that he's got a bit of a negative track record & numerous different people online have even gone as far as to brand him a flat-out scammer.
Just to make it clear that's not my personal opinion of Vick, I just figured I ought to let you know what's "out there" about him since he is essentially the main man behind this whole program.
Inside The Four Percent Group Member's Area
The initial positive thing I can say about The Four Percent Group is that it gives you the option to get started for free which is always a bonus – therefore naturally I created myself an account to see what it was all about.
Once logged in you're taken to the member's area which looks like this: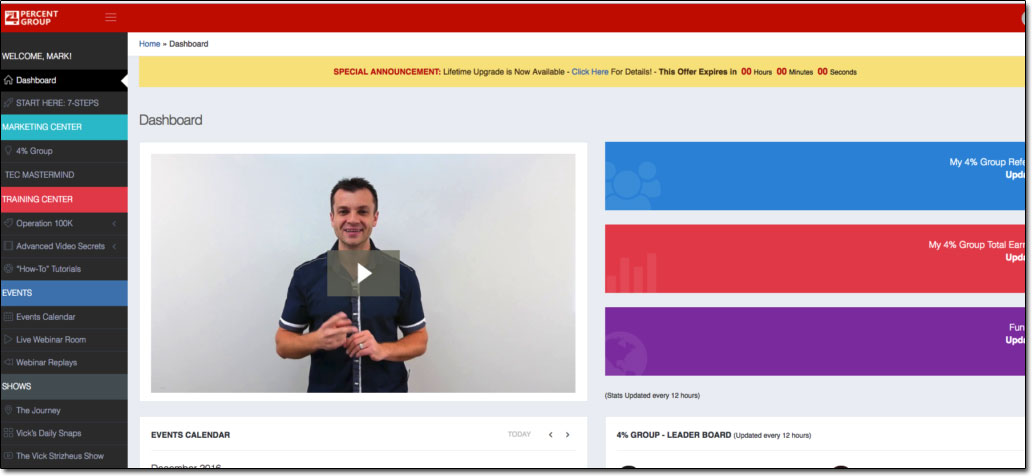 And as a new member, the first thing you must do is go through Vick's 7 step start-up training which is basically where he introduces the system to you & explains kinda how it's all supposed to work.
Though admittedly a lot of the content is padded out as Vick spends an awful lot of time getting you hyped up about the possibility of building an additional income online through his system.
One thing I will say is that in comparison to other systems/programs I've seen in the past The Four Percent Group is quite overwhelming. Most other systems are laid out in a step-by-step fashion where you must complete one to proceed to the next etc, meaning you can't really go wrong – but in Vick's system you're given free rein which is a good thing in one respect but a bad thing in another.
Even as quite an advanced online marketer I logged into The Four Percent Group & felt confused, with no real sense of direction… It wasn't immediately obvious to know where to start first, and where to go next.
How Does The Four Percent Group Work?
Basically, the training is geared towards teaching you how you can start marketing products online as an affiliate – which is basically where you promote other peoples products in return for commissions.
Affiliate marketing on its own actually a very good way to make money online & there are several other training platforms out there teaching the same thing with one of the most popular ones being Commission Academy (which is a free program that I actually highly recommend).
Now whilst Vick's system gives you free access, ultimately that's just a "taster" as you're immediately presented with an offer for a "Lifetime Upgrade" which will set you back $497 – and then on top of that, it becomes clear that you're going to need several third party products to really "make this work" which Vick also recommends as you go through the training.
Don't get me wrong the products that Vick recommends are good products (such as ClickFunnels, LeadPages etc) & they will certainly help you as an online marketer but it just bugs me a little when a system/program makes out like it's free only for you to find that you need to spend $$ on x, y & z as you progress through.
Call me old fashioned but I like honesty upfront.
If you don't decide to go for the "Lifetime Upgrade" that Vick offers you when you first sign up then you'll need to pay $49/month for the Pro level of membership in order to continue with the training.
The Things I Like
I might sound like I'm total slamming Vick's program here but don't me wrong I'm not – I regularly expose money-making scams on this blog that have the pure intention of parting you with your cash (like Teens Earn Cash for example), so in reality, The Four Percent Group actually feels like a bit of fresh air since at least you're getting some substance in return for your money.
Whilst it's a little over-hyped, the training inside is good – and if you do go through the videos then there's no doubt you'll probably learn something new & grasp the concept as to how money is made through affiliate marketing.
You also get access to free weekly webinars where Vick hooks up with internet marketing experts specializing in various different fields (such as SEO, Facebook advertising etc) which again, is good.
And on top of that whilst there are upsells, in my opinion, there are no pointless upsells & that really is a big breath of fresh air for me. Programs like Digital Altitude & MOBE push you into buying product after product as you progress through the training & in reality, they're only doing it so they can make money from you, the products don't really provide worthwhile value.
Here, with The Four Percent Group, you are recommended products but they are products that do provide value for money – such as ClickFunnels, LeadPages etc which will help you properly launch & track marketing campaigns.
The big, big benefit though is that unlike its closest rivals The Four Percent Group is not a "pay-to-play" program, which means you can make money by promoting the program to other as an affiliate without having to personally purchase any of the products. This is how it should be!
You Might Also Like:
The Big Problem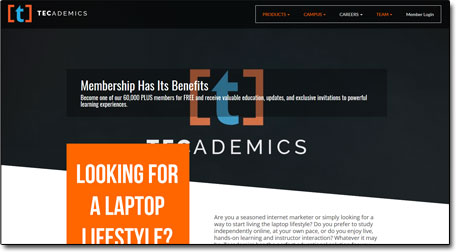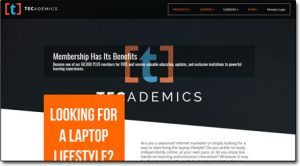 Before I mention the downside, let me make it clear that you can sign up to The Four Percent Group & make money by reselling The Four Percent Group onto other people as an affiliate without purchasing anything.
However, despite that after progressing through the training inside of The Four Percent Group you'll find out that in reality, it's just one really long-winded sales funnel that's been designed to get you to buy into something called Tecademics, which is a high-ticket network marketing program.
Don't get me wrong, Tecademics is technically a legitimate educational course – but as I mentioned above it's what's known as a high-ticket course which basically means it's expensive & the products inside could see you spending up to a whopping $12,000.
And here's the deal – Tecademics is a pay-to-play program, meaning if you want to get the maximum earnings out of promoting The Four Percent Group then you'll be personally required to purchase the Tecademics products yourself to become eligible to earn commissions on them.
The Reality
Ultimately whilst The Four Percent Group does provide you with quite a decent amount of value & training, it's clearly been designed with the intent of getting you to buy into the Tecademics opportunity.
Then, once you've bought into The Four Percent Group & Tecademics you'll find that the way you really make money is by then reselling these exact same programs onto other people.
So basically in the long run it's a "this program will teach you how to make money but you actually make money by selling this program onto other people" type thing – though admittedly it's one that gives you much more value than say Digital Altitude or MOBE for example (in my personal opinion).
Is The Four Percent Group a Scam?
Well it's not a scam by any means, but in my opinion, the practices are quite questionable – I mean initially you're led to believe that it's a free program but then by the time you progress right through you could see yourself spending in excess of $12,000 which is pretty insane.
Personally, I won't be recommending it purely because I know there are programs out there that will give you just as high-quality training (if not higher quality) at much, much lower cost. Some of which are even free, like Commission Academy.
But that's not to say you can't make money with The Four Percent Group – I'm confident you can, but to make any sort of substantial income from it you're going to be required to heavily invest before you can get the ball rolling. The other issue I have is that as opposed to teaching you how to build your own stand-alone business the training provided by The Four Percent Group is heavily geared towards reselling the 4% program itself.
If you really like all that high-ticket network marketing pay-to-play stuff then yes, The Four Percent Group is a legit program & you can make money – but ultimately you're going to making money by reselling the same thing onto other people. This means that if the 4% program goes, so does your income – which is why I always advise taking the time to build a stand-alone, sustainable business instead.
A Better Alternative
The sad truth is that unfortunately most of the programs promising to help you make money online are scams. I can say that confidently after exposing over 500+ of them here on this blog.
But the good news is that even though most of them are indeed scams, there are actually some very good programs in amongst them - some programs that can truly help you to earn money.
And out of all of the legit programs I've seen, the one I would recommend the most to anybody looking to get started online is Commission Academy. In my own opinion, that's the best place to start.
At Commission Academy, you'll be provided with everything you need (including the training & tools) to begin earning real money by promoting products or services for companies like Amazon online.
The best part is that there's literally no limit on the amount you can earn with it & the process is pretty simple which means that it's absolutely perfect for people that don't have much experience.
Some wealthy affiliates even earn as much as 5-figures per month... Or more!

I mean don't get me wrong, that kind of money won't just fall into your lap without doing any work... But the harder you're willing to work at it, the more you stand to earn with it.
So if you're looking to get started but don't know which route you should go down or which program you should join (and don't want to waste money on bogus things that don't actually work), then I'd highly recommend checking out Commission Academy first. You can learn more about it here.