Having multiple streams of income is the need of the hour if you want to achieve financial freedom. Julie Stoian has introduced a promising formula that could allegedly help you to earn 6-figures in the near future.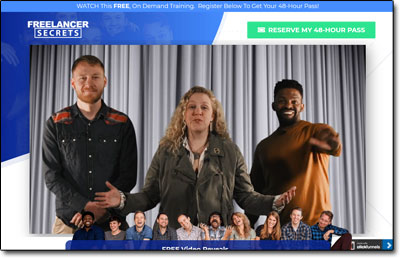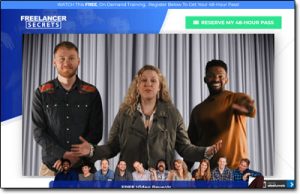 Freelancer Secrets, as they claim, could well be the path to financial freedom.
Being a freelancer & not being able to earn as much as you need certainly frustrates you. Stress levels remain consistently high and your dreams keep shattering by each passing day.
We constantly keep looking for ways to achieve financial freedom and today we have decided to write an honest Freelancer Secrets review to see if it really does contain "the secret".
The purpose of our Freelancer Secrets review is to let you know if this is a legitimate and reliable source of consistent online income, how much hard work it actually involves and whether or not should you buy this offer.
What Is Freelancer Secrets?   |   How Does It Work?   |   The Costs   |   Is Freelancer Secrets a Scam?   |   A Better Alternative
What Is Freelancer Secrets?
The online freelancing industry has been flourishing for more than a decade and some freelancers have managed to generate multiple streams of income by gaining winning trust of their regular clients. But there are many who fail to impress and the major reason is that they underestimate the effort and hard work a freelancer requires.
The problem is that most of the people consider freelancer as a makeshift and unreliable opportunity. In addition, there are many who try freelancing in anticipation that they could hit a jackpot without making too much effort. These approaches don't work and this is why freelancing becomes a nightmare for the procrastinators.
Julie Stoian introduces Freelancer Secrets which is a training program for freelancers. You could also call it the roadmap to successful freelancing. Julie has come up with a nicely designed system that is "Done-For-You" so you don't have to begin from scratch.
Julie Stoian also offers a free training-video through which she reveals some of the Freelancer Secrets which helped her to become a 6-digit earner being a house-wife (as shown in the screenshot below):

Basically, Julie is an expert at digital marketing and she is an acknowledged trainer. She is also the VP and Executive Partner of ClickFunnels. She has already worked on different projects including Digital Insiders, Funnel Gorgeous, and Create Your Laptop Life. She also trained students along with Steve Larsen under a famous platform called One Funnel Away Challenge.
She started her journey as a writer and blogger and quickly grabbed the attention of the Washington Post and The New York Times. Even Forbes published her inspirational story that inspired millions across the globe.
That's, of course, all very fair and well, clearly Julie herself knows her stuff, but is she sharing valuable information through her Freelancer Secrets program? That's the important question so let's take a closer look into how it works…
How Does Freelancer Secrets Work?
The good news is that the Freelancer Secrets training program addresses all types of freelancing. This is basically a formula that works for all. Even if you want to start an online business, this training could put you on the right track. In short, this is the path to becoming a successful entrepreneur.
Julie Stoian states that she created this program to cut the learning curve to quickly expand your own online business or a freelance agency. She tells us that she started at a small scale but the mishaps she faced motivated her to struggle and find a quick way to 6-digit income. She did it all when she suffered from multiple problems and was going through a state of severe panic.
Julie Stoian – Freelancer Secret #1
She calls it the upside-down power of service that reveals the conventional model of the freelancing agency which exploits your talent and takes unfair advantage. You do the hard work but the agency grabs the lion's share.
Julie Stoian – Freelancer Secret #2
Julie explains how a funnel set to capture leads easily pulls thousands of dollars in a matter of weeks.
Julie Stoian – Freelancer Secret #3
She calls it the ZukerBooked secret that explains the process of creating a promising email list with the help of free marketing techniques you could use via Facebook.
These secrets are discussed in the free video but then you are encouraged to subscribe to the real deal. These secrets include the Proposal Secretes, Weekly Calls (Q&A Session with Julie Stoian), Private Community, Job Opportunities. Starting from ZERO and more.
You Might Also Like:
Freelancer Secrets Costs
You only have to pay $1 to qualify for the 2-week trial. Then you need to pay $49 per month and you are free to cancel the subscription whenever you want. Julie offers a 66% discount for the yearly subscribers which means that the yearly subscription is available at $199.
What you must take note of though is that those costs are only for the training program, and ultimately the Freelancer Secrets training program is a promotion for ClickFunnels (the company she is a partner of).
This means that if you wish to pursue her method then you will need to take out a ClickFunnels membership which at the time of writing costs between $97 to $297 per month.
In my opinion that is a lot of money to be spending when you are just starting out in freelancing especially since most people who start out freelancing do so because they are already tight of funds.
I personally believe the better way to get started would be to just join a freelancing site like Freelancer where you can list your skills & then bid on jobs that are suited to you. At least there you only have to pay once you actually get paid from the project, and the website just takes a fee of the amount you are paid so it's not like you're having to spend anything upfront.
I mean I understand the concept of training because there are certainly some tips that help freelancers to get started… However, unfortunately, I do believe the Freelancer Secrets program has a bit of a heavy push on ClickFunnels which in my opinion is unnecessary for the majority of freelancers.
Is Freelancer Secrets a Scam?
The purpose of this third-party Freelancer Secrets review is to let you have a look at what actually matters. We are happy to finally review a legitimate and reliable money-making opportunity after a long time of reviewing many opportunities that turned out to be scams.
Julie has a tremendous track record, she has been an inspiration for the beginners as well as the professionals who are still looking to find the right track. The pricing is affordable and we are happy to recommend Freelancer Secrets from Julie Stoian.
The only thing I have to pick at is the fact that like I mentioned in the previous section of this review I think the whole ClickFunnels aspect itself is unnecessary for most freelancers & it is pretty costly.
I'll also point out that nowadays I do believe there are actually better ways to make money than freelancing… You see many years ago I actually did a bit of freelancing myself for a short while but I stopped it because of a few reasons.
Firstly, there was a lot of competition so it was hard to get jobs & to do so you had to bid low which meant you were getting paid little in return for your time. Secondly, in order to earn you had to work, you were getting paid for your time & therefore it could never turn into a "passive income" & was difficult to scale up (you can only work so many hours in a day).
I then found affiliate marketing & that's when things really changed for me… With affiliate marketing, you can build up your income because things can begin to happen passively & as a result, I actually found myself making over $10k per month with it.
Affiliate marketing basically involves you promoting products or services online & getting paid commissions in return. The good thing about it is that thanks to programs like Commission Academy it's actually very easy to get started with, so I'd definitely recommend checking it out.
There are also these other great ways to make money online too.
But whatever you decide to do I just hope that my review of Freelancer Secrets by Julie Stoian here has given you a good insight into what you can expect from the program & hopefully it's made you aware of some potential alternatives that you might not have previously known about.
Feel free to leave any questions or comments below though if you still happen to have any. 🙂
A Better Alternative
The sad truth is that unfortunately most of the programs promising to help you make money online are scams. I can say that confidently after exposing over 500+ of them here on this blog.
But the good news is that even though most of them are indeed scams, there are actually some very good programs in amongst them - some programs that can truly help you to earn money.
And out of all of the legit programs I've seen, the one I would recommend the most to anybody looking to get started online is Commission Academy. In my own opinion, that's the best place to start.
At Commission Academy, you'll be provided with everything you need (including the training & tools) to begin earning real money by promoting products or services for companies like Amazon online.
The best part is that there's literally no limit on the amount you can earn with it & the process is pretty simple which means that it's absolutely perfect for people that don't have much experience.
Some wealthy affiliates even earn as much as 5-figures per month... Or more!

I mean don't get me wrong, that kind of money won't just fall into your lap without doing any work... But the harder you're willing to work at it, the more you stand to earn with it.
So if you're looking to get started but don't know which route you should go down or which program you should join (and don't want to waste money on bogus things that don't actually work), then I'd highly recommend checking out Commission Academy first. You can learn more about it here.