The Get Paid 1K Per Day system claims that you can do just that, it claims that it gives you access to some sort of "done-for-you" online business that will see you almost immediately earning around $1,000 per day with very little effort.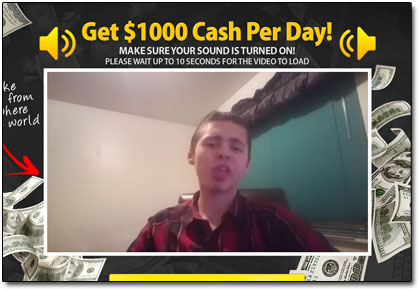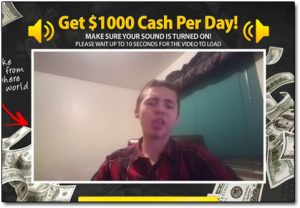 But obviously I think you'll agree that that's a pretty bold claim, so what's the deal?
Is it actually legit or is Get Paid 1K Per Day a scam that'll just end up parting you with your hard-earned cash & leaving you red-faced?
Thankfully you've landed in the right place to find out because I've done the digging & in this review, I'm going to be uncovering everything you need to know & most importantly whether or not you can really make money with it.
So without further ado let's dive right in…
What Is Get Paid 1K Per Day?   |   How Does Get Paid 1K Per Day Work?   |   Is Get Paid 1K Per Day a Scam?   |   A Better Alternative
What Is Get Paid 1K Per Day?
As I briefly touched on above the Get Paid 1K Per Day system claims that it can enable you to earn an income of $1,000 per day online very easily. You're led to believe that all you need to do is sign up & that you can start making money almost right away…
It certainly sounds nice, but is it legit?
Sadly not, and I can say that so confidently so soon because it's actually just a duplicate of a scam I've previously exposed on this blog before named Copy Paste Commissions. They've basically just launched the exact same system under a different name, likely in an attempt to dodge the negative reviews & continue scamming people out of their hard-earned cash.
But I know that you won't be just wanting to take my word for it so instead let me show you how it works, or should I say doesn't work…
How Does Get Paid 1K Per Day Work?
Well in terms of helping you make money the Get Paid 1K Per Day doesn't work at all… Instead, the only thing this system will help you do is to lose money, and I'm confident it will do that very well.
What I will do here though is show you how the scam works so that you can see for yourself how it's not to be trusted…
Basically Get Paid 1K Per Day is what's known throughout the online marketing industry as a web hosting scam. In short, they basically trick you into signing up with an expensive web hosting company so that they can earn themselves a commission at your expense.
Now before I explain how they do it don't get me wrong there's nothing wrong with buying web hosting – it's pretty much a necessity to have if you want to get started online, but scams like Get Paid 1K Per Day recommend overly expensive companies & trick you into thinking you'll make money by simply purchasing the hosting alone (which you won't).
Anyway here's how they do it…
After signing up with Get Paid 1K Per Day (which I don't recommend you do) you'll be presented with a video which instructs you to sign up with their "recommended" web host. They claim that they have built a proven, profitable website & that all you need to do is copy it in order to start making money for yourself.
If that offer wasn't already kind enough they also tell you that they will give you all the files & everything you need, they even say that they will give you a helping hand with setting it all up… Of course, all you need to do is purchase the web hosting they recommended.
This is the scam!
If you do happen to proceed & purchase the web hosting then you will simply find out that you have been lied to. Yes, the creators of Get Paid 1K Per Day will indeed give you a "done-for-you" website as they promised but I can guarantee it will not make you any money, this is because you cannot make money by simply copying a website.
If you could then everybody would be doing it, heck people would be just copying Facebook & earning billions without doing anything.
Sadly it's just a dream – but the creators of this system are very good at making it sound convincing.
Usually, the hosting companies are in on the scam too & they will make it very difficult (nearly impossible) for you to get any of your money back. Often they're not even real web hosting companies at all.
If you want to really learn how to make money from your own website then I recommend you check out my free guide here.
Is Get Paid 1K Per Day a Scam?
I can say confidently that yes, this particular program is 100% a scam & it's clear to me that it's been designed with the sole intention of parting you with your money to make the creators rich at your expense.
The reason I can be so confident in saying that this system is because it's identical to the one I have seen before – that & the fact that the systems not only boasts ridiculous claims but also uses fake actors from Fiverr to give "genuine" testimonials.
Honestly, this whole thing is just a piece of junk & if you happen to buy into it or invest in hosting through it then you will only end up losing money so I definitely advise avoiding it & I certainly won't be recommending it.
There are many legitimate ways to make money online but this program is not one of them – it's just a classic case of "too good to be true".
Anyway, hopefully, this review gave you the insight into this system that you were looking for & helped you saved your cash. If you happen to have any further questions or comments don't hesitate to leave them below.
A Better Alternative
The sad truth is that unfortunately most of the programs promising to help you make money online are scams. I can say that confidently after exposing over 500+ of them here on this blog.
But the good news is that even though most of them are indeed scams, there are actually some very good programs in amongst them - some programs that can truly help you to earn money.
And out of all of the legit programs I've seen, the one I would recommend the most to anybody looking to get started online is Commission Academy. In my own opinion, that's the best place to start.
At Commission Academy, you'll be provided with everything you need (including the training & tools) to begin earning real money by promoting products or services for companies like Amazon online.
The best part is that there's literally no limit on the amount you can earn with it & the process is pretty simple which means that it's absolutely perfect for people that don't have much experience.
Some wealthy affiliates even earn as much as 5-figures per month... Or more!

I mean don't get me wrong, that kind of money won't just fall into your lap without doing any work... But the harder you're willing to work at it, the more you stand to earn with it.
So if you're looking to get started but don't know which route you should go down or which program you should join (and don't want to waste money on bogus things that don't actually work), then I'd highly recommend checking out Commission Academy first. You can learn more about it here.