Copy Paste Commissions is a relatively new money-making system that claims it can allegedly help you generate profits of up to $1,000 per day on complete auto-pilot, even if you've no experience at making money online before.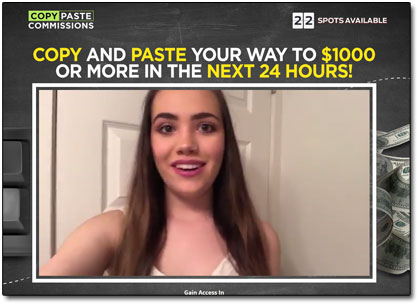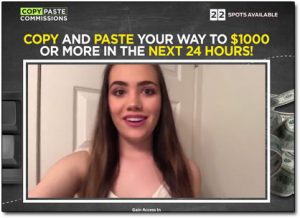 Obviously, I think you'll agree that that's a pretty bold claim, so what's the deal here?
Is it actually legit or is Copy Paste Commissions a scam that'll just see you parted from your hard-earned cash?
I've done the digging & in this review I'm going to be uncovering literally everything there is you need to know, so if you've been thinking about trying it out you've definitely landed in the right place to find out if you can actually make money.
What Is Copy Paste Commissions?   |   How Does Copy Paste Commissions Work?   |   Is Copy Paste Commissions a Scam?   |   A Better Alternative
What Is Copy Paste Commissions?
As I briefly touched on above Copy Paste Commissions is a make-money system that can supposedly enable you to earn thousands of dollars per day without doing anything, all through some sort of "done-for-you" online business.
You're led to believe that you can make money with it even if you've never made a penny online before because as the name suggests all you apparently have to do is "copy & paste" to start making money.
It almost sounds like a dream come true – I mean who wouldn't want to earn such a large amount of money so easily?
Sadly though it is just that, a dream.
The Copy Paste Commissions system is actually nothing more than a get-rich-quick scam & I can come to that verdict so quickly because I've seen this exact scam before under a different name – that name was Get Paid 1K Per Day.
The two systems are absolutely identical, same video, same website – the only thing that is different is the name. This is a common trait of a scam because it's rare a reputable company would need to change its name so soon whereas the scams do it to try & dodge the negative reviews so that they can continue scamming people.
A good example is the Two Dollar Click website which later changed to Three Dollar Click, Four Dollar Click and so on… This is a major red flag & if you see something doing this you should immediately question what's going on.
Anyway, it's unlikely that you'll probably just want to take my word for it so instead I'll show you how the scam actually operates so that you can see for yourself that it's not worth your time or money…
How Does Copy Paste Commissions Work?
Well in terms of actually making you money let me just reiterate that this program does not work as promised. Instead of helping you make money the only thing the Copy Paste Commissions system will do is help you lose it.
Basically the Copy Paste Commissions system isn't actually a system at all, it's just a sales funnel that's been designed by an online marketer & it's been created to squeeze as much cash as possible out of you.
If you notice, throughout the whole video on the website of the Copy Paste Commission system you'll never be told what it actually involves or how it works. That's because the creator doesn't really know…
The button below the video which you're led to believe will give you access to the CPC system instead just redirects you to a completely random make money opportunity, but not just any opportunity – one that the creator of the CPC system is affiliated with.
This means that if you click the button & sign up then the creator of the CPC system will earn money at your expense. You on the other hand will have just bought some junk program that doesn't deliver on its promises.
A good example is the program that the Copy Paste Commissions system is referring visitors to at the moment, which is the Automated Daily Income program. Despite the browser still reading "copypastecommissions.com" after you click on the button, you're actually no longer on the CPC website – it's trickery, you're actually on the website of the Automated Daily Income system… A scam I previously exposed on this blog.
You can see an example of that below:

If you were to then go back & click the join button again on the CPC website it's possible that you could find you are redirected to yet another entirely different website. Basically the creator is just sending you to whatever offer will earn him a nice chunk of cash if you sign up.
You Might Also Like:
Is Copy Paste Commissions a Scam?
I don't really like calling things a scam but in this instance, there is no doubt about the fact, the Copy Paste Commissions system is clearly a scam & it's been built purely with the intention of parting you with your cash.
The creators of this system don't really care about your success, they don't even really care what program you end up signing up to, all they care about is getting you to sign up to something so that they can earn a commission at your expense.
Basically the Copy Paste Commissions website is just full of lies & false promises, they're just saying whatever they can to try & convince you to sign up to the program that you're presented with when you hit the join now button.
Whilst the internet provides you with plenty of opportunities to make money sadly there is nothing that will earn you such large amounts of money so easily. The internet is fantastic, but it's not magical.
Anything that promises you can earn lots of cash with little effort should immediately ring alarms. If there was actually such a thing (which there never will be) then literally everybody would be doing it & nobody would be working a job.
Yes it's possible to make a full-time income online but it will not come without at least some level of work – it certainly won't just fall into your lap by "copying & pasting" something like the CPC system makes out.
Anyway on that note hopefully this review provided you with the insight you were looking for into this system & if you do happen to have any further questions or comments don't hesitate to leave them below.
A Better Alternative
The sad truth is that unfortunately most of the programs promising to help you make money online are scams. I can say that confidently after exposing over 500+ of them here on this blog.
But the good news is that even though most of them are indeed scams, there are actually some very good programs in amongst them - some programs that can truly help you to earn money.
And out of all of the legit programs I've seen, the one I would recommend the most to anybody looking to get started online is Commission Academy. In my own opinion, that's the best place to start.
At Commission Academy, you'll be provided with everything you need (including the training & tools) to begin earning real money by promoting products or services for companies like Amazon online.
The best part is that there's literally no limit on the amount you can earn with it & the process is pretty simple which means that it's absolutely perfect for people that don't have much experience.
Some wealthy affiliates even earn as much as 5-figures per month... Or more!

I mean don't get me wrong, that kind of money won't just fall into your lap without doing any work... But the harder you're willing to work at it, the more you stand to earn with it.
So if you're looking to get started but don't know which route you should go down or which program you should join (and don't want to waste money on bogus things that don't actually work), then I'd highly recommend checking out Commission Academy first. You can learn more about it here.