Chances are you've landed on this review because you were looking to find out what is Four Dollar Click and you were probably also wondering how they can afford to pay you a whopping $4 just for clicking on things via their website.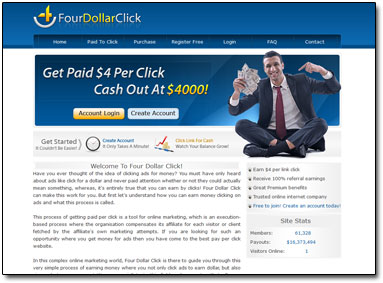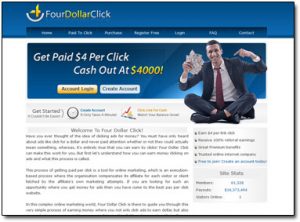 Well, it's safe to say that you've landed in the right place because in this Four Dollar Click review I'm going to be going over exactly that & giving you all the information you need to know about the company before you sign up.
Oh and here's a little spoiler: I'll also be outlining why I believe Four Dollar Click is nothing but a big fat scam. Plus I'll be going over what you need to do to prevent yourself getting scammed if you've already signed up.
What Is Four Dollar Click?   |   The Red Flags   |   Is Four Dollar Click a Scam?   |   A Better Alternative
What Is Four Dollar Click?
Four Dollar Click, exactly as the name suggests is a website that claims to pay you $4 for clicking on advertisements. According to them you can simply sign up for free, begin clicking on ads & start earning money right away…
They also claim that you can click on as many ads as you want per day, so essentially your income is uncapped. The more you can click the more you can earn, and at $4 per click that would mean you could earn yourself $400 just by clicking 1 hundred times (which I think you'll agree is pretty easy).
Sadly though the reality isn't as great and to be honest you probably won't be surprised, after all, I imagine you already have your suspicions about this company due to the fact they claim to be paying a crazy amount for doing such a simple task.

The truth is Four Dollar Click is a scam. It makes out to be a legitimate PTC website (which stands for Pay-To-Click) but frankly, it's not, it's just been designed to make the creator rich at your expense & it will do nothing other than waste your time.
You see there are actually some legitimate PTC sites out there, but obviously, since clicking is so easy they generally only pay very little – in fact, many of them don't even pay as much as a cent per click. Overall you would be lucky to make a dollar or two per month from a legitimate PTC site.
There is no way Four Dollar Click could realistically afford to pay $4 for every time you clicked on an advert. The reason for that is because legitimate PTC websites rely on the payments from advertisers, they keep a percentage for themselves & they pass the rest onto you.
Because they are physically paying you to click on their ads, the advertisers know that very few of the people clicking on them are actually going to be interested in the service they provide so generally this form of advertising is VERY cheap. I can tell you from all my years of online marketing experience that there is absolutely no way an advertiser would pay $4 for you to click on their ads (unless they were drunk at the time).
The reason I can be so sure about this is that they could get advertising much cheaper through platforms like YouTube, Facebook & Google… and not only would they be able to get it cheaper, but they'd be able to target their ads which means they'd know the people clicking on them would actually be interested in what they have to offer.
So knowing that what do you think the advertisers would do? Pay $4 per click for people who aren't interested in their product/service or pay much less per click for people who are actually interested? Yep, this whole thing screams SCAM!
The Red Flags
The chances are that some of you reading this review have become really drawn to Four Dollar Click, and to be honest I kind of don't blame you – that is the intention of the scam, to lure people in.
They promise you a lot of money for really easy work – who wouldn't want that. As a result, you might not really be wanting to believe what I have to say, so you might be wondering how I can be so sure it's a scam without trying it out.
Well, I can tell you that there are a couple of reasons for that. Firstly there is a lack of genuine Four Dollar Click payment proof to be found on the web & the proof that can be found is totally unverifiable.

Secondly, there are a LOT of scam reports on Complaints Board with thousands of people claiming that they haven't been able to withdraw their funds through Four Dollar Click after spending countless hours accruing them.
Finally, the main reason I know it's a scam is that I've seen this exact scam several times before under several different names. Once the scam gets exposed on blogs like mine they just keep relaunching the program under a different name in the hope that they can continue scamming more people out of their cash.
Some of the previous names I've seen it launched under are Two Dollar Click & Three Dollar Click (yes clearly they are very inventive with their names LOL). The next one will probably be Five Dollar Click no doubt LOL.
They are designed slightly different but don't let that fool you, they are 100% all part of the same thing and they are 100% all scams.
Is Four Dollar Click a Scam?
This program is clearly nothing but a flat out scam – it's been designed to get you to do all the hard work so that the creator can make money at your expense. When it comes to withdrawal time you'll find that your request just gets completely ignored.
You see when you click on the ads the creator still gets paid. A legitimate PTC website would then pass a portion of this money down to you & then pay you when you reach your withdrawal limit, but not Four Dollar Click.
Instead, the creator of Four Dollar Click has just put together a whole bunch of lies (claiming that you'll earn a ridiculous amount like $4 per click) so that he or she can get you to click on as many ads you can to earn THEM money. They themselves probably won't even be earning $4 per click but they know that if they can get enough people clicking on them then they can still make a good chunk of change – that's also why they have a referral program, to try & get you to bring even more people into the scam.
Another tell-tale sign that it's a scam is the super high withdrawal limit of $4,000. I appreciate that may not seem high when you are earning $4 per click, but in real money terms, it is still a large amount. Most legitimate PTC sites never have withdrawal limits higher than $10, in fact since these websites generally pay so low many of them have just $1 withdrawal limits. The reason Four Dollar Click's is set so high is simply so that they can get you to click on a lot of ads before you realize that they won't pay you.
Take my advice & avoid this program – don't sign up, don't click any ads & certainly don't refer anybody to it. Whilst at a glance it seems like a golden opportunity sadly it's just totally not legitimate. Instead, I recommend you take a look at this list of legitimate ways to make money online that I've put together.
Oh, and if you've already signed up to FDC don't panic. The program is initially free to join (although there are paid updates) so you shouldn't be at risk of having any money taken from you, however, they might send you emails pushing you into other scams later down the line. I recommend you ignore any emails you receive from them, don't even open them – just delete them right away.
A Better Alternative
The sad truth is that unfortunately most of the programs promising to help you make money online are scams. I can say that confidently after exposing over 500+ of them here on this blog.
But the good news is that even though most of them are indeed scams, there are actually some very good programs in amongst them - some programs that can truly help you to earn money.
And out of all of the legit programs I've seen, the one I would recommend the most to anybody looking to get started online is Commission Academy. In my own opinion, that's the best place to start.
At Commission Academy, you'll be provided with everything you need (including the training & tools) to begin earning real money by promoting products or services for companies like Amazon online.
The best part is that there's literally no limit on the amount you can earn with it & the process is pretty simple which means that it's absolutely perfect for people that don't have much experience.
Some wealthy affiliates even earn as much as 5-figures per month... Or more!


I mean don't get me wrong, that kind of money won't just fall into your lap without doing any work... But the harder you're willing to work at it, the more you stand to earn with it.
So if you're looking to get started but don't know which route you should go down or which program you should join (and don't want to waste money on bogus things that don't actually work), then I'd highly recommend checking out Commission Academy first. You can learn more about it here.