In this review, I'm going to be taking a closer look at the opportunity surrounding Giracoin which is one of the latest cryptocurrencies to surface claiming that investors can make lucrative profits by funding its development.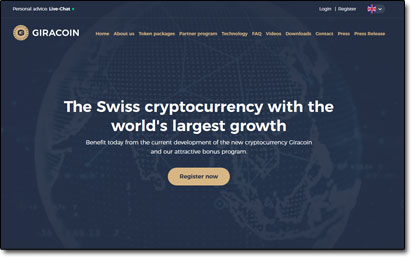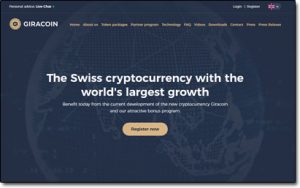 Despite being a relatively new cryptocurrency it also claims to be the cryptocurrency with the worlds largest growth which is a pretty bold claim in my opinion – so is it actually legit or is Giracoin a scam that's merely going to part you with your cash?
That's exactly what I'm going to be taking a look at here in this Giracoin review which means if you've been thinking about investing then you can rest assured you've landed in the right place to find out everything you need to know about it before you do, including whether or not you'll actually be able to make any money.
What Is Giracoin?   |   How Does Giracoin Work?   |   How Do You Make Money With Giracoin?   |   Is Giracoin a Scam?   |   A Better Alternative
What Is Giracoin?
Giracoin is supposedly a Swiss cryptocurrency which has launched with the incredibly bold claim of being a cryptocurrency with the worlds largest growth – though despite this claim it's not actually listed on any of the cryptocurrency exchanges.
Instead the only way you can purchase Giracoin is directly through their website (found at giracoin.com) where you're forced to purchase it in packages costing €50 for 500 tokens, €120 for 1200 tokens, €550 for 5000 tokens & €1,200 for 12000 tokens.
And the other worrying thing about Giracoin is that whilst it puts a lot of emphasis on being a Swiss cryptocurrency in actual fact it turns out that most of their operation is seemingly run out of India.

On top of all that it seems that Giracoin isn't transacted anywhere other than within the Giracoin platform itself – therefore you can't use it purchase products or services (like you can with Bitcoin) and you can't even exchange it for other currencies either.
That's all very worrying indeed – especially when you combine that with the fact that they run a referral program through which people are giving the opportunity to earn money by getting people to invest in Giracoin.
It's all starting to look quite a lot like a Ponzi scam, don't cha think?
And to be honest that wouldn't be a surprise as lately there seems to be a new one launching every week taking advantage of people jumping on the cryptocurrency hype.
How Does Giracoin Work?
Gira Financial Group AG (the company behind Giracoin) make out that investors can earn money from their innovative mining process & from their predicted future increase in the value of their cryptocurrency.
They also make the bold claim that Bitcoin is a thing of the past, and that Giracoin will be taking over – which to be honest seems very unlikely, especially since the price of Bitcoin seems to be ever increasing.
However in reality it seems that there's little going on at Giracoin other than investing & recruitment – I've been unable to find any solid proof of their mining activities & as mentioned above the currency isn't available anywhere else other than through the Giracoin platform itself which for me is the most worrying factor.
So basically it looks like Giracoin are merely using the money paid in by new investors to pay off old investors in the hope that people will simply re-invest their profits, kind of like we seen the Power Mining Pool.
This of course is what's known as a Ponzi scam and inevitably when new people stop coming into the program or people realize what's happening & stop re-investing funds the company will collapse, like JetCoin did.
People are then left with no way of getting their money out of the program & as we've seen before many people end up losing their whole life savings when what they thought was a genuine investment disappears overnight.
How Do You Make Money With Giracoin?
Whilst there is no payment-proof available, Giracoin do indeed provide you with the ability to earn money – though as I mentioned above it looks like the money paid out is potentially coming from new investors buying into the scheme so in my opinion it looks to be very unstable & could end up leaving you out of pocket.
But basically to make money through the Giracoin opportunity you'll firstly be required to pay a membership fee in order to initially get access to the platform. Then once you've paid your fee you can buy a token package & you'll be paid out daily returns on your investment.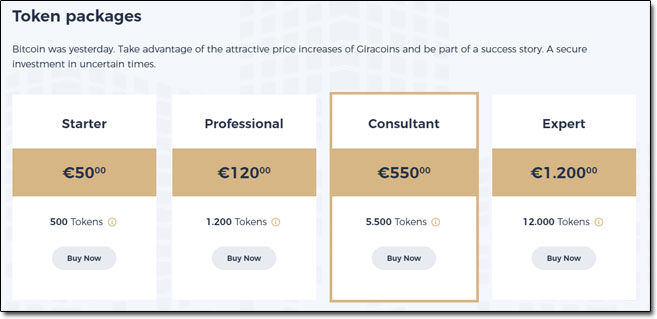 The returns that you'll be paid out will depend on the package you purchase – to encourage you to buy the more expensive packages Gira Financial Group AG offer higher returns on the higher costing packages.
You can also then earn additional money by referring new people into the program – earning commissions on the amounts they invest, and similarly the amount you'll be able to earn through the referral program will depend on the package you purchased. The more expensive the package you purchase the more levels of referrals you'll be able to earn from.
Is Giracoin a Scam?
To be honest Giracoin does indeed look like a scam to me – they give very little information away about the operation they're running & they try to make out like the profits are coming from mining pools & the coins increasing value but the Giracoin isn't available to transact anywhere else other than within the Giracoin platform itself.
For me that's a huge red flag in itself & coupled with the fact that there's clearly a heavy focus on recruiting it seems to be that this is just a very heavily disguised Ponzi scam that's inevitably going to crumble.
Sadly many people will probably blindly buy into Giracoin as they might have heard about the money-making potential with cryptocurrencies, not know too much about it & think that this is a legitimate opportunity.
If there was solid evidence of the mining operations & if the coin could actually be used to complete genuine transactions then I may think differently about this opportunity but as it is it looks like a flat-out scam.
For that reason I won't be recommending this opportunity to you as it's simply far too risky & if what they say isn't true like I suspect then you could potentially find yourself being part of an illegal scheme.
A Better Alternative
The sad truth is that unfortunately most of the programs promising to help you make money online are scams. I can say that confidently after exposing over 500+ of them here on this blog.
But the good news is that even though most of them are indeed scams, there are actually some very good programs in amongst them - some programs that can truly help you to earn money.
And out of all of the legit programs I've seen, the one I would recommend the most to anybody looking to get started online is Commission Academy. In my own opinion, that's the best place to start.
At Commission Academy, you'll be provided with everything you need (including the training & tools) to begin earning real money by promoting products or services for companies like Amazon online.
The best part is that there's literally no limit on the amount you can earn with it & the process is pretty simple which means that it's absolutely perfect for people that don't have much experience.
Some wealthy affiliates even earn as much as 5-figures per month... Or more!

I mean don't get me wrong, that kind of money won't just fall into your lap without doing any work... But the harder you're willing to work at it, the more you stand to earn with it.
So if you're looking to get started but don't know which route you should go down or which program you should join (and don't want to waste money on bogus things that don't actually work), then I'd highly recommend checking out Commission Academy first. You can learn more about it here.