In this review I'm going to be taking a closer look at the High Ticket Income System which is something that claims it can help accelerate your success online & generate you huge high-ticket commissions.
The program is also often referred to as HTI Elite & it claims to give you the edge when it comes to making money online – but is it really legit or is the High Ticket Income System a scam that's just out to part you with your cash?
Let's take a look…
What Exactly Is The High Ticket Income System?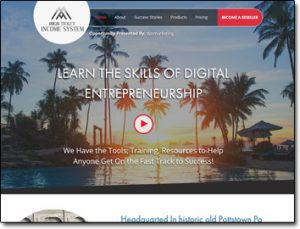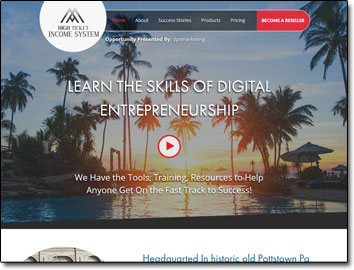 The High Ticket Income System is an online marketing training program that, as the name suggests, focuses on teaching you how to make money by selling high-ticket (aka expensive) products online.
The term high-ticket generally refers to products that cost $1,000 or more and the idea is that it's easier to make more money selling fewer high-ticket items than it is to sell a whole load of low-ticket ones.
This is kind of true, but of course it entirely depends on what it is you're selling & how you're selling it. I'll admit though that with a well thought out sales funnel high-ticket marketing can be extremely profitable indeed.
In the instance of the High Ticket Income System you are given the opportunity to promote their own high-ticket product (HTI Elite) through their sales funnel, basically meaning you can resell the opportunity onto others.
It reminds me a lot of the MOBE & Digital Altitude programs which work in a very similar way.
So basically you can sign up to High Ticket Income System, purchase the HTI Elite training program, learn how to promote high-ticket products & then begin sending traffic to their sales funnel to make money.
You'll earn commissions from anybody that also goes on to purchase the HTI Elite program like you did – though you will need to pay a $100 re-seller fee for the privilege of being able to promote their product.
It's also worth pointing out that the High Ticket Income System is what's known as a pay-to-play program which means that in order to qualify to earn commissions on the HTI Elite you'll need to have personally purchased it yourself (even if you've paid the $100 re-seller fee – so the total would be $1,100).
What Are The High Ticket Income System Products?
Disappointingly the High Ticket Income System only consists of one product which is the HTI Elite training program. This costs $1,000 & claims to teach you the essential skills for today's marketers.
The product basically gives you access to around 50 step-by-step training videos which teach you all sorts of things from improving your mindset right through to building a website & promoting products.
Whilst the product does contain some fairly good training videos I feel that sadly it's been priced with affiliate commissions in mind as opposed to being priced on the value it provides to the customer.
Essentially what I'm saying is that it's a fairly good product but in my opinion I don't quite feel it justifies a $1,000 price tag – I feel that the price has been bumped up simply to make the opportunity more lucrative.
Then There's Another Problem…
Towards the beginning of this review I mentioned that yes, high-ticket marketing can be very lucrative indeed however it's highly dependent on the quality of the sales funnel that's been put together.
Now usually the most successful high-ticket programs are the ones that start out with a lower priced product & then gradually upsell users over time into higher priced products as they begin to build trust.
The issue I can see here with the High Ticket Income System is that there's only 1 product and that product costs $1,000 – meaning you're required to get people to purchase a high-ticket product right off the bat.
I can tell you that will be a difficult job.
Especially since the product itself doesn't really throw itself out there as providing massive value for $1,000, so if you want to make money through his opportunity then expect to do a LOT of hard selling.
The High Ticket Income System Compensation Plan
The High Ticket Income System operates a two-tier network marketing style compensation plan. Basically when you buy in for $1,100 (which is the sum of $1,000 for the HTI Elite + $100 mandatory re-seller fee) the person that referred you gets $500 & the person that referred them gets $500.
The $100 re-seller fee goes to the creator of High Ticket Income System.
So if you were promoting the High Ticket Income System & you made a sale you would only be paid $500 despite selling a $1,000 product. However if anybody you recruited into the program started making their own sales then you'd get $500 each time which isn't bad considering it's no extra effort on your part.
Sadly though this does mean that if you want to make the most of this program then on top of promoting the opportunity you'll also be required to spend a lot of time showing your new recruits how to promote it too.
My Verdict – Is The High Ticket Income System a Scam?
Well I wouldn't technically say it's a scam since you do get something in return for your money, but in my opinion the product is pretty low value considering it comes with a whopping $1,000 price tag.
It seems to be that this is merely another one of those "learn how to make money but you can actually make money by selling this training onto other people" type of things, again similar to MOBE & Aspire.
And I definitely feel the HTI Elite product has been priced with commissions in mind.
If the product line consisted of higher-quality products & there was a heavier focus on the actual products themselves then I may have been able to recommend this opportunity, but as it is it's clear to me that this is just a cash gifting scheme, that the main focus is on recruiting & that the product is merely being used as a cover up to try and hide what's really going on.
Therefore as you have probably guessed overall this program will be a big thumbs down from me & I certainly won't be recommending it to you because it's clearly designed to part people with their cash.