The Home Income System website promises to provide you with an easy to follow method that will allegedly see you earning between $3,000 to $6,000 per month in your spare time from the comfort of your own home.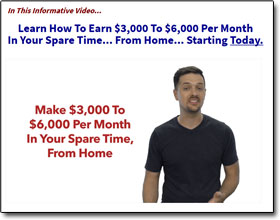 The system also even promises that you can literally make money just by watching the video on the homepage of their website but I think you'll agree it all sounds a bit too good to be true – so what's the deal?
Is it actually legit or is the Home Income System a scam that'll just see you parted from your cash?
Thankfully you've landed in exactly the right place to find out because I've taken a closer look into this system & in this review, I'll be uncovering everything there is that you need to know, including how it all works & whether or not you can really make any money with it.
What Is The Home Income System?   |   How Does The Home Income System Work?   |   Is The Home Income System a Scam?   |   A Better Alternative
What Is The Home Income System?
If you've come across the Home Income System website then this is probably the very first thing that you're wondering because honestly the website itself promoting this system doesn't go into any great detail at all.
You're just led to believe that you'll be getting access to some sort of "done-for-you" online business & that you'll be able to make money quickly & easily without having to do a great deal of work…
I mean obviously that sounds good & all, but the problem is there's absolutely no mention of what it actually involves or what you'll actually be doing…
Instead of explaining how it actually works they just repeatedly stress bold claims like "you don't need experience" and that "you can work as much or as little as you want"… Claims commonly associated with get-rich-quick scams.
And the reason they don't go into detail on how it works is that the Home Income System is actually a scam. They're just trying to lure you in by promising you'll be able to make easy money, then when you hand over your cash you'll be left to find out that things aren't quite how they made them out to be.
The reason I can be so confident in saying that is because I've exposed this exact system before on this blog when it was launched under a different name. That's right, the Home Income System actually used to be called My Online Dream Biz.
If you take a look at my review of that system here then you'll see the 2 websites & videos are identical.
Basically the My Online Dream Biz system launched in the hope of parting people with their cash but myself & several others exposed how it really works and so the creators have now tried to launch it under a different name in an attempt to escape the negative reviews.
How Does The Home Income System Work?
Well the one thing that we've established is that it definitely doesn't work as promised. If you sign up to the Home Income System there is absolutely no way you will see yourself generating $3,000 to $6,000 per month… The likelihood is that you'll just end up losing money instead.
The reason for that is because whilst "Jason" the alleged creator claims he's going to show you how to copy his entire profitable online business, all he's actually going to do is provide you with some duff affiliate marketing training.
And don't get me wrong here – affiliate marketing in itself is a great way to make money online, in fact it's actually the way I personally make my own money… But the training provided through the Home Income System is so rubbish that it won't help you find success at all.
If you want to learn how to properly make money through affiliate marketing there are much better (and free programs) available like Commission Academy. In fact, WA is actually one of the best programs out there.
Basically the creator of the Home Income System is just trying to get rich at your expense. He's promising you and all the other people visiting his website that he's going to help them get wealthy, but in reality, he's just trying to take your money so that he can get wealthy instead.
Plus our guy "Jason" that we see in the video isn't even the real creator – that's just another lie. He's actually an actor hired from the website Fiverr as shown below:

The whole system is built upon lies, lies & more lies… You can't believe a single word you're told.
But yeah, if you proceed up to the checkout page you'll find out that "Jason" wants $99 for you to access his money-making system, and he even promises you a "make money or it's free" guarantee but again this is BS.
Basically the creator of this system is just saying literally anything he can to get you to hand over your cash. The guarantee isn't to be believed either because that's just more trickery… There's no way that these guys will refund any of your money once they've got it.
The Passive Payday system which I reviewed yesterday promised the exact same thing but guess what? Surprise surprise none of the members who handed their money over have been able to get it back… Don't be fooled by the false guarantees.
Anyway, it's clear that this system is a total phoney so it's time for…
Is The Home Income System a Scam?
The answer to that is, yes, it certainly is – it's a big fat scam that's just been designed to make the creator wealthy at your expense. There is absolutely no way you are going to make money with the Home Income System & the sales pitch is totally misleading.
Whilst the method that it's loosely based on which is affiliate marketing is technically legit, the training provided through the Home Income System is so rubbish that you probably won't even know where to start, let alone how to make money. It's certainly not worth $99 which is what they're asking you to pay for it.
If you really want to learn how to make money online with affiliate marketing then there are plenty of legitimate programs where you can get started such as Commission Academy for example which is one of my top-rated programs.
But overall you definitely need to avoid the Home Income System because it's nothing but bad news & it will only see you losing money, not making it. If you do happen to have any further questions or comments about it though then don't hesitate to leave them below.
A Better Alternative
The sad truth is that unfortunately most of the programs promising to help you make money online are scams. I can say that confidently after exposing over 500+ of them here on this blog.
But the good news is that even though most of them are indeed scams, there are actually some very good programs in amongst them - some programs that can truly help you to earn money.
And out of all of the legit programs I've seen, the one I would recommend the most to anybody looking to get started online is Commission Academy. In my own opinion, that's the best place to start.
At Commission Academy, you'll be provided with everything you need (including the training & tools) to begin earning real money by promoting products or services for companies like Amazon online.
The best part is that there's literally no limit on the amount you can earn with it & the process is pretty simple which means that it's absolutely perfect for people that don't have much experience.
Some wealthy affiliates even earn as much as 5-figures per month... Or more!


I mean don't get me wrong, that kind of money won't just fall into your lap without doing any work... But the harder you're willing to work at it, the more you stand to earn with it.
So if you're looking to get started but don't know which route you should go down or which program you should join (and don't want to waste money on bogus things that don't actually work), then I'd highly recommend checking out Commission Academy first. You can learn more about it here.