Inbox Blueprint is pretty rare because it is based on a new concept of generating online income. Like many of my followers, I also received an invitation to join this program so I decided to have a closer look into it.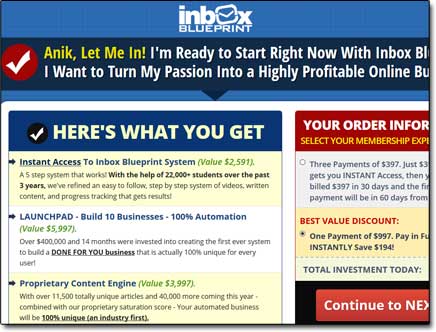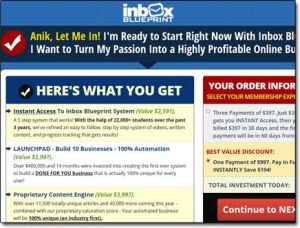 If you've also received an invitation from this program and can't decide whether to join or not then this Inbox Blueprint review will certainly help you. I've spent over two weeks looking into it in an attempt to find the truth and I've finally managed to reach the facts.
Thousands – including some of my followers – call Inbox Blueprint a scam but in my view, they have either made a quick decision or they just claim it on the basis of incomplete information. Today, I'm here to let you know what Inbox Blueprint is, how it all really works & whether or not you can actually make money with it.
What Is Inbox Blueprint?   |   The Training   |   How Does Inbox Blueprint Work?   |   Is Inbox Blueprint a Scam?   |   A Better Alternative
What Is Inbox Blueprint?
Inbox Blueprint is primarily a training program which teaches it's members the art of generating money online through email marketing. Anik Singal is the mastermind behind this program. Anik himself claims he managed to make over $5k after just the first couple of months of implementing what her teaches through his program.
And I know it sounds bold, but we can't really call it an exaggerated claim. I personally generate over $10,000+ per month online & know a number of other internet marketing experts earning over $50,000+ a month. But does Anik's training provide enough substance to materialize your dream of making consistent online income?
The Price
In this case, price is the primary consideration because this is not just your typical $47 membership plan. The price of Inbox Blueprint Training Program is $997.
Though the notorious 7 is once again the last digit in the price (which seems to be a common trait associated with scams) but I don't want to be critical at this stage.
And if you don't have enough to pay instantly, you can opt for three instalments i.e. $397 each. That would take the total cost to a whopping $1,191 – a similar price-tag to that of the AWOL Academy program.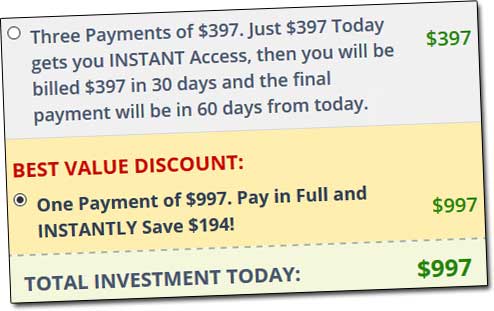 What Is The Training All About?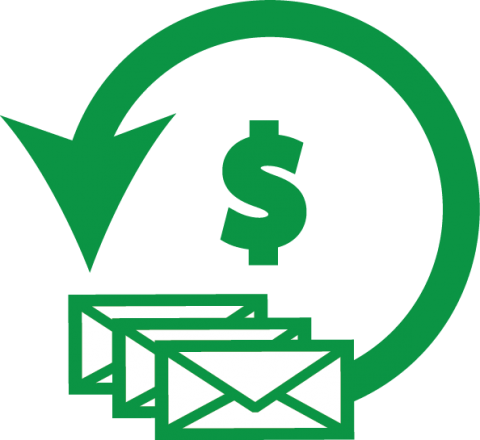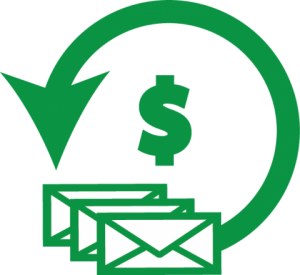 The Inbox Blueprint training aims at teaching the art of email marketing. We all know that email marketing has never faded away even in the presence of contemporary social media marketing. The experts in the online marketing field rely heavily on email marketing and big names still invest in this promotional strategy.
Anik states that email marketing is so powerful – even today – that every single subscriber to your email list could contribute $1 per month to your income. This is significant because most online marketers struggle to achieve even just $0.1 per subscriber. Conversion rate is what matters the most and this is why email marketing dominates – because if done right, email marketing can massively increase your conversion rate.
Anik is a popular figure and according to Bloomberg, he has featured in the BusinessWeek Magazine's Top 3 Young Entrepreneurs. So it adds to the credibility of this system. This is a strong argument in favour of Inbox Blueprint.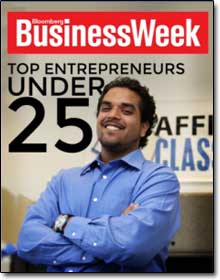 There is basically two versions of Anik's training program namely Inbox Blueprint v1.0 and Inbox Blueprint v2.0. The new version comes with a higher price but also with better course content. The first version required the trainees to do a lot at their end whereas the new version offers pre-developed features to make things easier for the trainees.
The Training Process
The training process is simple yet comprehensive featuring all the latest tools and training equipment ranging from Automation (LauchPad) to Proprietary Content Engine. The training also includes a bunch of guided assignments. Overall, this is nothing less than a course you take in a university. It also offers a 14-Day free trial and much more in terms of bonuses.
How Does Inbox Blueprint Work?
Anik's training program does offer a lot. It certainly contains updated content and valuable information along with tools. It helps you selecting the best and most suitable niche. It helps you use various promotions and gifts to support a landing page. Yes, if definitely trains you to bring in more traffic! All of these things help you expand your email list and this is what you want to make email marketing work. In my opinion the best way to make money online is affiliate marketing – people do earn big by using their skills in this field & the Inbox Blueprint training program teaches you how to make maximum profit form affiliate marketing.
The training process begins with the selection of the niche, technically i.e. Addiction Meter. It is followed by the lead magnet (the Bait), TYP Method, writing emails, and so on.
I'll admit that the Inbox Blueprint training is good, but as mentioned earlier in this review it is pretty darn expensive & that means it's likely out of reach for most. Personally I believe Commission Academy (which is free to join) and provides similar training is a better place to learn – especially if you're new.
Inbox Blueprint LaunchPad
This is the prime feature of this training program. According to Anik, he spared 14 months for the development of this self-claimed $400k tool. If so, it must offer a lot. According to what I have found, it is indeed an impressive tool which helps to build lead magnets and opt-in pages (similar to LeadPages). It certainly makes things way easier for the users.
Overall, this is actually a promising program. I don't see anything wrong with this offer. The price may be a bit higher but the training is also top-notch. However, there is obviously one important question… Does this program really generate results for everyone who joins?
The Drawback
Despite the fact that Inbox Blueprint is an impressive program which helps people to generate online income through email marketing tactics the problem is that it doesn't offer much for beginners as Wealthy Affiliate does. I mean, if you have nothing to do with this field, you can't just get away because in my opinion the program is geared towards those who already have enough experience to utilize the knowledge to generate the desired results.
Is Inbox Blueprint a Scam?
Definitely not! The Inbox Blueprint training program is 100% legitimate, however, in my opinion, it's not really ideal for beginners as the training is more geared towards those who already have a fair bit of online marketing experience.
If you already know the basics & have $997 to spare then the Inbox Blueprint program could certainly provide you with some valuable information – but like I mentioned above in this review you can also get similar training for free over at Commission Academy, so personally I would recommend checking that out first.
Still, it's good to finally come across a legitimate program as most of the money-making programs that launch tend to be nothing but flat-out scams which are designed purely to make the creators wealthy at the members' expense. In this instance, I'm glad to report that Anik has clearly gone out of his way to put some high-quality training together.
So overall my verdict is that if you've got to $997 to spare without breaking the bank & are interested in taking your online marketing to the next level then the Inbox Blueprint program could be a worthwhile investment & it gets my recommendation… But at the same time, there are cheaper alternatives available that still provide high-quality training & are better for beginners, such as Commission Academy as mentioned above.
But hopefully, my review has given you a good insight into the program & hopefully it's helped you work out what program would be best for you. If you do happen to have any further questions or comments about it then don't hesitate to leave them below & I'll get back to you as quickly as possible.
A Better Alternative
The sad truth is that unfortunately most of the programs promising to help you make money online are scams. I can say that confidently after exposing over 500+ of them here on this blog.
But the good news is that even though most of them are indeed scams, there are actually some very good programs in amongst them - some programs that can truly help you to earn money.
And out of all of the legit programs I've seen, the one I would recommend the most to anybody looking to get started online is Commission Academy. In my own opinion, that's the best place to start.
At Commission Academy, you'll be provided with everything you need (including the training & tools) to begin earning real money by promoting products or services for companies like Amazon online.
The best part is that there's literally no limit on the amount you can earn with it & the process is pretty simple which means that it's absolutely perfect for people that don't have much experience.
Some wealthy affiliates even earn as much as 5-figures per month... Or more!

I mean don't get me wrong, that kind of money won't just fall into your lap without doing any work... But the harder you're willing to work at it, the more you stand to earn with it.
So if you're looking to get started but don't know which route you should go down or which program you should join (and don't want to waste money on bogus things that don't actually work), then I'd highly recommend checking out Commission Academy first. You can learn more about it here.