It's actually hard to believe how many different make money online systems launch every day – today I'm taking a look at the Instant Income Generator system which claims to be able to generate it's users profits of up to $1,000 per day working from home.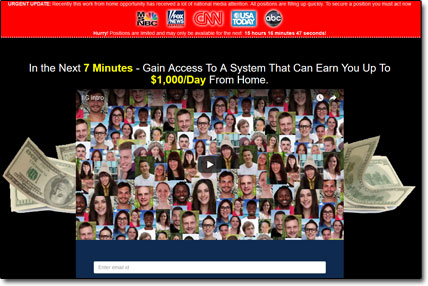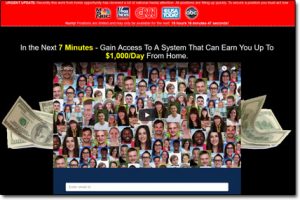 A pretty bold claim, I think you'll agree.
In this review of the Instant Income Generator system, I'll be uncovering everything you need to know, finding out if it's actually legit & determining if you really can make any money with it.
So if you've come across the Instant Income Generator system & have been thinking about signing up but aren't quite sure if you should or not you can rest assured that you've landed in the right place to find out.
What Is Instant Income Generator?   |   The Truth About It   |   Should You Join?   |   A Better Alternative
What Is Instant Income Generator?
The Instant Income Generator System claims that in just 7 short minutes you'll be able to learn how to build an income of up to $1,000 per day online with very little effort required at all.
It also claims that this particular work from home opportunity has received a lot of media attention and that you should sign up really fast to avoid losing out on a spot which on top of bold claims is another typical trait of a scam system.
That's because the scam systems don't want you to search online for reviews because they know that if you do the chances are you'll find out it's a scam, so instead, they try & rush you into purchasing by making you feel like you have no time to search around the web.
So is there any truth behind the claims that the Instant Income Generator system has received a lot of media attention from the likes of Fox News, USA Today & CNN?

Absolutely not!
Those claims are absolutely absurd – yes, the idea of working from home has been featured on the news before (because it is possible) but this particular system certainly hasn't & a quick search through them proves that.
So already I'm leaning towards this system being a scam – in fact, it actually looks similar to another system I recently reviewed named the Earn At Home Club (which turned out to be a scam too).
You see whilst it is possible to make money online it's not possible to make a lot of money quickly without doing any work & any system or website that claims it is, immediately makes me very sceptical.
The Truth About Instant Income Generator
I decided to do some digging & what I found out about the Instant Income Generator system was disappointing. It seems like it is in fact no different to any of the other work at home scams that have come before it.
Basically, once you enter your email address to proceed with the opportunity you'll discover that in order to gain access to the system you have a pay a fee. However, it turns out the system isn't really a "system" at all, what you're actually buying is poor quality affiliate marketing training.
So all throughout the sales video & even on the sales page, you're led to believe that you're getting access to some kind of system that is going to make money for you or a job that is going to directly pay you in return for your time but none of this true.

What you're actually going to get is some very low-quality training (certainly not worth the money) that claims by posting links on various websites you'll be able to earn $10 to $15 commissions per link.
This still sounds brilliant, to be honest, but again this isn't true either.
Here's the deal – what they are teaching you is something called affiliate marketing, which is actually a legitimate way to make a lot of money online. Basically, you promote products for companies & they pay you commissions in return for each product purchased via your unique affiliate link.
However, the problem is that the training you get through the Instant Income Generator system is a load of rubbish. So whilst you can make money with affiliate marketing, you will not make any money as a result of following the training offered by this system.
If you want to learn how to make money through affiliate marketing the real way then this is the best training I've come across to help you get started (plus it's free which is always a bonus).
Also, the Instant Income Generator System makes out that you'll almost be guaranteed $10 to $15 per link you post but making such a guarantee is absolutely impossible. There's no telling how much you might earn from posting a link somewhere because it all depends on how many people click on it & how many people purchase through it.
You could make $50,000+ from one link alone, but you could also make nothing… There's just no way you could put a set number on it.
You Might Also Like:
The Bottom Line – Should You Join?
It's clear to me that the Instant Income Generator system is nothing more than another low quality work from home scam & for that reason alone I won't be recommending it as something you should join.
As I mentioned above affiliate marketing is an entirely legitimate way to make money online, it's that the training provided through the Instant Income Generator system is so poor that there's no way you'll make money even if you were to follow it to the letter.
If you want to learn how to really make money through affiliate marketing then you should follow this training instead (which is free). In all my years online that's the best & most complete affiliate training I've come across.
The big problem with systems like the Instant Income Generator is that they really give the whole make money online industry a bad name as it's now renowned for being "scammy" and it's making people miss out on the genuine opportunities to build a real income online like the one I've just mentioned above… But hey ho I guess they're not going to stop appearing anytime soon so I'll just keep doing my best to try & expose them.
A Better Alternative
The sad truth is that unfortunately most of the programs promising to help you make money online are scams. I can say that confidently after exposing over 500+ of them here on this blog.
But the good news is that even though most of them are indeed scams, there are actually some very good programs in amongst them - some programs that can truly help you to earn money.
And out of all of the legit programs I've seen, the one I would recommend the most to anybody looking to get started online is Commission Academy. In my own opinion, that's the best place to start.
At Commission Academy, you'll be provided with everything you need (including the training & tools) to begin earning real money by promoting products or services for companies like Amazon online.
The best part is that there's literally no limit on the amount you can earn with it & the process is pretty simple which means that it's absolutely perfect for people that don't have much experience.
Some wealthy affiliates even earn as much as 5-figures per month... Or more!

I mean don't get me wrong, that kind of money won't just fall into your lap without doing any work... But the harder you're willing to work at it, the more you stand to earn with it.
So if you're looking to get started but don't know which route you should go down or which program you should join (and don't want to waste money on bogus things that don't actually work), then I'd highly recommend checking out Commission Academy first. You can learn more about it here.