The Earn at Home Club website claims that its members can easily generate profits of $397 per day just by following a few simple step-by-step instructions, which I think you'll agree is a very bold claim.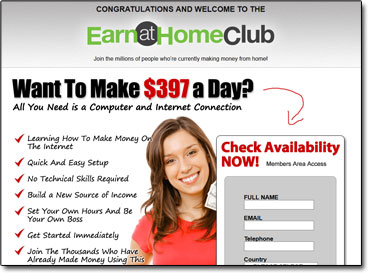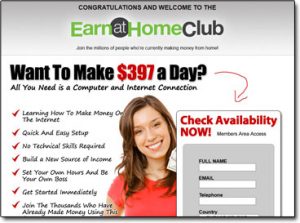 So is there any truth behind it? And can members of the Earn at Home Club really generate that kind of money (if any money at all)?
Those are the exact things I'm going to be finding out here in this Earn at Home Club review – meaning if you've come across this system & you've been thinking about getting involved then you can rest assured you've landed in the right place to find out everything you need to know.
What Is Earn at Home Club?   |   The Truth   |   Is Earn at Home Club a Scam?   |   A Better Alternative
What Is Earn at Home Club?
The Earn at Home Club claims to be a "club" that teaches people how they can generate a substantial income from home, an income of $397 per day to be precise.
However, the concerning thing about this particular "club" is that they make it sound really easy, as if anybody can do it. You're almost led to believe that you can simply just sign up & start making money…
That's always a worrying sign for me as that's a common trait associated with a scam. You see whilst the internet is a powerful tool & whilst it's certainly possible to make money online, unfortunately, it's not possible to make a lot of money with little work.
If you want to make a lot of money online then there's no difference to doing it offline, you've got to be prepared to put in the work. There are no magical "loopholes" and that's why systems that promise otherwise make me very sceptical.
The Truth About The Earn at Home Club
After doing some investigating I was able to find out that the Earn at Home Club is in fact a scam, and I believe it to be linked with 2 other scams that I recently reviewed on this blog named Home Job Placement & Automated Daily Income.
Basically how the scam operates is actually quite simple – they build you up on a whole bunch of hyped claims & make you feel like you are almost guaranteed to make money with the system… Almost as if the system is the answer to your prayers.
Then right at the very end after a lengthy sales pitch, you're told that they just need a small payment in order to give you access to the "club". In the case of this particular system, the small fee is $1 which admittedly seems measly, however after handing over your credit card details you'll find that you have actually subscribed to a recurring payment of $37.
And whilst the Earn at Home Club does provide you with some training for your money, the training is very poor & there's no way that even with careful implementation you could make anywhere near the amounts claimed by the website.
You'd be lucky if you even managed to make a single dime as a result of following the training. The training is focused on teaching you the basics of affiliate marketing, which is where you make commissions by promoting other companies products (such as Amazon, Best Buy etc)…
Affiliate marketing is actually a very good way to make money – it's just that programs like the Earn at Home Club give it a bad reputation. If you happen to still be interested in learning how to make money online then I would definitely recommend you try affiliate marketing & you can learn how to get started here.
I actually started with affiliate marketing myself around 5 years ago & since then I've been able to leave my job – so now affiliate marketing is actually what I do full time which is why I try to tell as many people about it as I can.
The other downside of programs like the Earn at Home Club is that they make it very difficult for you to get your money back. Once you realize that they've actually been running payment of $37 from your account naturally you'll confront them – but they will tell you that there is a 3 month cancellation period & during this period they'll continue to charge your card.
It truly is outrageous & to be honest, I'm not even sure how they're still getting away with it, but they are & that's why I do my best to try & expose as many of them as I can on this blog to stop people falling for them.
You Might Also Like:
Is Earn at Home Club a Scam?
I think you can probably guess my verdict on this one – I absolutely do not recommend the Earn at Home Club one bit. It's clear to me that it's nothing but a blatant scam which is set out to part you of your hard-earned cash.
After buying into the system for the said $1 fee you'll then find your card getting charged $37 per month & the owners of the Earn at Home Club will make it very difficult for you to get out of the subscription.
If you're really looking for a genuine way to make money online then I'd recommend affiliate marketing to you but I wouldn't recommend you learn it through the Earn at Home Club because their training stinks.
I've looked into various different affiliate marketing training programs over the years & there's been one in particular which has consistently beaten the rest hands down, so if you want to learn how to make money through affiliate marketing then this is where I recommend you get started.
But on that note I'm going to leave it there, I just hope you found my review useful & more importantly I hope I was able to prevent you from losing your hard-earned cash to the crooks behind this system.
A Better Alternative
The sad truth is that unfortunately most of the programs promising to help you make money online are scams. I can say that confidently after exposing over 500+ of them here on this blog.
But the good news is that even though most of them are indeed scams, there are actually some very good programs in amongst them - some programs that can truly help you to earn money.
And out of all of the legit programs I've seen, the one I would recommend the most to anybody looking to get started online is Commission Academy. In my own opinion, that's the best place to start.
At Commission Academy, you'll be provided with everything you need (including the training & tools) to begin earning real money by promoting products or services for companies like Amazon online.
The best part is that there's literally no limit on the amount you can earn with it & the process is pretty simple which means that it's absolutely perfect for people that don't have much experience.
Some wealthy affiliates even earn as much as 5-figures per month... Or more!

I mean don't get me wrong, that kind of money won't just fall into your lap without doing any work... But the harder you're willing to work at it, the more you stand to earn with it.
So if you're looking to get started but don't know which route you should go down or which program you should join (and don't want to waste money on bogus things that don't actually work), then I'd highly recommend checking out Commission Academy first. You can learn more about it here.