Just recently I published a review on IQ Option, which is one of the last standing (and as a result likely one of the largest) binary options brokers that's still accepting new traders to this date – even despite all of the negativity & regulatory action occurring in general within the binary options industry.
Anyway, one thing I discovered about IQ Option whilst conducting my research into it was that it previously sponsored Aston Martin – the luxury car company, however relatively recently that sponsorship seems to have been cut… So is this a hint that the end of IQ Option is near?
All too often I've seen binary options companies (like Banc De Binary for example) launch, grow, take traders money & then block withdrawals & disappear… So is IQ Option another scam that's going to do the same? Let's take a look…
IQ Option & Aston Martin – A Closer Look
It's not uncommon to see binary options brokers like IQ Option sponsoring "big name" companies or football clubs. They'll do anything to portray themselves as being legitimate, and sponsoring something mainstream seems to often be the "go-to" option for them.
Banc De Binary for example, which (now closed) was one of the largest binary options scams ever to surface sponsored both Southampton Football Club & Liverpool Football Club in an effort to come across as trustworthy.
BuzzTrade, another now closed scam binary broker also partnered with a football club – FC Porto – and again that was just an effort to "come across" as being legitimate, when it actual fact it clearly wasn't.
But back onto Banc De Binary, the interesting thing about their sponsorship deal was that after just 2 weeks of sponsoring Southampton Football Club & getting their logos on the shirts, the deal was then cut – and pretty sharpish too.
The reason? Well despite the shocking sponsorship cut being published in a lot of news articles, the reason was never publicly mentioned… However it looks to be that upon the deal "getting out", somebody likely informed the marketing team of their huge mistake… The mistake of partnering with a firm that had been renowned for taking peoples money & then blocking withdrawals.
Anyway, this time around it is IQ Option doing the sponsoring – and they chose the luxury car manufacturer Aston Martin to sponsor. Then, as expected, right after sponsorship they published several articles basically portraying the message that this sponsorship deal means "they must be legit".
They even appear to have paid for articles about the deal to be published on 3rd party websites like DailySportsCar… Basically in an attempt to get the message out as wide as they could about the new deal.
But now, not long after it seems that the sponsorship deal between IQ Option & Aston Martin has been cut.
IQ Option Cut From Aston Martin
If you visited the Aston Martin Racing website in March of this year & clicked on their Partners page then you would have seen IQ Option listed an official partner (as shown below):
However if you fast forward to now, November of the same year & click on the same page, you will see that IQ Option no longer appears on the partners page of the Aston Martin Racing website.
And it probably comes as no surprise that whilst IQ Option were quick to get the message out about the deal, they have not been so quick to get the message out about the "cut" of the deal.
In fact they haven't actually mentioned it all – it seems they've just quietly removed all references to it from their website & "hoped" that people maybe just won't notice…
But in my opinion based off the track record of the other brokers that doesn't really look too promising…
Banc De Binary made 2 sponsorship deals (both of which got terminated) – it later closed down & people discovered the hard way that it was a scam.
BuzzTrader made 1 sponsorship deal (which got terminated) – it too later closed down & was deemed to be a scam.
Now here we have IQ Option, which many claim to be a "legitimate" broker (despite having over 57% negative reviews on TrustPilot) getting their sponsorship deal terminated from Aston Martin.
Is this a sign that the end of IQ Option could be near? Well, since it is one of the few last remaining binary options brokers in the industry I imagine they will be under a LOT of pressure from regulatory authorities… So I personally certainly wouldn't be surprised if it was.
In my review of IQ Option I made the decision to advise against trading with them & I did that for a few reasons…
Firstly, I'm going to be upfront – I personally believe binary options in general itself is a scam geared towards making you lose money. I know that's a bold claim, but based on the odds of coming out on top, I believe it's a claim that is true.
In fact in all my years of working online & watching people trade binary options, I have never ever seen anybody at all – not one single person – manage to make any sort of sustainable profit.
They always end up losing. That, in my opinion makes it a scam.
Even Forbes warned against trading with binary options too: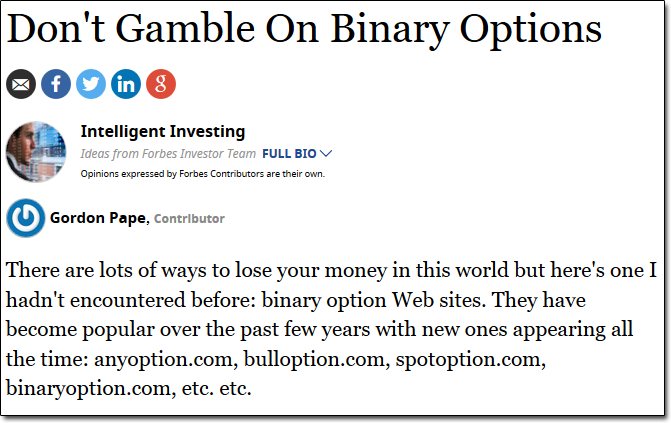 The other 2 reasons I dislike IQ Option are pretty simple – firstly, they have over 57% negative reviews on TrustPilot (with many people claiming IQ Option are blocking withdrawals) and secondly the only people I can find saying good things about it are those promoting it via their affiliate program.
So in my personal opinion despite the IQ Option website looking professional, and despite them being "regulated" – I have my doubts. BIG doubts… And I personally believe it is just Banc De Binary 2.0.
I don't say that meaning that it is launched by the same people – I say it meaning that I believe the rise (and fall) of IQ Option will be exactly the same as that of Banc De Binary… And I am concerned that a LOT of people are going to end up losing a lot of money.
So that's why I don't personally recommend trading with IQ Option.
Tread Carefully With IQ Option – My Advice
Honestly, as you can probably tell from my tone above in this post – I do NOT advise trading with IQ Option whatsoever… But if for whatever reason you are absolutely dead set on trading with them, then I absolutely advise you to at least take massive caution.
This means never depositing large amounts – and making regular withdrawals to never leave any sort of substantial amount of money within your account.
Furthermore it means remaining vigilant, and thinking twice about any advice offered to you by IQ Option themselves – as binary options brokers have a track record of being "cunning" and telling lies.
If you get offered an account manager that'll allegedly "help you with your trades" or if you hit any hiccups whatsoever when it comes to making withdrawals then I suggest running for the hills. These are the 2 biggest traits of a binary options scam.
The "account manager" will help you make a fortune, but will require you to keep funding your account – which no doubt you will do due to the excitement of the amount of money you are making… But in the long run you'll just be left to discover the hard way that the profits were faked, and that no money can be withdrawn.
Which takes me  back to point number 1… Make regular withdrawals! Never leave any substantial balance within your account!
Otherwise you could end up just like this single mum & her kids who had her life ruined through binary options trading… And you definitely do not want that – so if you can't avoid it altogether, then at the very least take massive caution.
But do keep your eyes peeled on news about IQ Option, because I personally suspect it will not be too long before this binary options broker also ends up closing it's doors – whether that be voluntarily or forced.