Jens Income Team is the name of a new website that promises to provide you with access to an easy way to begin making money with e-commerce sales, even if you're just a beginner.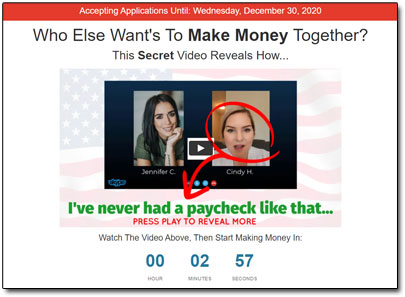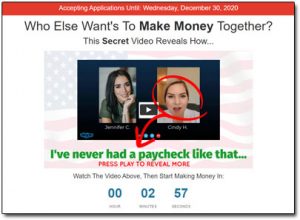 Jen, (known only as Jennifer C), claims that you'll become part of her "team" & that you'll begin making money with her as soon as you do. She even claims that you will be able to earn over $1,000 per day.
But is Jens Income Team legit?
Or is it just a scam that's set out to part you with your hard-earned cash?
Well, the good news is that you've landed in exactly the right place to find out as I have personally taken a closer look into it & in this Jens Income Team review I'll be uncovering everything you need to know.
What Is Jens Income Team?   |   Who Is Jen?   |   How Does Jens Income Team Work?   |   The Red Flags   |   Is Jens Income Team a Scam?   |   A Better Alternative
What Is Jens Income Team?
As I briefly touched on above, Jens Income Team is the name of a new website & it essentially promises to provide you with access to a really easy way to begin making money online.
In fact, you're almost led to believe that Jen will be doing most of the work for you & that as a part of her team, you'll just be able to sit back & relax as the income starts pouring in.
Basically, it's being sold as "the dream"… And all throughout the promotional video there are several so-called testimonials from other members who are allegedly seeing profits of over $1,000 per day from the system.
But there's a catch… And that catch is that in order to find out more about the system & to learn how it all actually works, you need to first hand over some of your own hard-earned cash.
And that right there is one of the biggest telltale signs of a get-rich-quick scam.
Get-rich-quick scams promise to provide easy ways to make money but require you to hand over your own cash first, then simply leave you to find out the hard way after handing over your cash that they don't really work as promised.
And Jens Income Team is no different.
I'll explain how it all really works in just a moment but first before I do, let's take a look at who "Jen" actually is.
Who Is Jen?
The entire program is based around a lady named Jen, hence the name Jens Income Team – but who actually is this mysterious "Jen"?
Well, through the entire promotional video, there is absolutely no information provided about the lady that's allegedly behind the system, other than that provided in the screenshot shown below: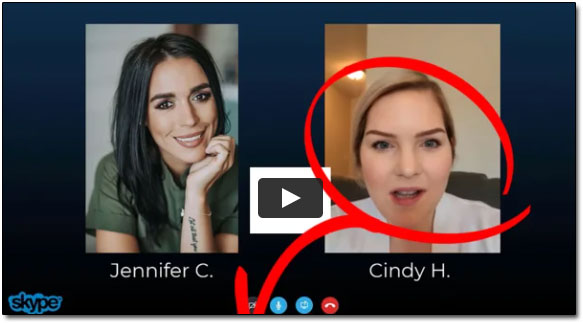 So, known only as "Jen" or "Jennifer C", mysterious Jen stays pretty mysterious… Which I think you'll agree, is pretty suspicious.
What's "Jen" hiding from?
Why doesn't she want people to know her real name?
Well, as you'll soon see below the answer is because she's essentially conning people. Her so-called "Income Team" isn't legit & the majority of the members that sign up are just going to lose money.
Meanwhile, Jen will be profiting at their expense.
But you don't just have to take my word for it, instead, keep on reading & I'll explain how it all really works below.
How Does Jens Income Team Work?
If you've come across Jens Income Team then you'll have probably already noticed that it makes several mentions of e-commerce throughout the promotional video.
As a result, you may be tricked into believing that it's a legitimate system that will teach you how to launch an online e-commerce business.
But unfortunately, it's not.
Instead, Jens Income Team is actually just the return of an old scam named the Easy Kits scam.
I figured that out after looking at the Terms & Conditions page & noticing that it made reference to the Easy Kits website for "support" at the very bottom, as shown below:

In short, the Easy Kits scam is simply built upon false promises. The people behind it launch systems (like Jens Income Team) that promise to provide you with easy ways to make money, but in reality, they don't.
The truth is that the systems have just been designed to enable Easy Kits to suck as much money from you as they possibly can.
This means that if you were to buy into Jens Income Team (which I obviously don't recommend doing), then you would simply find yourself faced with upsell after upsell.
And once you had finally gone through all of the upsells, you'd just be left to find out that the whole thing doesn't really work as promised.
Then, when you complain & ask for a refund, you'll be told that "you didn't work hard enough".
Not good.
I actually wrote quite an in-depth review on how the Easy Kits scam works right here. I'd recommend checking it out if you want to learn more about exactly how it all works.
But, in short, it basically doesn't work.
None of the people buying into Jens Income Team will actually find themselves making money. Instead, they'll just find themselves making the people behind it richer at their own expense.
And that's something you definitely don't want to do.
You Might Also Like:
The Red Flags
Well, first there's the obvious red flag which is the fact that it simply sounds way too good to be true. As the good old saying goes, "if something sounds too good to be true – it probably is".
In the instance of Jens Income Team, it most definitely is.
There is simply NO way that you will find yourself earning money as a result of buying into the Jens Income Team program. It's built to make its creators wealthier, not you.
The second red flag is the fact that there is no information to be found about "Jen" whatsoever.
And worse yet, the disclaimer that is shown at the beginning of the video basically says "everything you're shown is fake":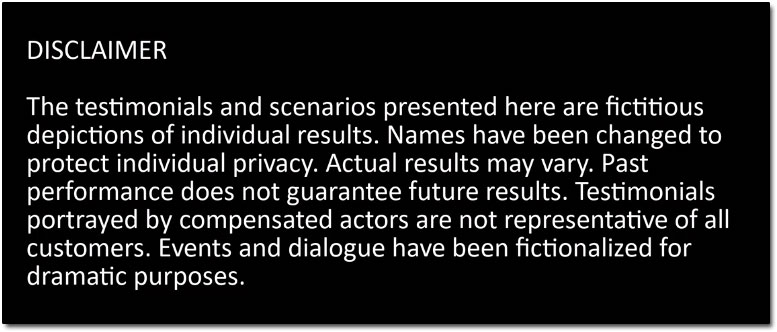 If the system was legitimate, why would the creator need to hide?
Why would they need to create falsified testimonials?
And why would they show statistics that are not representative of their customers?
The answer is simple. It's because they're trying to trick you.
And on that note, you've probably also noticed the false scarcity that's being used on the website too. At the very top of the page, they claim that applications are closing the same day (as shown below):

But that's BS.
I came across the system 3 days ago & it said that it was closing on the 27th. It's now the 30th & it's still open, and it will be tomorrow & the day after too.
The people behind it are just trying to do their best to rush you into signing up so that you don't look for reviews because they know that if you look for reviews, you'll find out it's a scam.
Don't be fooled by the tricks.
Is Jens Income Team a Scam?
Yes, as far as I'm concerned, Jens Income Team is a scam.
Despite what the website promoting it claims, the program has not really been designed to help you make money & if you buy into it, it will be very unlikely that you do actually make money.
Instead, the program has simply been designed to sucker you into spending as much money as possible on "training" so that the people behind the program can get wealthy at your expense.
And that's the reason the program is hiding its true name.
The real name of the program is Easy Kits, but because of all of the bad reviews surrounding Easy Kits, the creators have built the Jens Income Team website to trick more people into signing up.
Don't fall for it.
There are many legitimate ways that you can earn money online, but Jens Income Team is not one of them.
Instead, if you still want to earn good money online I would recommend you check out affiliate marketing. It's one of my all-time recommended methods for earning money online & it's great for beginners.
If you would like to learn more about it (and find out how to get started), you can check out my free guide here.
But whatever you decide to do, I simply hope that my review of Jens Income Team here has given you a good insight into how the program really works & I hope that it has helped you to avoid it.
Feel free to leave any questions or comments below.
A Better Alternative
The sad truth is that unfortunately most of the programs promising to help you make money online are scams. I can say that confidently after exposing over 500+ of them here on this blog.
But the good news is that even though most of them are indeed scams, there are actually some very good programs in amongst them - some programs that can truly help you to earn money.
And out of all of the legit programs I've seen, the one I would recommend the most to anybody looking to get started online is Commission Academy. In my own opinion, that's the best place to start.
At Commission Academy, you'll be provided with everything you need (including the training & tools) to begin earning real money by promoting products or services for companies like Amazon online.
The best part is that there's literally no limit on the amount you can earn with it & the process is pretty simple which means that it's absolutely perfect for people that don't have much experience.
Some wealthy affiliates even earn as much as 5-figures per month... Or more!


I mean don't get me wrong, that kind of money won't just fall into your lap without doing any work... But the harder you're willing to work at it, the more you stand to earn with it.
So if you're looking to get started but don't know which route you should go down or which program you should join (and don't want to waste money on bogus things that don't actually work), then I'd highly recommend checking out Commission Academy first. You can learn more about it here.