John Crestani is a name you've probably already heard of if you've spent any time looking to build your income from home or make extra money online as he's the man behind several programs which claim to have the answer with regards to helping you do exactly that…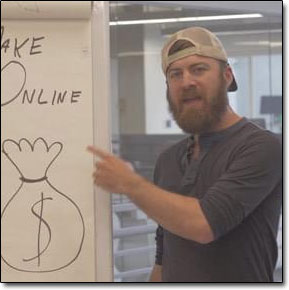 His most recent program, in fact, the Super Affiliate System, promises that it'll be able to help you to generate a "7-figure side-income" in a matter of just 6 weeks… But can he & his programs really be trusted? Or will John Crestani scam you & just run away with your cash instead? It seems that's what a lot of people are asking…
So, as a result, I've personally decided to take a closer look into John Crestani & his businesses to find out the TRUTH about what's going on – meaning if you've been looking to find out more about him (and whether or not he can really help you make money) then you can rest assured that you've landed in exactly the right place as in this honest review I'll be uncovering literally everything there is you need to know.
Who Is John Crestani?   |   John Crestani's Courses   |   Is John Crestani a Scammer?
Just Who Is John Crestani?
John Crestani describes himself as being the "the guy who said f*** the corporate world and chose his own way"… But actually if you read his story it was actually kinda the corporate world that said "f** John Crestani"…
You see back when John Crestani was 22 years old he was actually working an everyday 9-5 job at a marketing firm in Los Angeles. The firm specialized in "pay-per-click" advertising & John began picking up a few tricks during his time there.
He became a bit of a "superstar" within the company & he went from a new-starter to eventually managing over 20 clients accounts single-handedly, one of which he managed to increase the revenue of by 40x through his "pay-per-click" campaign.
Anyway, it was at that point John apparently decided to ask his boss for a raise, which he assumed would be a sure-fire thing since that 1 client account alone that he grew was allegedly bringing in his boss over $110,000 per month of extra business… But it wasn't a sure-fire thing at all.
In fact John Crestani says he remembered that after asking for the raise his boss literally stared at him and asked "Or what?"…
So from there things went downhill – and eventually the understandable drop in John's work ethic & lack of enthusiasm for the company resulted in him getting fired from that marketing firm… But it was no big deal to John, as he had been busy hustling away on the side & getting clients of his own… Which is when (and how) his career as a solopreneur started.
John decided that the incident with his former boss made him no longer wish to go back to the corporate world, and he so from there he worked hard to scale his business, which he did through affiliate marketing & paid advertising.
In short he basically went on to promote products & services for 3rd party companies in return for commissions on the sales he generated. This way he didn't need to mess around creating products & he didn't have to spend time on the sales process (like managing shipping and returns)… Instead he was able to focus all of his time onto 1 thing – advertising – which is exactly what he did.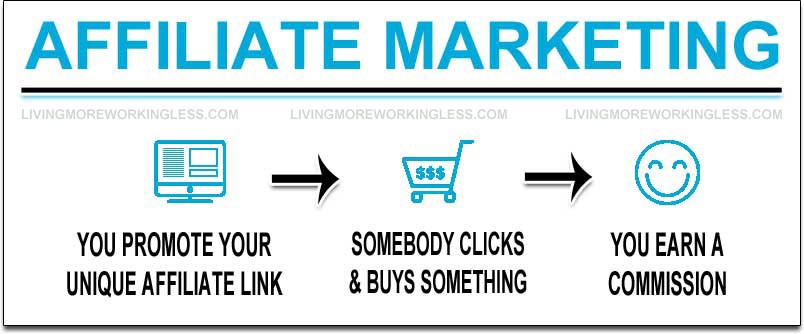 Using paid ads he scaled his promotions & since then he's gone on the generate millions of dollars in affiliate commissions – as well as now setting up some of his own companies such as Nutryst, IM Jetset & the Super Affiliate System.
He started as an affiliate promoting other peoples products, now he's moved into creating products & leveraging affiliates… But more importantly, and likely why you're reading this review of John Crestani – he's also now moved into teaching others how he did what he did too… So people can sign up to his training programs, follow the steps he's put together & work towards replicating similar results for themselves… Or at least that's the theory anyway.
So John Crestani now is the guy who can allegedly enable you to "build a profitable affiliate marketing business in the shortest time possible"… Or at least that's what he claims anyway.
But it seems that whilst John has received much praise & great positive attention by the media, there have also been some naysayers too as one article published on the BlastingNews site brands John Crestani as a scammer (as shown below):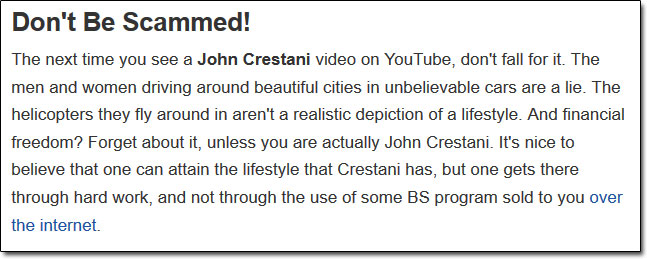 So what's the deal? Is John Crestani a scam? Or is he actually a legit guy that can truly help you make money like he claims? Let's find out…
John Crestani Scam?
I'll point out here right from the off that John Crestani is NOT a scam, nor is he a scammer, and nor is he a fraudster – he's a 100% legitimate guy and I'm not gonna lie I was pretty shocked when I came across those words in that news article.
The reason I say that so confidently is because I've actually been through one of John's courses, his IM Jetset course & I can tell you first-hand that it was absolutely packed with genuine value – value that if you took action on could 100% help you make good money online.
The news article about him states one important thing which is "one gets there through hard work" and that is exactly what John teaches. John doesn't promise any cheats or magical systems… He simply provides training, which he says if you take action on & put in the work, could help you achieve success.
He's not promising to do anything for you, and he's not promising that you'll make money… He's simply showing you exactly what he personally did, and telling you that if you put in the work & do it yourself then you too could build up something similar.
How you can call that a scam I don't know… But I guess when it comes to the make-money niche online people are always pretty sceptical & as a result often jump to conclusions without properly knowing the facts. The truth is that it is possible to genuinely make money online, and it's possible (as John has proven) to make a LOT of money online.
Admittedly it doesn't come without work, but if you're willing to work at it then it's certainly there for the taking.
But anyway whilst we're on the topic of his courses let's take a closer look at what they have to offer…
John Crestani's Courses…
So in early 2017 (or potentially late 2016) John Crestani launched the IM Jetset course, alternatively (at the time) known as Internet Jetset. I went through the course & it was actually pretty darn good…
But anyway just recently, now in 2018, John revamped the IM Jetset course & re-released it as the Super Affiliate System – this time around making it even better & claiming it to be a training system that will enable you to "make profits in the shortest time possible"…
The Super Affiliate System (as the name suggests) is geared around teaching you how you can start your own profitable affiliate marketing business, which is the exact same way John himself started out – and it's heavily geared around the use of paid advertising which is where the "speed" concept comes into play.
You see I'm not gonna lie, I very rarely recommend paid advertising to people because if you don't know what you're doing it can get very costly very quickly, and as a result it could see you losing a lot of money…
But, whilst there is the risk of losing money, there is also the potential with paid advertising to "crack a campaign" and see almost instant success – as paid ads give you immediate reach to your audience.
There are alternative methods of getting that reach which don't cost anything (and therefore don't involve risk) but such methods – such as search engine optimisation & social media marketing take time to gain traction.
Therefore if you want quick & you have a budget that you're not afraid to burn then paid advertising can be the answer…
Now if you were to go it alone & try to figure things out yourself with paid ads then I'd definitely 100% recommend against it… But that's where John Crestani's Super Affiliate System comes into play as not only is he himself a paid ads expert, but he's teamed up with 2 others to create the course (Tim Burd & Ronnie Sandlin) so the concept is that they'll be able to help you avoid the pitfalls & see success from the off.

Will you see success from the off though? Probably not (my honest opinion) – the nature of paid ads means it really does still generally involve a lot of trial & error – but providing you take note to what the guys teach through the training you should be able to figure out how to tweak it to ultimately turn it into profits.
So yeah, the program IS the real deal – and it IS packed with massive value… Meaning if you're thinking about making a break into affiliate marketing using paid ads then the Super Affiliate System could certainly help you do exactly that.
Alternatively though if you wanted to test the water with the free methods first then there are some other very good legitimate programs that will help you do exactly that, such as Commission Academy for example.
But anyway, I think you've probably found out everything you need to know about John now which brings me onto…
You Might Also Like:
Is John Crestani a Scam?
I'll repeat it once again, John Crestani is absolutely NOT a scam – he's a legitimate guy that has put together various legitimate training programs which primarily teach people how to make money through a combination of affiliate marketing & paid advertising.
Like I said I've personally been through John's program and the value inside was immense, it was a really good, really well put together training program & I'm absolutely confident it'll help people make money.
The only slight downside though in my opinion is that if you don't have a big budget to start out with (that you can afford to lose) then you might not find the programs so great since that's exactly what paid advertising requires you to have… There is an alternative though like I mentioned earlier in this review which is this program here.
But anyway whatever you decide to do I just hope that my review of John Crestani here has helped you find the information that you were looking for & hopefully now you can see he is a legitimate guy, not a scammer.
If you do happen to have any further questions or comments you'd like to add feel free to leave them below & as always I'll get back to you as soon as I can. 🙂