The Super Affiliate System which has been put together by a guy named John Crestani promises to provide you with high-quality training that will allegedly enable you to build a "7-figure side-income online" in the shortest time possible.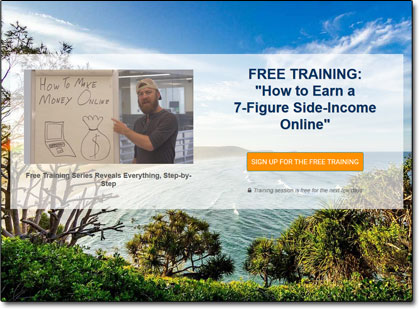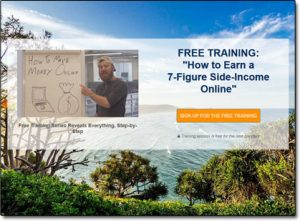 But obviously I think you'll agree that's a pretty bold claim to make & as a result I'm sure you're probably pretty sceptical about signing up…
So what's the deal – is it really legit, or is the Super Affiliate System a scam that'll just end up costing you more than you ever manage to make?
Thankfully you've landed in the right place to find out the answers to those questions as I've personally taken a closer look into it to see exactly how it all works & in this honest Super Affiliate System review I'll be uncovering the REAL truth about what's going on (and outlining whether or not you can actually make any money with it).
What Is The Super Affiliate System?   |   How Does The Super Affiliate System Work?   |   The Training   |   The Bonuses   |   Is The Super Affiliate System a Scam?   |   A Better Alternative
What Is The Super Affiliate System?
The Super Affiliate System is a brand new make-money system that's been put together by a well-known affiliate marketer named John Crestani, along with the help of 2 other guys named Tim Burd & Ronnie Sandlin.

The concept is that the system or program, whatever you want to call it, will supposedly show you the steps to creating an affiliate marketing business & making it profitable in the shortest time possible.
And the unique selling point of the Super Affiliate System is the whole "speed" concept, as that's what John Crestani stresses several times throughout his sales pitch…
He says that he appreciates there are many, many other legitimate platforms out there where you can learn affiliate marketing (such as Commission Academy & AWOL Academy), but he claims HIS system will help you earn money the quickest.
And despite the whole speed concept which may lead you towards thinking that it's maybe a program designed for those who already have some experience in the affiliate marketing world – it's actually not… John claims that his program has been designed for the total novice and that the course will show even the complete newbie how to turn a good profit online in just 6 weeks of training…
So I think you'll agree it sounds pretty interesting – and it's hardly surprising that his new Super Affiliate System has gained massive traction online right from the word go as those who love to make money generally love to make it quickly!
But the question is, can you really make money so quickly? I mean over and over on this blog I stress that anything which promises you quick-riches is likely to be nothing more than a get-rich-quick scam… So what's the truth about John's program?
Is the Super Affiliate System a scam that's just going to see you losing money rather than making it? Or is it actually a legitimate program that can truly help you to make good money online as it claims?
Let's find out…
How Does The Super Affiliate System Work?
So in short, the Super Affiliate System is essentially version 2.0 of John Crestani's IM Jetset program which was launched almost 2 years ago, and in just 6 weeks of training you're told you can learn "how to earn a 7-figure side-income online"…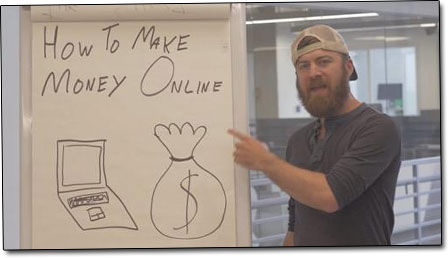 Essentially, just like the IM Jetset program was, the whole thing is geared around building an affiliate marketing business and using paid advertising to promote it… So this is where the "speed" comes into place.
You see, there are actually several free methods of generating traffic online – but the downside to free methods is that whilst they're free, they generally take some time to build momentum with.
If you've got time then that's obviously not a problem as free methods are great & I highly recommend them… But if you have money and not so much time then there is an alternative method, which is paid advertising.
Now don't get me wrong here – typically I don't personally recommend paid advertising to newcomers. The reason for that is because paid ads often require a large budget & a lot of trial & error… However, this is where John Crestani's Super Affiliate System comes into play.
John himself is an EXPERT when it comes to paid ads… I mean, the guy really, really knows his stuff… And not only that but he's teamed up with 2 other experts as well named Tim Burd & Ronnie Sandlin.
Tim Burd is the co-founder of a large marketing company called Agency Y, where he works as the chief Facebook ads strategist & Ronnie Sandlin is the founder of a company named Temet Nosce where he too helps people successfully advertise on Facebook.
So you have 3 paid ads experts who've come together & worked on creating the Super Affiliate System, which basically aims (or claims) to "hold you by the hand" and show you step-by-step how to create profitable paid ad campaigns from the off, without the trial & error.
This means that the 6 week Super Affiliate System program will essentially show you how to select a niche market, how to build an affiliate sales funnel, how to market it with paid advertising & how to scale it into a $100,000 per month online business.
I agree it's a pretty bold claim – and usually, it's one I'd run from – but I also have to admit that these 3 guys are indeed the real deal & the training they have put together inside of the system is VERY good, to say the least.
But is everyone who goes through the Super Affiliate System really going to come out of it making $100,000 per month after just 6 weeks? Well no, being totally honest they're not. In fact, some people probably won't make any money at all with it…
However, on the flip-side, I'm confident that those who truly engage themselves in the training & take solid action of what they're taught could indeed actually end up generating such revenue as a result of going the program.
You see when it comes to paid ads, $100,000 per month is NOT an insanely unrealistic figure… And I've actually seen people first-hand achieving that level of income… Because once you crack an ad campaign that works, the beauty of it is that you literally can just scale it up.
So whilst paid advertising might indeed be riskier than free traffic methods in the sense that you're putting money on the line, the risks could pay off greatly if you do indeed manage to find success with it.
Anyway, less of the theory, let me show you what the Super Affiliate System program actually consists of…
The Super Affiliate System Training Revealed…
So you want to know what you'll actually be getting access to on the inside of the Super Affiliate System before you spend the money huh? Well, that's fair enough & luckily for you, I've done the digging…
In week by week order, here's what the Super Affiliate System training consists of:
Week 1
Remembering that the Super Affiliate System is geared towards beginners, in week 1 you'll learn about affiliate marketing in general – what it is, how it works, and you'll also learn how to begin getting things setup.
John Crestani will teach you how to get approved with your first affiliate networks, how to set up your presell pages, affiliate links & ads – plus you'll even briefly begin to learn about Facebook advertising too (which is what the whole course is heavily geared around).
He'll also explain about leveraging the affiliate network representatives & getting them to do work on your behalf for free, as well as explaining how you can potentially earn your first commission within just 2 hours of getting started.
Week 2
One criticism I have of the Super Affiliate System is that I feel week 2 & week 1 should have probably been switched around – because as you enter into week 2 it kinda feels like you're going back-over…
That's because in week 2 you'll learn about picking a niche market to target, doing research & building the right mindset for success… Which in my opinion is all stuff that I believe should probably come first.
But anyway, it is what it is… And therefore in week 2 you'll primarily learn about picking markets, finding profitable niches, and how you can leverage research on your own so that you're not reliant on solely "copying" what others are doing…
This way John claims that rather than being restricted to promoting biz-opp offers (which is what ultimately John will be pushing you towards promoting) you can go out & promote any offers of your choosing.
One thing I will point out though is that John Crestani does put out this disclaimer which seems to kind of "lock you in" to promoting what he wants you to promote (which as you can guess, is his own system – and potentially AWOL Academy).

Week 3
This part of the course moves more onto the actual marketing side of things, with a strong focus on copywriting. You'll learn what copywriting is & how to use it to create more compelling headlines & sales pages, plus alongside that you'll also learn various conversion optimization tricks which will hopefully enable you to increase your sales.
Week 4
This is where the course moves back onto the advertising things – so whilst week 1 briefly gave an outlook of advertising through Facebook, week 4 moves into it on a more in-depth level & also introduces Google advertising too.
You'll learn how to create Facebook campaigns, how to make them profitable and how to stay compliant with Facebook's rules to prevent your ads getting taken down or your account getting banned (which is very important).
You'll also learn similar things, but for advertising on Google – so you'll essentially learn how to get your ads "pushed" to the top of the search results for the keywords of your choosing… And alongside that, you'll also be taught about the general advertising jargon & given tips on understanding ad metrics so that you know what it is you're looking at it whilst you monitor your campaigns.
Week 5
This week of the course primarily focuses on using YouTube advertising, and it also gives you an introduction onto something called native advertising so that you can see how you can leverage that to grow your business as well.
You'll learn how you can get your CPC as low as possible on YouTube (which by the way, stands for Cost-Per-Click) meaning less money spent on advertising & more hopefully earned in revenue… And you'll also be shown how you can leverage videos within Facebook advertising too.
Plus the course here will also go onto more advanced optimization tips, as well as discussing how you could potentially use a click-tracker to increase your profits.
Week 6
This is the final week of the course & this one puts a primary focus on scaling your business & automating it – or automating parts of it at least anyway. You'll learn advanced marketing tactics, how to leverage media buyers and how to scale your campaigns through the likes of things such as "survey funnels".
On top of that, you'll also be provided with real case studies that will show you in detail exactly how other affiliates have successfully scaled their campaigns & grew hundred-thousand-dollar revenues as a result.
You Might Also Like:
Some Done-For-You Bonuses…
As a little sweetener to entice you to sign up to his course John Crestani also throws a few bonuses your way as well, which include "done-for-you" content to help you get going as quickly as possible.
You can expect to get:
A buyers list for targeting which takes out the guesswork & gives you instant access to a profitable audience
An ad swipe file which contains "done-for-you" ad copy to reduce the amount of trial & error involved
Some done-for-you presell pages (primarily geared towards promoting biz-opp offers)
Guaranteed affiliate network entry with top-tier offers (potentially/likely AWOL Academy)
Is The Super Affiliate System a Scam?
John Crestani's Super Affiliate System is definitely not a scam, it's far from it – the whole thing is indeed a legitimate training program packed with value that could certainly help you generate profits from affiliate marketing.
However don't get me wrong, whilst you do get access to some high-quality training there are in my opinion a few drawbacks which I'd like to bring to your attention before you jump in & sign up…
Firstly, I think that the structure of the training is a bit wacky. I mean like I mentioned earlier in this review, it seems week 2 should go before week 1 and then things like click-tracking (which I believe should be taught right from the off) aren't taught until week 5…
In my opinion, the training is very good, but it could follow a better flow – and I think as it is at the moment it leaves a lot of room for confusion, especially if you are indeed a beginner to affiliate marketing.
Then, aside from that, you have to remember that the whole course is geared around paid advertising – which means you're going to need one heck of a budget if you want to stand any chance of finding success with the Super Affiliate System training.
I mean sure, following the advice from experts like John Crestani, Tim Burd & Ronnie Sandlin will certainly help you find success quicker than if you were left to try & figure things out on your own… But there is no doubt still going to be some trial & error which could mean losses before profits… And when it comes to paid advertising those losses could quickly mount up to something substantial.
So don't get me wrong – the course is great, the training is great and you COULD make money… But similarly, you could be left to just find yourself confused, or worse you could be left losing money instead…
If you're willing to take the risk & you have money that you can afford to lose, then, by all means, feel free to try it out – it's certainly not a scam… But if you would prefer something that's laid out in an easier to follow fashion & that doesn't require a huge outlay upfront then you might want to check out Wealthy Affiliate instead.
Anyway, whatever it is you decide to do, all I hope is that my honest review here has helped you out & enabled you to decide whether or not you think the Super Affiliate System program is really right for you.
As always feel free to leave comments/questions below & I'll get back to you as soon as I can.
A Better Alternative
The sad truth is that unfortunately most of the programs promising to help you make money online are scams. I can say that confidently after exposing over 500+ of them here on this blog.
But the good news is that even though most of them are indeed scams, there are actually some very good programs in amongst them - some programs that can truly help you to earn money.
And out of all of the legit programs I've seen, the one I would recommend the most to anybody looking to get started online is Commission Academy. In my own opinion, that's the best place to start.
At Commission Academy, you'll be provided with everything you need (including the training & tools) to begin earning real money by promoting products or services for companies like Amazon online.
The best part is that there's literally no limit on the amount you can earn with it & the process is pretty simple which means that it's absolutely perfect for people that don't have much experience.
Some wealthy affiliates even earn as much as 5-figures per month... Or more!


I mean don't get me wrong, that kind of money won't just fall into your lap without doing any work... But the harder you're willing to work at it, the more you stand to earn with it.
So if you're looking to get started but don't know which route you should go down or which program you should join (and don't want to waste money on bogus things that don't actually work), then I'd highly recommend checking out Commission Academy first. You can learn more about it here.