Karatbars International is a network marketing company that was founded back in 2011 & specialises in the sale of small gold items. Alongside the opportunity to buy gold as a customer they also run a business opportunity through which you can get involved as an affiliate & supposedly make extra money.
But is Karatbars International legit?
And can you really make money with Karatbars International?
Those are the exact things that will be revealed right here in this review as I'm going to be taking a closer look at the Karatbars International company & uncovering everything there is you need to know.
So if you've come to this page because you were considering joining Karatbars International or investing in gold through them then but wanted more information first to make sure it's legit then you can rest assured that you've landed in the right place.
It's worth mentioning too that I'm not an affiliate of Karatbars International so you can have peace of mind knowing that you'll be getting an honest review of the company since I have no interest in pushing you into joining the opportunity. Unfortunately, many of the other reviews have been written by people affiliated with the company which means they contain lot's of biased information so it's hard to know what to believe…
What Is Karatbars International?   |   The Business Opportunity   |   More Expensive Than Market Value   |   Is Karatbars International a Scam?   |   Should You Join?   |   A Better Alternative
What Is Karatbars International?
Karatbars International is a company that sells small gold bars & various gift items that are made out of gold bullion. They're based out of Germany but the gold items themselves that they sell are actually manufactured in Turkey by a company named Nadir Gold.
When I say they sell small gold bars I really do mean small as their most popular products come in 1gram, 2.5 gram & 5-gram sizes. Compare this to the standard sized gold bars held by banks which weighs 12.4kg & you'll see the amounts sold by Karatbars International are much, much smaller.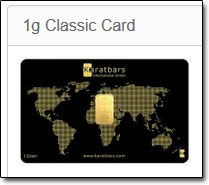 The gold bars come presented in a card & you can choose to have the card customized to give to somebody as a gift.
I'll admit that the custom cards do look the part & I'm sure they would put a smile on the recipient's face if they were given as a gift, but it seems to me that the price of Karatbars' gold is substantially higher than market value.
This is especially strange since Karatbars International seem to be pushing their products really strongly as an investment. I mean yes, gold can be a good investment but if you are looking to invest I'm sure you would want the best price possible (it's only logical) and in my opinion, Karatbars International doesn't cut it.
The Karatbars Business Opportunity
Alongside selling gold Karatbars International also provide a business opportunity through which you can sign up & make money as a distributor by reselling their products onto other people.
And on top of making money from the product sales alone, you can make money by recruiting other people into the scheme, earning a percentage of their sales too – and so on…
It's called a network marketing opportunity or a multi-level marketing opportunity – but I've never been a fan of the whole network marketing scene as it's an industry where usually only the minority manage to find success & the rest are left penniless with nothing to show for it…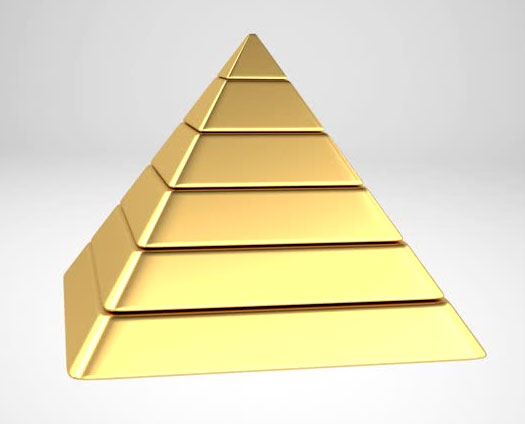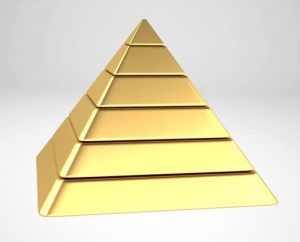 Not to mention the fact that the structure of these "network marketing" companies always seems to be very pyramid-shaped.
I mean technically you could argue that Karatbars International isn't a pyramid scheme because they do offer "real" products, but as with all network marketing opportunities, it's very borderline to determine whether they are or aren't. Even when it comes to companies with products, if people are found to be purchasing the products purely so that they can qualify themselves to earn money through the scheme then once again you're touching on it being a pyramid scheme.
Anyway just to make it clear I'm not saying that Karatbars International itself is a pyramid scheme, I'm just stressing that you should exercise a lot of caution & when you're approaching a business model like this (and that's why I personally don't bother with network marketing opportunities).
More Expensive Than Market Value
As I said above I feel that the gold sold by Karatbars International is higher priced than the market value which seemed strange for a company who claimed to be offering it out as a "solid investment".
And I feel the reason for that is because they're running a network marketing business opportunity alongside the retail sales, so they've increased the price to be able to cover the commissions paid out to affiliates in the scheme.
This is a very common trend with network marketing companies – in fact out of all of the network marketing companies I've come across I don't think I've ever seen a single one that boasts competitive pricing.
Generally, products sold by network marketing companies are higher priced & then the companies merely claim to have some sort of unique selling point to justify the pricing (but in my opinion, it's purely so that they can pay out commissions whilst still making healthy profits).
Usually, a traditional company would just end up going bust if they were selling extortionately priced products but network marketing companies are able to get away with it because they've got all the distributors doing the selling for them.
Is Karatbars International A Scam?
Well, I wouldn't go as far as to say Karatbars International is an outright scam, however, it is a bit of a questionable scheme & whilst they do offer genuine products I have a feeling that more emphasis is pushed onto the opportunity which is not good news.
Over the past few weeks, I have come across several systems/opportunities which I can confidently say are scams because they are purely set out to part you with your cash (such as Clone My System & the EZ Money Team) – but Karatbars is slightly different.
Karatbars is a network marketing company & there is the potential to make money, it's just that in my opinion, it's very unlikely that you will. Plus in my personal opinion the opportunity is very borderline legit, and to become truly successful with it you will be required to recruit a LOT of people & then train them up to show them how they can also begin recruiting people.
I just don't like network marketing because it's all way too pyramid-shaped & the industry success rates are way too low. There are plenty of other legitimate ways you can make money without having to invest & you can see over 72+ of them by clicking here.
You Might Also Like:
Should You Join Karatbars? My Final Verdict
To be honest, I'm not going to be recommending Karatbars International from either a retail or a business opportunity point of view – in fact, I'm actually going to advise that you stay away from it because to me it looks like a potentially risky opportunity.
First of all the gold, in my opinion, is overpriced, therefore if I was looking to invest I would not choose Karatbars. Secondly, if I was looking to join a business opportunity I would not be joining an opportunity which is going to take hard work to sell.
If you are really set on specifically joining a network marketing company then I would recommend you search long & hard for a company that has a fantastic product which will sell itself – it will make your life a lot easier.
However to be honest I would strongly advise getting involved in network marketing, instead, I would recommend you take a look at affiliate marketing.
In my opinion, it's a lot easier to get started with affiliate marketing & it definitely costs a lot less. It sure beats network marketing hands down & it's actually one of the best ways to build an income online – lot's of new people are getting involved with affiliate marketing every single day.
A Better Alternative
The sad truth is that unfortunately most of the programs promising to help you make money online are scams. I can say that confidently after exposing over 500+ of them here on this blog.
But the good news is that even though most of them are indeed scams, there are actually some very good programs in amongst them - some programs that can truly help you to earn money.
And out of all of the legit programs I've seen, the one I would recommend the most to anybody looking to get started online is Commission Academy. In my own opinion, that's the best place to start.
At Commission Academy, you'll be provided with everything you need (including the training & tools) to begin earning real money by promoting products or services for companies like Amazon online.
The best part is that there's literally no limit on the amount you can earn with it & the process is pretty simple which means that it's absolutely perfect for people that don't have much experience.
Some wealthy affiliates even earn as much as 5-figures per month... Or more!

I mean don't get me wrong, that kind of money won't just fall into your lap without doing any work... But the harder you're willing to work at it, the more you stand to earn with it.
So if you're looking to get started but don't know which route you should go down or which program you should join (and don't want to waste money on bogus things that don't actually work), then I'd highly recommend checking out Commission Academy first. You can learn more about it here.