In this review, I'm going to be taking a look at something called Kypron which is a new program that claims it can either help you get started making money online or help you make your current online business more profitable.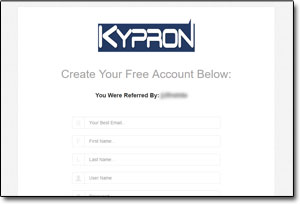 However, despite Kypron coming across as being seemingly free, it's actually not – so in this Kypron review I'm going to finding out if it's actually legit if it's worth the money & most importantly if it really can help you make money.
Meaning if you've come across Kypron & have been thinking about joining you can rest assured that you've landed in exactly the right place to find out everything you need to know about it before you do.
And FYI I'm not an affiliate of Kypron so you'll be getting the honest truth because unlike many of the other reviewers who are actually affiliates I'm not getting paid commissions for persuading you to sign up.
What Is Kypron?   |   The Catch   |   Kypron L.I.F.E Membership   |   The Costs   |   Getting Paid   |   Is Kypron a Scam?   |   A Better Alternative
What Is Kypron?
At the moment as I write this review Kypron is in BETA so other than a handful of videos that have been put together by affiliates trying to "get you in early" there isn't a great deal of information available about it, so chances are you're probably wondering what the heck it's actually all about…
Thankfully I've got the inside scoop and I can tell you that Kypron is an online marketing program that's been put together by a guy named Kevin Hokoana.
It basically comprises of various tools & training modules that are intended to help you succeed at generating leads online, and it kinda reminds me of another program I reviewed not so long back named Online Sales Pro which is a very similar thing.
Just like with Online Sales Pro, alongside the tools & training Kypron also has a business opportunity through which you can earn money by referring other people to Kypron & getting them to sign up for the membership.
However, also like Online Sales Pro, it seems to me that it has a very apparent problem, which is that whilst you can use the training/tools to promote other things, in my opinion, it seems to be heavily geared towards promoting Kypron to other people.
So it looks to me like it's going to be one of those "buy into this & make money selling this onto other people" type of gigs… Which is a bit of a shame really because if they'd laid the focus off the business opportunity it could have probably been quite a good stand-alone product.
The Catch
Kypron has been designed to come across as being free – so when you're pitched Kypron you'll be sold on the idea of getting access to a whole bunch of free training & tools which obviously sounds great…
But as you progress through the training you'll realize that it's not all quite so free after all & you'll get pushed into buying the Kypron L.I.F.E membership package which is where you're told the money's at.
This isn't unusual though – this is a tactic people use to generate more leads online. It's called a lead magnet & it basically works on the premise that somebody is more likely to give away their email address if they're getting something free in return, and then once the email is collected they can begin working on doing the selling.
And as a member of Kypron if you go on to promote the business opportunity this will probably work in your favour. It's kinda like how the Digital Altitude & MOBE programs work where they lure you in on a $1 offer & then slowly upsell you to higher & higher plans, only that Kypron is substantially cheaper overall.
Whether it's morally right or wrong… Well, that's a bit borderline… I guess if the products actually worth the upgrade fee & not just upgrading you to squeeze money out of you then it's all good so in the case of Kypron – which is it? Let's take a look…
The Kypron L.I.F.E Membership
The Kypron L.I.F.E membership is designed for people who don't already have an online business & are looking to get started making money, as by signing up to Kypron L.I.F.E you'll be able to earn commissions by reselling Kypron onto other people.
On top of the ability to earn commissions, you'll also be provided with a bunch of additional training material that is geared towards teaching you how best to promote Kypron. The training covers Facebook, Youtube & Pay-Per-Click advertising & also touches on following up with leads to increase conversions.
You'll be set up with sales funnels too so it's literally a case of sharing your Kypron affiliate link, capturing leads & sending them through the process to start earning commissions.
In all honesty, the commission rate is actually pretty high at 70%, and since the Kypron L.I.F.E membership is recurring billing the commissions you'll be able to earn will be recurring too which isn't bad at all.
The Costs Involved
With Kypron currently being in BETA, it seems the price plan is currently undecided, but I think it will either be free to join initially (or $1 for the first 3 days) and then $97 after that if you choose to stick with the Kypron L.I.F.E membership.
Basically, the initial entry cost will be either nothing at all or very low to give you a sneak peek into the program so that you can see there's actually legit content inside which will heighten the chance that you'll upgrade.
And whilst it might seem expensive at $97 per month, if you are a good marketer (or willing to take massive action on the training) it could be pretty lucrative since it's paying out 70% recurring commissions which would be ~$68 per month per active referral.
If the retention rate is good it could be pretty sweet – but I estimate average 1-2 month based on Online Sales Pro's track record which as mentioned above is a similar kind of thing… Still not too bad though, averaging $68-$136 per referral isn't to be sniffed at.
You Might Also Like:
Getting Paid
For some reason at this moment in time Kypron don't seem to have chosen PayPal as their payment processor which is a little strange since it's so widely used, but instead, they've gone with Stripe.
To be honest this isn't a massively bad thing as Stripe are still renowned as being a trustworthy processor but at the moment it does seem that using Stripe is the only way you'll be able to withdraw commissions.
I'd just, therefore, recommend checking Stripe is available in your country (which it probably is) before racking up commissions with Kypron as the last you'd want to do is earn commissions but not be able to withdraw them.
Is Kypron a Scam?
Kypron definitely isn't a scam, it's a genuine program that contains tools & training which can help you get started online. However, in my opinion, it does seem to be quite heavily geared towards buying into Kypron & then pitching Kypron to other people as opposed to teaching you how to build a stand-alone profitable business where you can promote anything (not just Kypron).
But if you're a really good marketer you could make quite a bit of money through the Kypron business opportunity since they're offering out 70% commissions on a recurring $97 monthly fee. If the retention was good then 2 referrals could see you into profit & 20 referrals could see you touching a full-time income.
On the other hand though if you're not such a good marketer & you're still in the learning curve then $97 may be a pretty hefty fee to keep paying out month after month whilst you're not earning anything. If that's the case then I'd probably recommend you start out with something free like this first.
A Better Alternative
The sad truth is that unfortunately most of the programs promising to help you make money online are scams. I can say that confidently after exposing over 500+ of them here on this blog.
But the good news is that even though most of them are indeed scams, there are actually some very good programs in amongst them - some programs that can truly help you to earn money.
And out of all of the legit programs I've seen, the one I would recommend the most to anybody looking to get started online is Commission Academy. In my own opinion, that's the best place to start.
At Commission Academy, you'll be provided with everything you need (including the training & tools) to begin earning real money by promoting products or services for companies like Amazon online.
The best part is that there's literally no limit on the amount you can earn with it & the process is pretty simple which means that it's absolutely perfect for people that don't have much experience.
Some wealthy affiliates even earn as much as 5-figures per month... Or more!

I mean don't get me wrong, that kind of money won't just fall into your lap without doing any work... But the harder you're willing to work at it, the more you stand to earn with it.
So if you're looking to get started but don't know which route you should go down or which program you should join (and don't want to waste money on bogus things that don't actually work), then I'd highly recommend checking out Commission Academy first. You can learn more about it here.