Latest Free Stuff UK claims to provide you with easy access to a whole bunch of different freebies that companies are giving out to allegedly increase their exposure & attract interest to their products…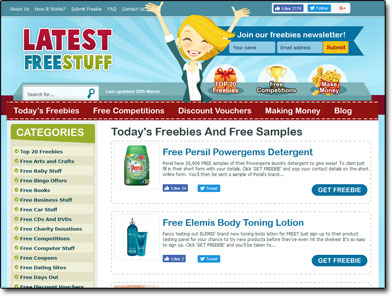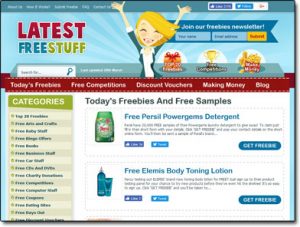 You're led to believe that you can simply browse the site, choose from the freebies & enter a few details to have them sent to you at absolutely no cost… But is it actually legit or is Latest Free Stuff UK a scam that'll somehow trick you into paying money?
Thankfully you've landed in the right place to find out because I've taken a closer look into it all to see exactly how it works & in this review I'll be uncovering everything you need to know, including whether or not the freebies are really as "free" as they make them out to be.
What Is Latest Free Stuff UK?   |   How Does Latest Free Stuff UK Work?   |   What Others Are Saying About It   |   Is Latest Free Stuff UK a Scam?   |   A Better Alternative
What Is Latest Free Stuff UK?
As I briefly touched on above Latest Free Stuff UK is a website that claims to provide you with exactly that – the latest free stuff that's allegedly being offered out by various companies in an attempt to increase their exposure.
You're led to believe that you can simply browse through the site, find freebies that you want & submit a few details to have them sent to you… At no cost whatsoever (according to their site)…
Now obviously everybody loves free stuff, so it's easy to see why you're interested in the site… But is anything really free in life? And with that in mind the promise of so-called freebies might make you a little sceptical about the whole thing…
Is there a catch?
Well the simple answer to that is kind of – and you'll soon see what I mean when I explain how it all works… But overall you should know that Latest Free Stuff UK is certainly not a scam, it is actually a legitimate website (one that even featured on the popular show Dragons Den), and yes – you can really can get "freebies" sent to you from them like they claim.
How Does Latest Free Stuff UK Work?
Well the good news is that the process of getting free stuff from Latest Free Stuff UK is actually pretty darn simple, and there's no need to create an account either – at least not with the Latest Free Stuff website itself anyway.
Literally all you need to do is browse through their site, find the freebies that you want sending to you & click on the "Get Freebie" button beside it (as shown below):

This button will take you through to the website of the company that's running the promotion – though this is where you need to be careful, because remember I said there's a catch? Well this is where it is…
You see basically some of those buttons take you directly to the product companies website & if they do that's usually that's all fair & well, but more often than not they actually take you through to a 3rd party marketing company instead.
This means that if you don't read the T&C's super carefully on each website that you're taken to, your data could end being sold which will ultimately see you receiving a whole bunch of spam in the form of emails, texts, postal mail & even calls.
So yeah, it's "free" in the sense that you don't have to pay them any money… But ultimately you're pretty much "selling your details" to them which like I say could result in a ton of spam if you're not careful.
I mean don't get me wrong, not every site you're taken to will result in spam – but you should know that the main reason these companies are giving you freebies is to try & encourage you to become a customer… So you can definitely expect them to try & contact you later down the line with various offers related to your "freebie".
Plus I also want to point out that some of the "freebies" are not technically free. I came across one which would supposedly get you a "free royal coin" but when I clicked through the site it was asking for £2.50 to cover postage as shown below:

So yeah it's just a case of treading really carefully with the site – but hey ho… If you're willing to put up with various forms of spam then in my opinion it's a pretty good site to find freebies through.
What Others Have To Say About It…
The site itself is pretty easy to use & how it works is fairly straight forward so there's not a great deal to explain about it to be honest, but I figured you might be interested in hearing what some of the sites users have to say about it so here are some 3rd party reviews…


Those reviews were published on TrustPilot & there are several more like it all saying the same thing (which pretty much falls in line with what I said about the website above). There a handful of good reviews in among those negative ones on TrustPilot but overall they only score a mere 2 out of 5 stars there are the time of writing this review.
And strangely as you can see below things are a lot cheerier on their Facebook page but this is likely because they can control the reviews there (I believe) whereas as far as I'm aware they can't do that on TrustPilot…


Like I say it's strange though because nearly all of the reviews on Facebook give 5 star ratings whereas nearly all of the reviews on TrustPilot give just 1 star ratings… It's a pretty big difference.
But anyway that brings me swiftly on to…
You Might Also Like:
Is Latest Free Stuff UK a Scam?
It's definitely not a scam – I know the idea of receiving free stuff might seem too good to be true (as it usually is) but you can indeed actually get freebies sent to you through the Latest Free Stuff UK website.
The only thing I'll point out once again though is that ultimately whilst it's free in money terms, realistically you're "selling your details" to them so you can expect to receive a whole bunch of spam.
Sure some of the companies will give you the ability to out of the spam & promotional emails, but if you send off for a whole bunch of different freebies it can see you inundated with it so it'll be difficult to find out where it's coming from & who to contact to stop it.
So yeah you can indeed get freebies but realistically it doesn't come without a catch… And overall what you also have to understand is that the primary goal of these companies giving you the "free" stuff is to get you to spend money by giving you a "taste" of their product.
This means that whilst the stuff they give you is free, overall it could see you spending more money than you would have done if you weren't actually getting the free stuff in the first place… It's all a big marketing trick.
Anyway, like I say the company is legit – so if you don't mind spam & you love freebies, then it's worthwhile checking it out… However rather than relying on freebies why not take a look at these ways to simply make more money instead?
If you happen to have any further questions or comments about the Latest Free Stuff UK website then feel free to leave them below & I'll get back to you as soon as I can.
A Better Alternative
The sad truth is that unfortunately most of the programs promising to help you make money online are scams. I can say that confidently after exposing over 500+ of them here on this blog.
But the good news is that even though most of them are indeed scams, there are actually some very good programs in amongst them - some programs that can truly help you to earn money.
And out of all of the legit programs I've seen, the one I would recommend the most to anybody looking to get started online is Commission Academy. In my own opinion, that's the best place to start.
At Commission Academy, you'll be provided with everything you need (including the training & tools) to begin earning real money by promoting products or services for companies like Amazon online.
The best part is that there's literally no limit on the amount you can earn with it & the process is pretty simple which means that it's absolutely perfect for people that don't have much experience.
Some wealthy affiliates even earn as much as 5-figures per month... Or more!


I mean don't get me wrong, that kind of money won't just fall into your lap without doing any work... But the harder you're willing to work at it, the more you stand to earn with it.
So if you're looking to get started but don't know which route you should go down or which program you should join (and don't want to waste money on bogus things that don't actually work), then I'd highly recommend checking out Commission Academy first. You can learn more about it here.