If you follow this blog then you'll know that I spend a lot of time reviewing various different online make money systems, however out of all of the ones I've reviewed I have to say that the Lifestyle Lady system is probably one of the most peculiar.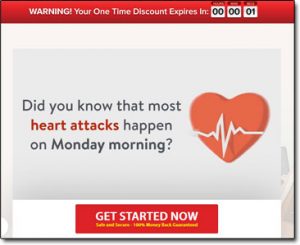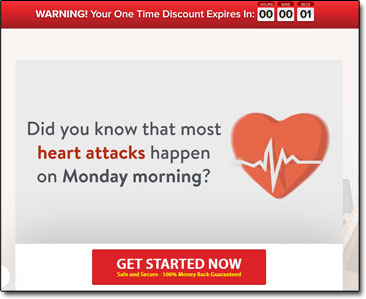 I've seen hundreds of different sales pitches all pulling on different heart strings but I've never seen one that literally pulls on your heart…
The Lifestyle Lady system claims that most heart attacks happen on Mondays due to people getting so stressed towards the end of the weekend about having to go back to work, and that to help prevent these heart attacks the creator has developed this system so that you can leave your job & make money online instead simply by "plugging yourself in"…
How generous…
So is the Lifestyle Lady actually a genuine system & can you really make money with it or is it just a silly gimmick designed to part you with your cash? That's exactly what I'll be helping you figure out right here in this Lifestyle Lady review.
And FYI I'm not an affiliate so you can rest assured that the information I'll be giving you about this system will be completely honest & unbiased so if you've come looking for the truth about the Lifestyle Lady system you've definitely landed in the right place.
What Exactly is The Lifestyle Lady System?
The Lifestyle Lady system claims to be a system that you can simply "plug into" and start generating profits by following simple step-by-step instructions. It even claims to be able to generate you enough income to quit your job.
Naturally those kind of claims make me feel skeptical because whilst it is possible to make money online the internet isn't magical, meaning money doesn't come quickly & easily like the Lifestyle Lady makes out.
Yes you can make job-quitting income online (like I have by following this training) but what you've got to appreciate is that it takes time & work, just like it would if you were to start a business offline.
It Quickly Became Clear What It Really Is…
Just a short way into the Lifestyle Lady sales video it quickly became clear what the system is really about… Well, it's not really a system at all it's actually just another sales funnel that's been put together to get you to buy into something called Digital Altitude.
I have seen a crazy amount of systems launching lately promoting this Digital Altitude opportunity, in fact in the review I recently put together of Copy Success (another system promoting Digital Altitude) I actually mentioned that I couldn't believe how many I had come across… and now here we are with another one.
So What The Heck Is Digital Altitude?
Digital Altitude is what's known as a high-ticket pay to play network marketing program which basically means that it's a company selling high priced products that also gives you the opportunity to earn commissions by reselling the products onto other people… but in order to be eligible to earn the commissions you must first purchase the products yourself (hence the term pay to play).
Digital Altitude will be pitched to you as some kind of easy way to make money (as it is through Lifestyle Lady) and you'll be offered to "get in" for a low price of just $1 or $37, but don't be fooled by the low price.
Whilst the initial entry fee is low you'll be pushed into upgrading to high priced levels as you move through the 21 step introductory training & these levels cost anywhere from around $500 all the way up to around $50,000.
Once you're inside Digital Altitude you'll learn that the way to make money with the system is by promoting the system to different people, but remember as mentioned above you'll only earn commissions on the levels you personally bought in at.
So if you are only paying the monthly fee of $37 you can only earn commissions by reselling that membership to other people. If somebody comes in & upgrades to the $50,000 level you won't see a cent (unless you have personally bought in at that level first in which case you'll see a percentage of the money).
Is It a Scam?
Whilst it's technically not a scam because there is the opportunity to make money, in my opinion it's kinda borderline legit. I mean come on, you're making money by selling the opportunity to make money…
They'll tell you that yes they do have products (and this is true they do) but in my opinion the products have been priced with the commissions in mind & they don't provide true value for money, therefore people are only buying them so that they can qualify to earn money through the attached opportunity.
So yes I guess it's legit by technicality but it's not legit by standards. If I'm promoting something I want to be able to promote it with integrity knowing that it will be providing good value to the people I refer… That's why I promote this.
Should You Join Lifestyle Lady? My Honest Opinion…
Whilst it is kinda borderline legit, the Lifestyle Lady system (Digital Altitude) isn't something that I'm going be recommending to you today & there's a few reasons as to why which I'll explain below.
Firstly I feel that the program is WAY too expensive & in my opinion the products you are purchasing don't provide real value for money. I strongly feel that the products have been priced with commissions in mind for the attached business opportunity.
Secondly it seems to me that the number of people finding success with Digital Altitude is WAY too low. It appears to be a program that's more geared towards people who already have some solid knowledge in internet marketing, whilst newbies are left to struggle.
And finally I feel that the training doesn't follow a solid structure so it kind of leaves you confused & not knowing what to do which makes it hard for you to get started with the opportunity, something you don't want if you're spending that kind of cash.
Basically I just feel that whilst you can make money with the Digital Altitude opportunity there are much better alternatives that will enable you to get started the right way without having to invest so much cash upfront.
If You Are Interested In Making Extra Money You Will Like This...
I'm no millionaire but I do make a good living online & I earn around $10,000 each month which is a life-changing amount to me. If you want I can show you exactly how I do it & how you can also start making around $500-$1,000+ per month for yourself