The Maximus CryptoBot system which has allegedly been put together by two guys named Kim & Max promises that it can provide you with a way to earn around $3,000 or more per day through automated online trading…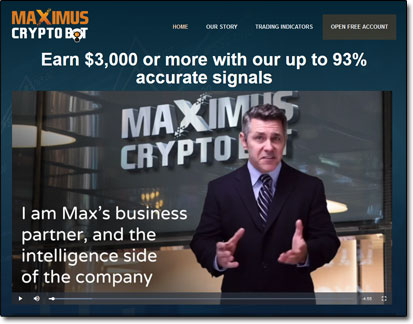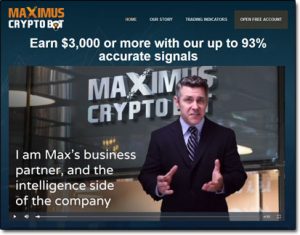 You're led to believe that you can simply sign up, deposit some funds & begin making money right away… But is it really legit or will Maximus Cryptobot scam you & just leave you with less cash than you started out with?
Thankfully if that's something you've been wondering you can rest assured that you've landed in the right place to find out as I've taken a closer look into the system to see how it all works & in this review I'll be uncovering everything you need to know – including whether or not you can really make any money with it.
What Is Maximus CryptoBot?   |   How Does Maximus CryptoBot Work?   |   The Trap   |   Is Maximus CryptoBot a Scam?   |   A Better Alternative
What Is Maximus CryptoBot?
The Maximus CryptoBot system is a newly launched automated binary options trading platform & as I briefly mentioned above it claims it can generate you over $3,000 per day all on complete auto-pilot by trading various cryptocurrencies on your behalf…
You're led to believe that the whole thing has been put together by two guys named Kim & Max, and these guys boast that the system supposedly has a guaranteed win rate of 93% which is previously unheard of.
If this were true then it would mean that overall you would be guaranteed to make money with the system since your winning trades would ultimately outweigh your losses – but sadly it is simply not true.
In reality, the whole thing is actually nothing but a get-rich-quick scam & rather than being designed to help you make money like you're told, it has really just been designed to make it's creators wealthy at your expense instead.
The reason I know that is because the system was previously launched under the name of the "Maximus Edge Autobot" in 2017 & it scammed thousands of people out of their hard-earned cash as shown below (they forgot to change the name in their video):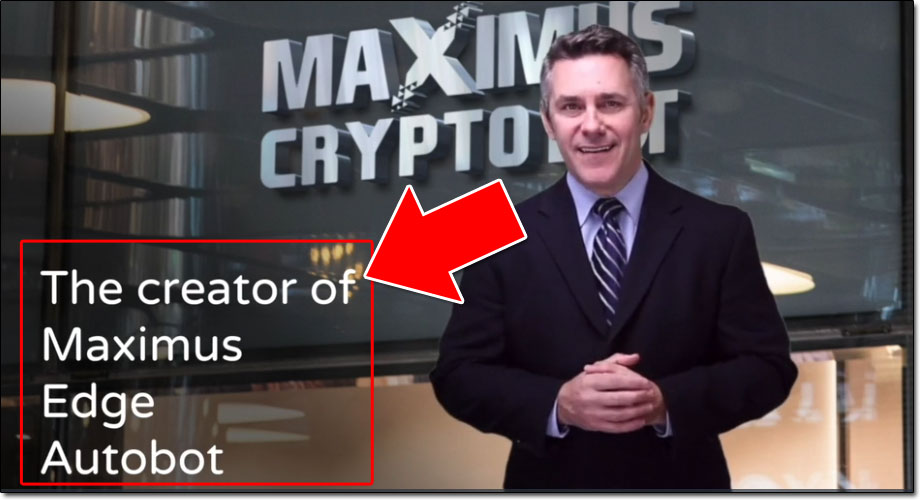 They've merely changed the name of the system from Maximus Edge to Maximus CryptoBot in an attempt to escape the negative reviews to try & continue scamming more people out of their cash.
But of course, I don't just expect you to take my word for this as I appreciate that you might have been really hoping that the system would help you make money, so instead let me show you how it all really works so you can see what's actually going on for yourself…
How Does Maximus CryptoBot Work?
Okay so, in theory, the Maximus CryptoBot system is supposed to be super simple. You're led to believe that all you need to do is create an account, deposit some funds & hit the "start" button to begin making money.

From here the creators make out like the system will make automated trades on your behalf & generate you guaranteed profits with a win-rate of 93%… But in reality, things don't really work out like that.
Instead of making profitable trades like you're led to believe the system will actually make nothing but losses & if you do happen to deposit to try it out, you'll see your account balance quickly begins to deplete…
And the reason for that is because the whole thing is just a hoax. The person behind the Maximus CryptoBot system is actually affiliated with the broker that they tell you to deposit with, and this means that when you deposit with them they get paid a commission.
So, in reality, the whole Maximus CryptoBot system is just a trick to get you to deposit with the creators "recommended" broker so that he can earn himself a commission at your expense. Everything you're told via the Maximus CryptoBot website essentially lies just to encourage you to sign up.
The biggest problem though is that the broker you're "recommended" is actually an unlicensed company, and they're in on the scam too… So as soon as you deposit (which I don't recommend), they'll call you up trying to get you to deposit even more. They'll tell you that it's an amazing opportunity & that you'll be guaranteed to make profits but again these are just more lies… They're just trying to get more money out of you.
And then when you finally begin trading & realize that it doesn't actually work as promised guess what happens? The broker blocks (or ignores) your withdrawal requests… So you can't get your money back.
The whole thing is a flat out con designed to trick you into parting with your hard-earned cash… There is absolutely NO way that you make any money at all by going through the Maximus CryptoBot system, it's just a terrible scam.
Unfortunately, though many people are falling for scams like this & that's why I even had to take some time to put together a dedicated guide helping people to get their money back from scams like this.
You Might Also Like:
Don't Fall For The Trap…
The reason many people get drawn into these binary options & cryptocurrency scams is that the creators of them make it seem like you can't really lose… They make the whole thing seem risk-free.
They lull you into the false sense of security of thinking that if it doesn't work as promised you'll just be able to withdraw your funds back out & that there will be no real harm done… But what they don't tell you is that the broker is actually in on the scam too & that they'll prevent you from getting your money back.
So basically what I am saying is under no circumstances ever "try" any of these automated trading systems out because the likelihood is that you will just end up losing your entire investment – however big or small it may be.
Is Maximus CryptoBot a Scam?
In my opinion, there is absolutely no doubt in my mind that the Maximus CryptoBot system is a scam. I've exposed literally hundreds of systems like it before on this blog & it works in exactly the same way…
Basically the whole thing has just been set up to make the creators (and the affiliates promoting it) wealthy at the expense of the people who are signing up to it… There is no way that you will actually be able to make any money from it like they claim you will.
The truth is that if you really want to make good money online there are no shortcuts or easy "push button" systems. It can certainly be done, and anybody can make good money online (regardless of experience)… But you must be prepared to put in at least some degree of work to make it happen.
If you are somebody that is willing to put in the work then I recommend you check out a legitimate opportunity like Commission Academy instead as that's where you'll get the proper training & tools you need to start making money the right way.
But overall I hope you found this review insightful & more importantly I hope it helped you to save your cash rather than losing it to the Maximus CryptoBot scam. If you do however happen to have any further questions or comments then, of course, don't hesitate to leave them below & I'll do my best to get back to you as quickly as possible.
A Better Alternative
The sad truth is that unfortunately most of the programs promising to help you make money online are scams. I can say that confidently after exposing over 500+ of them here on this blog.
But the good news is that even though most of them are indeed scams, there are actually some very good programs in amongst them - some programs that can truly help you to earn money.
And out of all of the legit programs I've seen, the one I would recommend the most to anybody looking to get started online is Commission Academy. In my own opinion, that's the best place to start.
At Commission Academy, you'll be provided with everything you need (including the training & tools) to begin earning real money by promoting products or services for companies like Amazon online.
The best part is that there's literally no limit on the amount you can earn with it & the process is pretty simple which means that it's absolutely perfect for people that don't have much experience.
Some wealthy affiliates even earn as much as 5-figures per month... Or more!

I mean don't get me wrong, that kind of money won't just fall into your lap without doing any work... But the harder you're willing to work at it, the more you stand to earn with it.
So if you're looking to get started but don't know which route you should go down or which program you should join (and don't want to waste money on bogus things that don't actually work), then I'd highly recommend checking out Commission Academy first. You can learn more about it here.