Money Finder USA has emerged with the surprising claim that it can allegedly help you recover lost and unclaimed money. We've all heard about auctions dealing in the lost belongings and baggage which go unclaimed for months. But who in the world lets his/her money go unclaimed?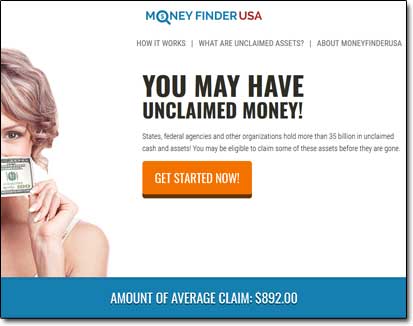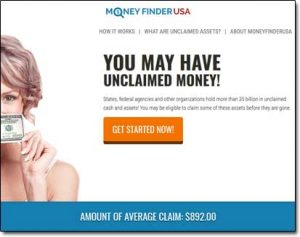 People have been asking me to work on a Money Finder USA review so I've spent the last couple of days in search of the truth behind this strange offer. Understanding the government's policies, especially related to the financial institutions is a tough ask and sometimes we don't exactly realize our rights.
Does this new system actually work or is Money Finder USA a scam? I'll be answering this major question in addition to some general inquiries about this website. Keep reading to know what it actually is and whether or not it really works as promised.
What Is Money Finder USA?   |   How Does Money Finder USA Work?   |   Is Money Finder USA a Scam?   |   A Better Alternative
What Is Money Finder USA?
If you remember something about Congressional Checks – the "program" that I reviewed a few days ago, then it will be easier for you to understand the basic concept behind Money Finder USA. This platform is apparently devoted to serving the people who somehow forgot about the money they deserved but never received… But come on, how many people around you have ever actually forgotten to receive their money? Let's believe it for a second that for some reason or another people do forget about their receivables… The website's creator claims to help you through a unique system which brings back your lost funds.

Now money these days includes various assets such as dividends and stocks & occasionally in the case of sudden death, the inheritors fail to track these assets so they remain unclaimed. This is one of the rare logical reasons to justify the point. The question is, how come a program/software help the situation? How do you even know if you are entitled to unclaimed funds?
Upon research, I found that Money Finder USA is nothing but a false claim. It doesn't really help the refund of unclaimed money. So what are the creators of the website actually doing? There must have been a reason behind this setup? So I decided to spend a little more time looking into it all to see what's really going on…
How Does Money Finder USA Work?
Money Finder USA advertises a simple process which apparently seems like a usual registration form filling. The form requires you to insert the basic information including your name, address, contact, and email. Nothing more than standard routine, or so it seems…
However, once you complete the initial form, you come across multiple options which contain different offers. At this point, I realized that Money Finder USA is simply promoting advertisements. The navigation is so well planned that you have to keep clicking on offers and advertisements. This is what they really want you to keep doing.
In short, Money Finder USA is actually getting paid from various websites and platforms. There is nothing true about their claims of recovering the lost funds. The exercise is based on an illusion & in reality, it's just like many others websites (such as the Ultimate Retirement Breakthrough) which drop you into a sales funnel & push you into purchasing or doing something entirely different.
Forced Clicking!
Have you ever visited a website which blocks the screen with an advertisement and gives you no option but to click on the ad? Money Finder USA is really frustrating in this regard. Ads keep on coming one after another. I'll definitely call them foolish and illogical advertisements which carry no value whatsoever.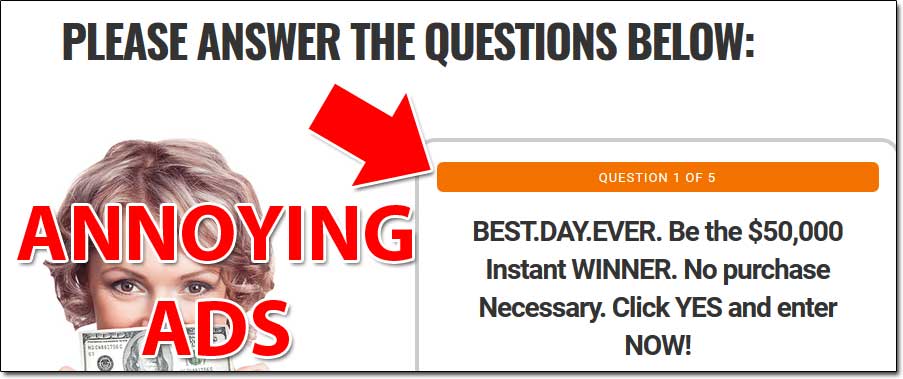 Anyway, after running through all these advertisements you finally reach the page which offer a couple of options. The first option is actually a link to the official US government website which lets people search for any unclaimed funds. You don't have to thank Money Finder USA for taking you this website because it is accessible by anybody on the internet.
The second website is not run by the government but people do visit it quite often – MissingMoney.com. Once again, no reason to thank Money Finder USA!
Close It ASAP…
I made a huge mistake of clicking on the ads to get rid of them but I did this to reach the truth. Soon, I realized that all of these advertisements are now sending crazy amounts of spam to the email address I entered when registering. I just recalled filling in the basic info in a small form! This is what they actually use to chase potential customers by emailing newsletters and ads. It took me more than a couple of hours to restrict all these emails one by one. It was extremely annoying.
The truth is you're not actually going to get anything out of this tiresome exercise. There is nothing on offer. What they want from you is to spend your precious time clicking on the ads they show you in the hope that you'll finally reach the so-called "fund recovery opportunity", but you don't – and they don't even pay you anything in return. There are countless misleading websites but most of them do pay something in return even if it worth pennies.
I'll suggest you avoid Money Finder USA for a couple of major reasons. First, it wastes your precious time by putting you on work without paying you anything in return. Secondly, they take your information and leak it out to other websites and companies. This is highly unethical, immoral and unjustifiable act. I can think of any words to express the level of immorality which these people have dropped to.
Is Money Finder USA a Scam?
This is one of those rare days when I feel I can get harsh. The Money Finder USA scam is much more than an ordinary scam. It is immoral, pathetic and annoying. There are scores of scams but nothing could drop to the level to which this website has dropped. It leaks out your personal information. This is a practical joke. They play with your innocence. Please avoid Money Finder USA!
The truth is that there are many legitimate ways to make money online but none of them are going to just make large sums of money fall into your lap like the Money Finder USA program claims it will. If you really want to make good money online then you must be prepared to put in some degree of work.
The good news though if you are prepared to put in the work is that there are programs like Commission Academy (which is free to join) that will give you all of the training & tools you need to begin properly making money online.
So anyway overall I'll just reiterate that I won't be recommending the Money Finder USA program because as far as I'm concerned it's just a total waste of time & rather than helping you to make money like it claims the reality is that it's just been designed to make it's creator money at your expense instead.
But hopefully, this review gave you the insight into it that you were looking for & more importantly I hope it helped you to avoid it & save some cash. If you do happen to have any further questions or comments about it though then don't hesitate to leave them below & I'll do my best to get back to you as quickly as possible.
A Better Alternative
The sad truth is that unfortunately most of the programs promising to help you make money online are scams. I can say that confidently after exposing over 500+ of them here on this blog.
But the good news is that even though most of them are indeed scams, there are actually some very good programs in amongst them - some programs that can truly help you to earn money.
And out of all of the legit programs I've seen, the one I would recommend the most to anybody looking to get started online is Commission Academy. In my own opinion, that's the best place to start.
At Commission Academy, you'll be provided with everything you need (including the training & tools) to begin earning real money by promoting products or services for companies like Amazon online.
The best part is that there's literally no limit on the amount you can earn with it & the process is pretty simple which means that it's absolutely perfect for people that don't have much experience.
Some wealthy affiliates even earn as much as 5-figures per month... Or more!


I mean don't get me wrong, that kind of money won't just fall into your lap without doing any work... But the harder you're willing to work at it, the more you stand to earn with it.
So if you're looking to get started but don't know which route you should go down or which program you should join (and don't want to waste money on bogus things that don't actually work), then I'd highly recommend checking out Commission Academy first. You can learn more about it here.