My 7 Figure Nest Egg is an online money-making program that's pitched to you by a lady named Jill Veverka, an alleged 66-year old retired teacher that has since gone on to make millions of dollars online from home.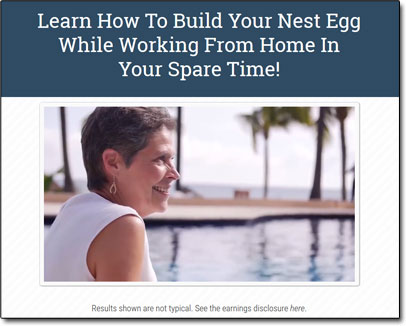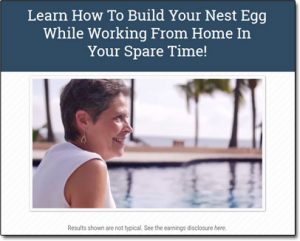 Jill claims that she is ready to share her secret and that she wants to help you to also generate millions of dollars online for yourself so that you can prepare yourself for a good retirement…
But is Jill legit? Or is My 7 Figure Nest Egg a scam?
Well if you've been trying to find out the answer to that question you can rest assured that you've landed in the right place. I've done the digging & in this review, I'm going to be uncovering everything there is you need to know about this program, including whether or not you can actually make money with it.
What Is My 7 Figure Nest Egg?   |   How Does My 7 Figure Nest Egg Work?   |   The Catches   |   Is My 7 Figure Nest Egg a Scam?   |   A Better Alternative
What Is My 7 Figure Nest Egg?
My 7 Figure Nest Egg is a home-based business opportunity & it's presented to you by a lady named Jill Veverka. Jill claims that she was formerly a school teacher but retired & then learned how to build an income online during her retirement.
Impressively she claims that after just 3 years of finding this particular home-based business model she has been able to develop her "nest egg" & travel the world with her husband whilst only working a couple of hours each day.
She claims the reason her system is named My 7 Figure Nest Egg (and I quote) is "because if you apply it correctly, you can build a $1 million nest egg".
One thing I want to point out though is that if you actually read on through the 7 Figure Nest Egg website you'll find out that Jill herself hasn't actually made a million dollars yet. She claims she has made a total of $294,361, which of course is still a staggering amount – but it's a little odd that she's promoting something which claims to help people make a million yet hasn't done it herself.
I don't know, maybe I'm just being picky…
Anyway, whilst the website itself for this system contains a lot of content there is one sentence on there which is particularly important. It is found just below the video & it reads as follows:

The reason that sentence is so important is that it takes you the income disclaimer which highlights a couple of things. Firstly it highlights the fact that most people who join this program don't actually make any money… But secondly, it highlights the fact that the real program being promoted here is actually MOBE.
So with that being said, let's take a look at how this all connects together…
How Does My 7 Figure Nest Egg Work?
Essentially whilst Jill makes out like the My 7 Figure Nest Egg program is a business opportunity in itself, it's not. It's actually just a sales page that's been put together specifically for Jill so that she can sign people up into the MOBE business opportunity which she's involved with.
It's the MOBE opportunity that's been paying her the commissions she's earned to date, and whilst the MOBE opportunity itself is technically legit there are a few catches which you should be aware of before you even consider joining.
I'll explain the catches in a moment but firstly let me explain how this whole thing works…
Basically you land on the My 7 Figure Nest Egg website, you get interested so you enter your email address to get access. You are then invited to "apply to join" for a fee of $49, and after handing over the cash that's when you'll find out that you've actually bought into a program named MOBE.
MOBE, which stands for My Online Business Education is a program which claims to teach people how to make money online. Whilst it does indeed do this, it's come under a lot of scrutinies because the training is heavily geared towards getting you to resell the actually MOBE program itself.
So the reality is it's a case of signing up to MOBE, then learning how to promote MOBE to other people to make money. You of course make money when they hand over the cash to join just like you did.
Anyway, some of the top-earning members like Jill have had their own personalized sales pages created by the team at MOBE – this is done to help them increase their sales by targeting an audience specific to them. In Jill's case, she is targeting retirees like herself who are looking to earn money from home to bump up their nest egg so that they can enjoy a better retirement.
Well, this is what Jill makes it seem like anyway. The reality here is more likely that Jill is simply targeting people who have more money sitting in the bank because MOBE is a very expensive program to get started with. New members can be expected to spend up to around $50k before they can even get the full potential from the program & it's a big risk because there's absolutely no guarantee of making anything back.
Sadly as the income disclaimer proves most people don't actually make anything back – instead they actually end up losing money (and quite often a lot of it).
For that reason, in my review of MOBE, I decided not to recommend it despite it technically being a legit program. There are many alternatives such as Commission Academy for example which give you a high level of training (potentially even higher than MOBE) which are available to join for free. That's a better deal as far as I'm concerned!
Anyway, the takeaway here is that the way the My 7 Figure Nest Egg program works is quite simple. You sign up & invest money, then you try and get others to sign up & invest money just like you did – if you do, then you get paid commissions in return.
Jill is surprisingly quite transparent about this as you can see from the screenshot below:

You Might Also Like:
Now, The Catches…
As I mentioned a little earlier in this review there are some catches associated with this program which is why I don't really recommend it – I touched on one of them very briefly already above.
So catch number 1 is the fact that this whole program is super expensive to get started with, and since there is no guarantee of you actually making any money back it means it's super risky too.
To highlight that here's a table showing you the costs associated with MOBE:

Take note too that those costs are cumulative which means in total you could end up spending well over $50,000… A lot of money to say the least!
And catch number 2 is the fact that this program is a lot harder to make money with than everybody makes out. The people promoting it are making out like it's really easy because they're getting paid to get you to sign up!
What they don't tell you is how much work's actually involved to really make this is a success. Essentially they're misleading you just to make themselves a commission & that's why many people who join end up failing to get the ball rolling… They weren't expecting to have to do all of the work that's really required.
Anyway, I think you probably get the idea by now…
Is My 7 Figure Nest Egg a Scam?
Well, it would be wrong of me to call it a scam because there is indeed the potential to make money with this program – well, the program that's really behind this one anyway (which is MOBE).
However, I won't be recommending it to you because, in my opinion, it's rather deceiving. You're led to believe you can start making money quickly & easily with this system & that it's all plain sailing which is far from the truth.
The reality is that to stand any chance of making money with this program you'll have to first invest a lot of your own money & then secondly you'll have to work tirelessly around the clock to pull it off.
It's possible that eventually you'll be able to whittle your working hours down to 2 hours per day like Jill claims she has but to start with at least that certainly won't be the case. Essentially this is a business opportunity with business being the key word – it's not a job where you are paid directly for your time, instead, you could be working for several months without even earning a dime.
So overall like I say I won't be recommending this program to you because I feel there are much better alternatives available – ones that don't involve such huge investment or risk. Anyway, if you happen to have any further comments or questions don't hesitate to leave them below.
A Better Alternative
The sad truth is that unfortunately most of the programs promising to help you make money online are scams. I can say that confidently after exposing over 500+ of them here on this blog.
But the good news is that even though most of them are indeed scams, there are actually some very good programs in amongst them - some programs that can truly help you to earn money.
And out of all of the legit programs I've seen, the one I would recommend the most to anybody looking to get started online is Commission Academy. In my own opinion, that's the best place to start.
At Commission Academy, you'll be provided with everything you need (including the training & tools) to begin earning real money by promoting products or services for companies like Amazon online.
The best part is that there's literally no limit on the amount you can earn with it & the process is pretty simple which means that it's absolutely perfect for people that don't have much experience.
Some wealthy affiliates even earn as much as 5-figures per month... Or more!


I mean don't get me wrong, that kind of money won't just fall into your lap without doing any work... But the harder you're willing to work at it, the more you stand to earn with it.
So if you're looking to get started but don't know which route you should go down or which program you should join (and don't want to waste money on bogus things that don't actually work), then I'd highly recommend checking out Commission Academy first. You can learn more about it here.