The Online Cash Bonanza system claims it can see you generating as much as $2,739 per day through some sort of "done-for-you" online business. You're pretty much led to believe that you can just sign up and start making money.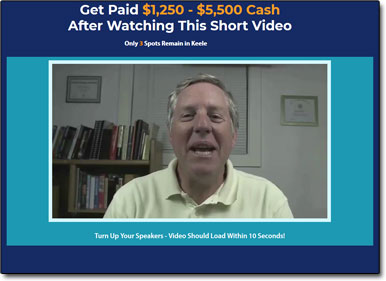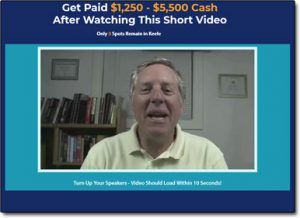 The creators even promise that you'll get paid between $1,250 and $5,500 almost immediately after watching the video…
But is it actually legit or is Online Cash Bonanza a scam that'll just cost you money rather than help you make it?
Luckily you've landed in the right place to find out because I've taken a closer look into this system to see what it's all about & in this review, I'm going to be uncovering everything you need to know including how it all really works.
What Is Online Cash Bonanza?   |   How Does Online Cash Bonanza Work?   |   Fake Testimonials   |   Is Online Cash Bonanza a Scam?   |   A Better Alternative
What Is Online Cash Bonanza?
The Online Cash Bonanza system makes out like it's some sort of automated money-making system that will see you generating loads of cash online without actually having to do anything at all.
The video promoting it claims that you should forget your day job & trash your alarm clock because by landing on the Online Cash Bonanza website you've apparently "just won the lottery"…
But obviously that's a pretty bold claim to make & in order to get access to the system you have to firstly hand over some cash so no doubt you'll be left feeling pretty sceptical about the whole thing.
And you'd have very good reason to be sceptical because the Online Cash Bonanza system is not what it seems. I can tell you right from the off that it's just a get-rich-quick scam that'll ultimately see you losing money rather than actually making it.
Though obviously I don't expect you to just take my word for that – I appreciate you might have been really hoping the system would work for you so instead I'll show you how it all works so that you can see for yourself what's really going on…
How Does Online Cash Bonanza Work?
Well as you'll likely know, the video promoting the Online Cash Bonanza system doesn't go into any real detail at all – it just hypes you up, shows you a few people boasting about how much they've made & then asks you to hand over $49 of your own cash in order to get access to it.
And I know they really want you to act fast & sign up without a second thought – but don't, because I can tell you that if you pay money to buy into this system then you will only find yourself disappointed.
All of the scarcity tactics they use such as telling you that "only 3 spots remain" or that it's "in high demand" are totally fake. These are just designed to rush you through the buying process so that you don't go out and look for reviews before you buy.

And the reason they don't want you going looking for reviews is that they know that if you do you'll find out it's a scam (but hopefully you went against their wishes and came here first before buying).
One easy way to sell the scarcity tactics are totally bogus is by refreshing the page – you'll see that the video plays over & once again you're told that you're allegedly "number 67 out of 70"… So clearly it's fake since they also tell you that 27 other people are looking at the page at the same time as you & if that were true then the spots would have gone.
Don't fall for it…
The truth is that this is just a typical get-rich-quick scam that promises the world but fails to deliver. They make out like you'll be able to make tons of money really easily, but then after you hand over your cash you'll be left to find out the hard way that it isn't true.
The reason I know that is because after taking a look at their "Terms of Use" it turns out what you're actually buying into is something called Easy Cash on Demand (as shown below) which is a well-known scam.

Basically all you get access to after handing your money over & signing up for a $49/mo subscription is some bogus affiliate marketing training.
I mean don't get me wrong affiliate marketing in itself is actually a legitimate (and very good) way to make money online, but the training provided to you through this system is so rubbish it won't see you getting anywhere.
It's certainly not worth the money.
The only reason they actually provide you with some training at all is to prevent you from getting a refund. This way if you ask for your money back they can refuse it by claiming that "you've already seen the training"…
It's a common trick & I've seen several other systems doing exactly the same thing (like the Your Easy Business system for example).
But as I say the truth is affiliate marketing in itself is actually a very good way to build a solid income online, so if you do want to learn more about that & how to get started properly I suggest you check out a legitimate program like Commission Academy instead. It's there that you'll get all the proper training & tools you need to succeed.
You Might Also Like:
The Testimonials Are Fake Too…
In case you were wondering whether or not the people in the Online Cash Bonanza system video were actually making the money they claim they were with the system, I'd like to point out that they're just actors…
The first guy you're shown that claims to have made $10,323 in a single day offers "fake testimonial videos" through a website named Fiverr. He charges a mere $5 & says whatever you want him to say…
Here's proof of that: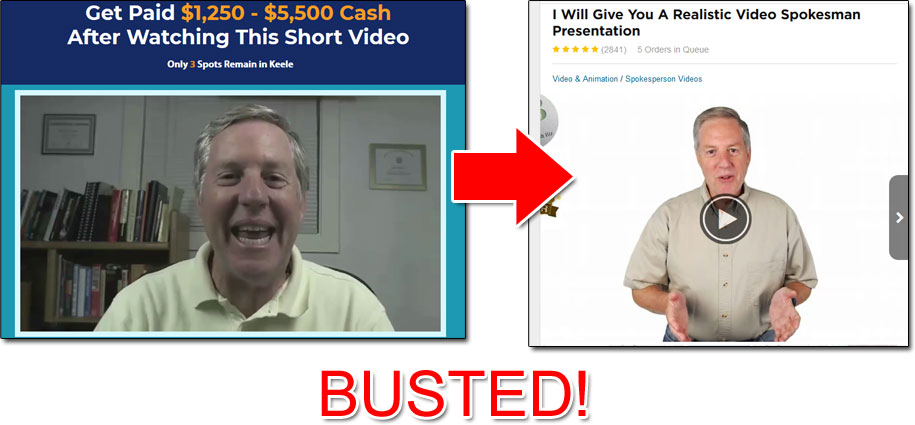 So don't believe a word he says – and the others that appear in the video are all on that site too offering out fake testimonial videos for a few bucks. If they were really making as much money as they claim they were through the Online Cash Bonanza system then they certainly wouldn't all be wasting their time creating videos for a few extra bucks.
Like I say the whole thing's just a trick to part you with your cash. All they want to do is get you hyped up about it & get you curious… So that you'll end up handing over your cash to "find out more"…
But obviously the only thing you'll really find out is that it doesn't work as promised, which brings me onto…
Is Online Cash Bonanza a Scam?
In my opinion yes, the Online Cash Bonanza is a flat-out scam. It's not really going to help you make money like it claims it will & it's clear to me that in reality it's just set out to make the creator wealthy at your expense.
The whole thing is extremely misleading & it doesn't even tell you what's involved, it just gets you really hyped up about the idea of making lot's of easy money to get you to hand over your cash.
Sadly though if you do actually hand over your cash then you'll just be left to find out the hard way that the whole thing doesn't actually work as promised & that you've essentially just been scammed.
Therefore overall I am certainly not going to be recommending this program to you because as far as I'm concerned it's only going to see you losing money, not making it. If you really want to learn how to get started the right way then as I mentioned earlier I suggest you check out a legitimate & proven program like Commission Academy instead.
But anyway whatever you choose to do I just hope this review gave you a good insight into how the whole thing works & more importantly I hope it helped you save some cash. If you happen to have any further questions or comments then do feel free to leave them below & I'll get back to you as soon as I can.
A Better Alternative
The sad truth is that unfortunately most of the programs promising to help you make money online are scams. I can say that confidently after exposing over 500+ of them here on this blog.
But the good news is that even though most of them are indeed scams, there are actually some very good programs in amongst them - some programs that can truly help you to earn money.
And out of all of the legit programs I've seen, the one I would recommend the most to anybody looking to get started online is Commission Academy. In my own opinion, that's the best place to start.
At Commission Academy, you'll be provided with everything you need (including the training & tools) to begin earning real money by promoting products or services for companies like Amazon online.
The best part is that there's literally no limit on the amount you can earn with it & the process is pretty simple which means that it's absolutely perfect for people that don't have much experience.
Some wealthy affiliates even earn as much as 5-figures per month... Or more!

I mean don't get me wrong, that kind of money won't just fall into your lap without doing any work... But the harder you're willing to work at it, the more you stand to earn with it.
So if you're looking to get started but don't know which route you should go down or which program you should join (and don't want to waste money on bogus things that don't actually work), then I'd highly recommend checking out Commission Academy first. You can learn more about it here.