Online Web Typing is a work-from-home website that claims to contain over 856 high paying typing & data-entry related positions. You're led to believe that you can earn upwards of £20 per job & that you have the potential to earn as much as you like, with members supposedly averaging around £220 in earnings per day.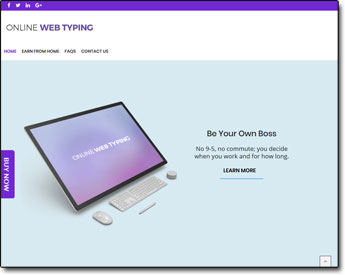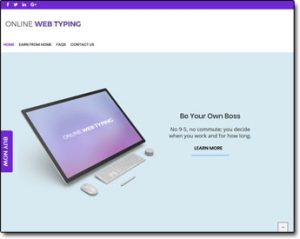 But obviously for such a simple thing like typing that seems to be an extremely bold income claim, so what's the deal here?
Is it actually legit or is Online Web Typing a scam that's just been designed to make the creators richer at your expense?
Thankfully you've landed in the right place to find out because I've taken a closer look to see what it's all about & in this review, I'll be uncovering everything you need to know, including most importantly whether or not you can really make money with them.
What Is Online Web Typing?   |   How Does Online Web Typing Work?   |   Is Online Web Typing a Scam?   |   A Better Alternative
What Is Online Web Typing?
Online Web Typing basically poses as a directory of typing & data-entry related jobs. They lead you into believing that you can just sign up, browse the jobs & start earning almost right away…
They claim that you don't need any skills (other than being able to type) and that you can get started with them even if you have no prior experience at doing these sorts of jobs. According to them, their website enables anybody to make money & for each job you complete you'll see yourself earning between £20 & 25.
And if that wasn't already sounding good enough then on top of that the earning potential is said to be uncapped with most of their members that type efficiently apparently seeing whopping average earnings of around £220 per day…
It almost seems like the dream work from home position, but don't get your hopes up too soon…
Before you can get access to these "amazing" typing jobs you're told that you have to pay a "small training fee of only £26" and this is where things begin to get very suspicious indeed.
All throughout the website, you're sold on how easy the whole thing is, yet further down, you're told that you'll need to pay a training fee… Why would you need training on something if it's supposedly so easy?
And furthermore why are you required to pay this upfront? Surely if these high paying jobs were legitimate then they could just take a percentage of your earnings – that would make more sense for everybody involved right?
The answer to those questions is because the Online Web Typing program isn't quite what it's made out to be – you'll see what I mean in a moment when I explain how the whole thing really works…
How Does Online Web Typing Work?
The Online Web Typing website is designed to do 1 thing & 1 thing only which is get you hyped up about the potential opportunity of earning a whole load of cash from home by completing simple jobs online…
Rather than going into any great detail on the actual opportunity at hand the website merely repeatedly lists reasons as to why you might want to work from home. It basically sells you in on a dream.
You're told that you won't have to do the daily commute, that you get to work when & where you want & so on…
The truth is though that the whole thing's just a ploy. The reason the website works so hard so try & get you hyped up about the opportunity is that the creators of it just want to part you with your cash.
It's basically a repeat of the Legit Flex Jobs Academy scam I exposed previously…
The website lures you in by promising you these amazing high paying opportunities, asks you to hand over your cash & then you're merely left to find out that it doesn't actually hold true on any of its promises.
After buying into the Online Web Typing program (which I don't recommend you do) you'll find out that there are no writing or data-entry jobs paying £20 to £25 as promised. Instead, you'll just be referred to websites like Freelancer & Freedom With Writing where you're told you can sign up to make money as a writer.
I'll admit it's true that you can make money through some of these sites – but it's nowhere near like they make out, and you also didn't need to pay for that information either since those websites are actually free to access.
Basically you're led to believe that after buying into Online Web Typing that they'll sort everything out & connect you with the jobs. All you expect to do is write or enter data and get paid… But nope, instead, you'll just be referred to sites where you'll have to battle for jobs yourself, be unlikely to get them due to the sheer amount of competition & then earn very small amounts from any that you do successfully manage to land.
You certainly won't be earning anywhere near the promised £220 per day if you join this program… In fact, you'd be lucky to make a penny.
And notice how they claim they'll refund your fee after your first job? Well yeah, that's another lie too.
Which brings me onto…
You Might Also Like:
Is Online Web Typing a Scam?
Yes, it is, the Online Web Typing program is just a typical get-rich-quick style scam. There is absolutely no way you should ever need to pay to access a job & if something asks you to then there is something suspicious going on.
Basically this program just works in a similar way to the Legit Flex Jobs Academy program I exposed before – it sells you on the dream of being able to easily earn a lot of cash from home, asks you for money to begin & then fails to deliver on its promises.
Once you actually get access into the Online Web Typing program you will just be left to find out that there are no "jobs" as promised & that instead what you've actually bought is training, which is not what you wanted.
So overall it's safe to say I won't be recommending this program, instead, I'll actually be doing the opposite & advising that you avoid it because the likelihood is if you hand over your cash you'll only be disappointed.
Anyway, hopefully, this review provided you with the insight that you were looking for & helped you save some cash. If you do happen to have any further questions or comments don't hesitate to leave them below.
A Better Alternative
The sad truth is that unfortunately most of the programs promising to help you make money online are scams. I can say that confidently after exposing over 500+ of them here on this blog.
But the good news is that even though most of them are indeed scams, there are actually some very good programs in amongst them - some programs that can truly help you to earn money.
And out of all of the legit programs I've seen, the one I would recommend the most to anybody looking to get started online is Commission Academy. In my own opinion, that's the best place to start.
At Commission Academy, you'll be provided with everything you need (including the training & tools) to begin earning real money by promoting products or services for companies like Amazon online.
The best part is that there's literally no limit on the amount you can earn with it & the process is pretty simple which means that it's absolutely perfect for people that don't have much experience.
Some wealthy affiliates even earn as much as 5-figures per month... Or more!

I mean don't get me wrong, that kind of money won't just fall into your lap without doing any work... But the harder you're willing to work at it, the more you stand to earn with it.
So if you're looking to get started but don't know which route you should go down or which program you should join (and don't want to waste money on bogus things that don't actually work), then I'd highly recommend checking out Commission Academy first. You can learn more about it here.