Lately, I've been taking a closer look at various different cryptocurrencies & ICO's (Initial Coin Offerings) – today it's the turn of Papyrus, which is a soon-to-launch digital marketing cryptocurrency.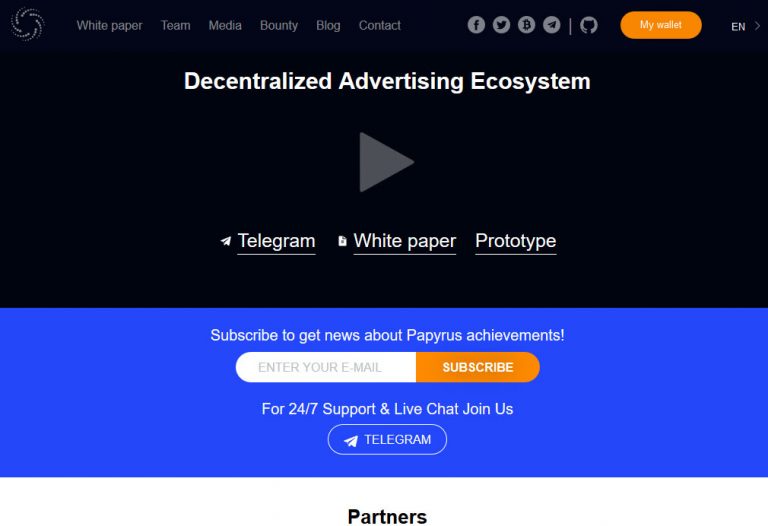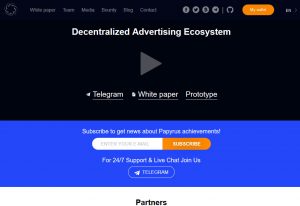 In this review, I'll be uncovering exactly what Papyrus is, how it all works & whether or not you can potentially make money by investing in Papyrus coins (known as PPR tokens). Plus I'll be taking a look at the Papyrus scam rumours & setting the record straight once & for all.
So whether you're looking to simply find out more about the coin or you're looking to find out whether or not it's legit you can rest assured that you've landed in the right place to find out literally everything you need to know.
What Is Papyrus?   |   Is Papyrus a Scam?   |   The Bottom Line   |   A Better Alternative
What Is Papyrus?
This seems to be the big question that's been getting asked and to be honest, I'm not surprised because the concept of Papyrus can be quite a struggle to get your head around.
According to their own website, Papyrus is…
the world's first fully comprehensive and highly scalable decentralized ecosystem for digital advertising which radically improves the programmatic advertising stack to provide efficient, transparent and mutually beneficial environment for users, publishers, advertisers and decentralized application (dApp) developers using blockchain architecture.
But cutting the jargon, what's this mean in real terms?
Well, basically it means that Papyrus is a coin that's intended enhance the world of digital marketing for users, publishers and advertisers. Benefits include things like controlled advertising for users (so they can determine what they see & what they don't – along with exactly what data they want to share), higher revenues for publishers & prompter payments, along with better traffic & transparency for advertisers.
So essentially Papyrus is a "smart" ad network & as everything is handled in-house via the ecosystem they claim that this means it's much more highly scalable & that it enables for better real-time control/bidding of ads.
One of the more interesting things that they want to achieve is a reward system whereby users, publishers & advertisers are all rewarded for responsibly sharing data so that advertisers can serve better ads to users which in turn will benefit the users themselves.
Obviously, users will have to agree to what can & can't be shared and likewise so will the advertisers/publishers, however, they are hoping that as mentioned this can be done through a reward system – so ultimately it will be in the interests of them to share the data.
As it is at the moment users have no real interest to share data, so why would they? In fact, at the moment people want to share as little data as possible, so if the reward system works out then that could be BIG for advertisers because as far as they're concerned data is everything.
Similarly, it will also result in users better interacting with ads which again will be another win for advertisers, but it also be a big win for publishers as it will mean a boost to their revenue for driving more traffic.
It's certainly fair to say that the concept is pretty interesting, and instead of rivaling the other networks like Microsoft's Bing Network & Google's Adwords Network, Papyrus are aiming to create a centralized solution that these other networks can latch onto & use to serve better ads through their own networks.
Is Papyrus a Scam?
Papyrus definitely seems legit as far as I'm concerned – but I can appreciate why people are asking the question because when it comes to cryptocurrencies there are a LOT of scams circulating about.
Over the past 2 weeks alone I've exposed around 20 different scams, all of which were focusing on the cryptocurrency market in the hope that they could take advantage of the newbies who were just looking to make a quick buck by investing.
Resonance Capital & BTC Global Team were just 2 of the scams I saw but if you read my reviews of them you'll quickly see how they can actually look very convincing & could potentially catch people out… So it's definitely wise to be careful & to ask the questions.
I'll admit that I have seen a few Papyrus scam rumours on the web whilst carrying out due diligence but these have likely been written by people who either don't have a full understanding of the company or by people who are potentially scammers themselves looking to draw people into a different opportunity instead.
I'm certainly no expert on cryptocurrency ICO's myself but from what I've seen I personally believe don't believe Papyrus is a scam, it definitely seems like a legitimate ICO & a promising one at that.
I still don't think it rivals PayPie though which is my personal top-pick ICO at the moment (however I still didn't invest in that company because I firmly believe my #1 recommendation on this blog provides a better means of generating an income overall).
The Bottom Line
As far as I'm concerned Papyrus is legitimate & the concept looks very interesting. The coin could certainly increase in value & it could potentially make for a good investment, but similarly, it may not & you could end up losing money.
Realistically what happens with a company like this is anybody's guess & as a result, I personally won't be investing money into this company. If you decide that you like their concept then please do keep in mind that you should only ever invest money that you can afford to lose as there is still a lot of risk involved despite how good or promising you may believe it to be.
Again, whilst I personally believe Papyrus looks like a promising company & good ICO I am no expert in this particular field & so I would advise that you always do your due diligence from numerous sources before investing any money.
A Better Alternative
The sad truth is that unfortunately most of the programs promising to help you make money online are scams. I can say that confidently after exposing over 500+ of them here on this blog.
But the good news is that even though most of them are indeed scams, there are actually some very good programs in amongst them - some programs that can truly help you to earn money.
And out of all of the legit programs I've seen, the one I would recommend the most to anybody looking to get started online is Commission Academy. In my own opinion, that's the best place to start.
At Commission Academy, you'll be provided with everything you need (including the training & tools) to begin earning real money by promoting products or services for companies like Amazon online.
The best part is that there's literally no limit on the amount you can earn with it & the process is pretty simple which means that it's absolutely perfect for people that don't have much experience.
Some wealthy affiliates even earn as much as 5-figures per month... Or more!

I mean don't get me wrong, that kind of money won't just fall into your lap without doing any work... But the harder you're willing to work at it, the more you stand to earn with it.
So if you're looking to get started but don't know which route you should go down or which program you should join (and don't want to waste money on bogus things that don't actually work), then I'd highly recommend checking out Commission Academy first. You can learn more about it here.