Resonance Capital is a newly launched cryptocurrency investment opportunity that boasts crazy monthly ROI's of 12% to 17% – figures that in the "real" world of investing are generally very, very unachievable.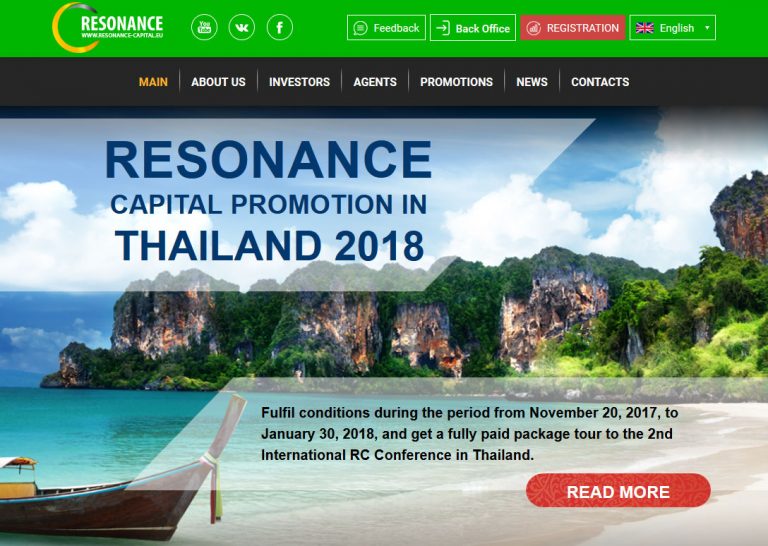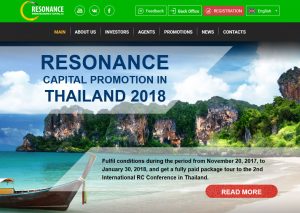 However whilst it might initially sound fairly lucrative don't get your hopes up about the company too soon as there's been a lot of negative comments circulating the web – so you might be wondering, what's the deal?
Is it actually legit, or is Resonance Capital a scam that's just going to ultimately see you out of pocket?
I've taken a closer look & in this review, I'm going to be sharing everything you need to know before joining.
What Is Resonance Capital?   |   How It Really Works   |   The Compensation Plan   |   Is Resonance Capital a Scam?   |   The Bottom Line   |   A Better Alternative
What Is Resonance Capital?
Resonance Capital is actually very similar to an opportunity I recently reviewed on this blog named BTC Global, and just like BTC Global, it is a cryptocurrency investment program that claims to generate it's members profits by collectively trading their funds.
You're led to believe that apparently all you need to do is invest funds with the company & they will manage them, making "secure" investments and generating you guaranteed profits of around 12% to 17% per month.
But in reality, these claims are insane & it's clear to me that again just like we previously seen with BTC Global this whole thing seems to be nothing more than a fancy bit of spiel to cover up the underlying Ponzi scheme.
I mean think about this for a moment – 12% to 17% per month may not seem like a great deal in terms of a percentage, but if we look at it in terms of monetary value that would be a return of $170 per month on a $1,000 investment which in terms of investing is just a crazy, unheard of fixed ROI.
Investing $10,000 with the company would see you passively earning $1,700 per month, which for some couple replace their full-time income. As the saying goes if it sounds too good to be true then it probably is, and in this case, it definitely is.
How Resonance Capital Really Works…
I'll admit that the Resonance Capital website is actually pretty convincing – they've done a good job & faking licenses & coming up with a whole load of spiel to make their operation seem legit, but the reality is that after digging deeper it becomes quite apparent that it isn't…
I mean for one which legitimate company decides to fake their license? Yes, the image of their "license" that you're linked to from their website isn't real at all. It claims to be issued by the Vanuatu Financial Services Commission but if you search the database on their website you'll see that no records show up for the search term "Resonance Capital" as it's displayed on the image of their so-called certificate.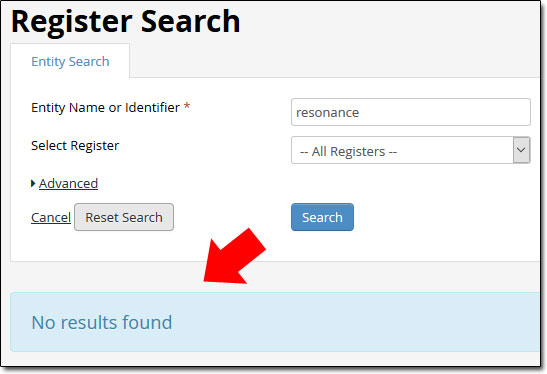 So yeah that's lie number 1 (which is a pretty big lie I think you'll agree) but lie number 2 is…. well basically it's everything you're told on the website.
Resonance Capital leads you into believing that professional fund managers will generate profits on your funds by making tactical investments but this is entirely not true, the real money coming into the company is coming directly from the new members signing up.
Yes… in typical Ponzi scheme fashion!
So basically when you sign up & invest your funds, the funds you have invested are being paid out to the members that invested before you – and then you are left relying on new people signing up to the company after you so that you will be able to get a payout on your own investment.
If you invest & no new members sign up then you will lose all of your money. There is certainly the possibility to make money via this company (illegitimately) however as you can see there is also a massive risk to your funds.
Resonance Capital Compensation Plan
Obviously, as you can see this company & the others like it are completely unsustainable which is why I never recommend them, but I know that several people reading this review will ultimately go against my advice & sign up anyway (it always happens) so I feel I should still give you a full overview of the company so that you can see how it actually works…
So let me show you how as a member of this company you would actually generate money (but know that the chances of you losing money as a member are far greater overall)…
Despite boasting monthly ROI's Resonance Capital want you to keep your money invested with them for as long as possible and so they breakdown their compensation plan over much longer periods of time as you can see below:
Basic Member: Invest $50-$100 earn 144% ROI after 168 days
Bronze Member: Invest $150-$700 earn 148.9% ROI after 168 days.
Silver Member: Invest $800-$2000 earn 158.4% ROI after 336 days.
Gold Member: Invest $2500-$5500 earn 168% ROI after 336 days.
Platinum Member: Invest $6000-$9000 earn 180% ROI after 336 days.
VIP Member: Invest $10,000-$16,000 earn 192% ROI after 336 days.
IPO Member: Invest $20,000-$50,000 earn 288% ROI after 336 days.
You Might Also Like:
Is Resonance Capital a Scam?
Well there is the potential to make money, but that potential is very slim – the likelihood is that if you invest money with Resonance Capital then you will end up losing it as ultimately this scheme has purely been designed to make the creators wealthy… Anybody else that makes money off the back of it just got lucky, and generally, the only people that make money with these types of things are those that got in very, very early…
Right now the chances are that the ship has already sailed & that anybody who invests now will either lose their money entirely or struggle to make it back – the chances of seeing profits are very small.
In terms of it is a scam, yes really it is because ultimately it's unsustainable & if not all, eventually it's going to see some of the members out of pocket so yes some people joining this opportunity will feel like they have just been totally scammed – that's why I always advise against joining opportunities like this (especially since I know there are much better alternatives with nowhere near the level of risk).
The Bottom Line
To be honest there's nothing good about Resonance Capital – it looks convincing but it doesn't play the part, it's just another churn & burn Ponzi scheme money-maker like USI Tech, BTC Global & the Bitcoins Wealth Club. These type of things are best avoided.
There are indeed some legitimate cryptocurrency opportunities out there but they are few & far between – the majority of the cryptocurrency opportunities that are launching are just jumping onto the back of the hype surrounding Bitcoin in the hope that they can part a whole bunch of people with their cash.
My advice to you would be to avoid these types of things altogether, and instead, you should check out my recommendation below because that will undoubtedly provide you with a much better solution (without the risk of a stupid scheme like this one).
A Better Alternative
The sad truth is that unfortunately most of the programs promising to help you make money online are scams. I can say that confidently after exposing over 500+ of them here on this blog.
But the good news is that even though most of them are indeed scams, there are actually some very good programs in amongst them - some programs that can truly help you to earn money.
And out of all of the legit programs I've seen, the one I would recommend the most to anybody looking to get started online is Commission Academy. In my own opinion, that's the best place to start.
At Commission Academy, you'll be provided with everything you need (including the training & tools) to begin earning real money by promoting products or services for companies like Amazon online.
The best part is that there's literally no limit on the amount you can earn with it & the process is pretty simple which means that it's absolutely perfect for people that don't have much experience.
Some wealthy affiliates even earn as much as 5-figures per month... Or more!

I mean don't get me wrong, that kind of money won't just fall into your lap without doing any work... But the harder you're willing to work at it, the more you stand to earn with it.
So if you're looking to get started but don't know which route you should go down or which program you should join (and don't want to waste money on bogus things that don't actually work), then I'd highly recommend checking out Commission Academy first. You can learn more about it here.