BTC Global Team is one of the latest cryptocurrency money-making opportunities to launch & it's said to have been put together by a guy named Steven Twain, who, according to the BTC Global Team website is supposedly an "expert binary options trader" that has had over 6 years of consistent success.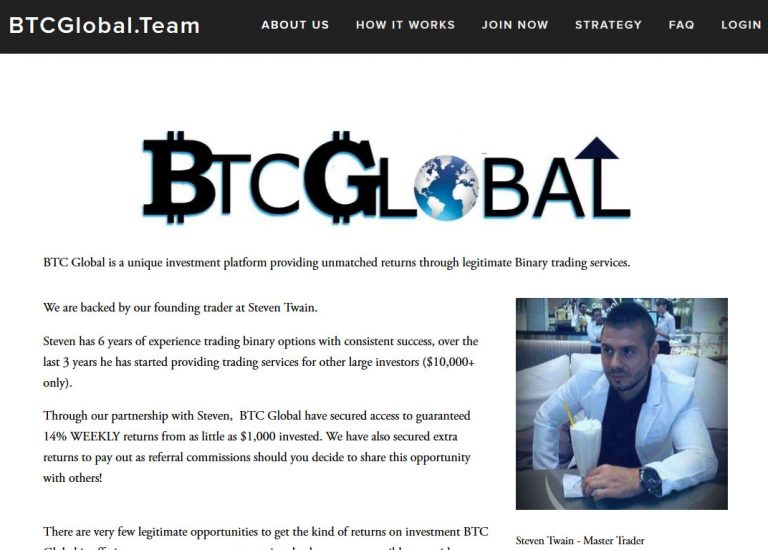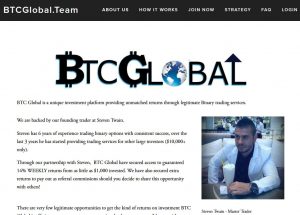 Through the opportunity, you're led to believe that you can see guaranteed weekly returns of 14% on investments of $1,000 upwards, which I think you'll agree is a pretty insane claim to make.
Naturally, that's probably left you wondering is it really legit or is BTC Global a scam that's just going to see you out of pocket?
Well, I've taken a closer look & in this review, I'm going to be sharing everything you need to know.
What Is BTC Global?   |   How It Actually Works   |   The Compensation Plan   |   Is BTC Global a Scam?   |   A Better Alternative
What Is BTC Global?
According to their website (which is very misleading), you're led to believe that you can invest money into BTC Global & that their founder Steven Twain, a so-called "master trader" will trade your funds on the binary options market & generate you guaranteed weekly returns of 14%.
But take it from me this is complete nonsense and the reason I can tell that straight from the off is that binary options trading is a complete utter scam & there's no way somebody (Steven) has managed to have 6+ years consistent success as the website claims & there's certainly no way he can generate guaranteed fixed profits through his trades.
How do I know binary options is nothing but a scam? Easy! Over the past few years, I reviewed literally hundreds of different binary options systems (like The Bitcoin Code) & every single one of them turned out to be completely fake. The whole thing was set up by the brokers as an easy way for them to fool people into parting with their cash.
Forbes themselves even wrote an article urging people to avoid binary options & then shortly after many countries including the USA decided to ban binary options companies from operating within their borders altogether (a move which I very much welcomed).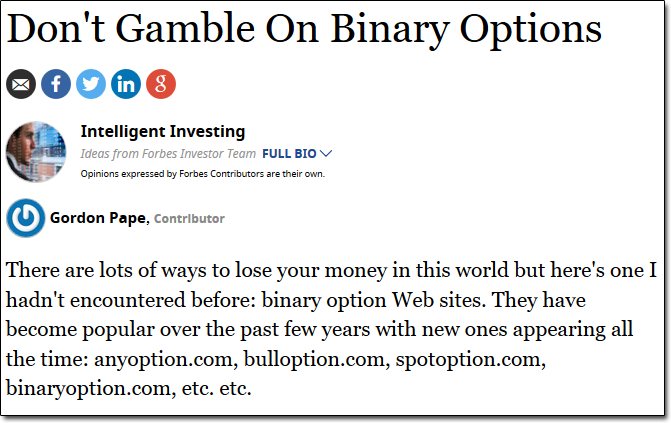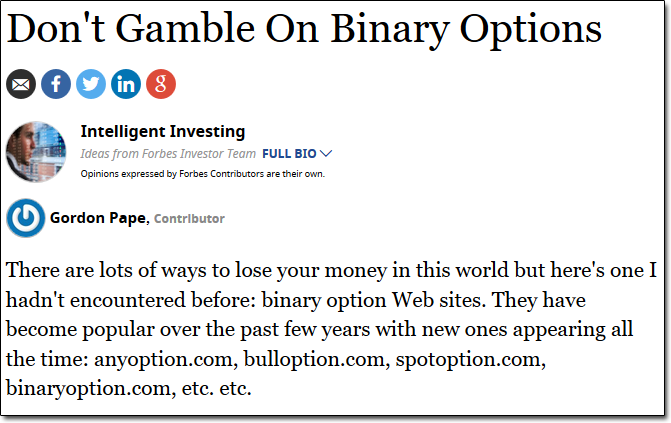 So yeah, basically binary options trading is bad news & anybody who claims to have managed to generate consist profits is flat-out lying as the odds are no greater than the flip of a coin… In fact, funnily enough, they're potentially even less… It really is that bad.
How BTC Global Actually Works…
After reviewing several similar cryptocurrency make-money opportunities it's quite easy for me to see what's really going on here with BTC Global. Just like the other similar schemes that have come before it such as USI Tech & Bitcoin Wealth Club this is obviously just another recruitment based Ponzi scheme.
Basically, this means that the money being paid out to investors (the 14% ROI) is coming directly from the funds that are being invested by the new members signing up – so you'll be actively encouraged to recruit people to the opportunity & once people stop coming so will the money.
The biggest risk here is that there really is no telling when new people will stop coming, so this means that you could invest funds today & find out that the company has already collapsed or collapses literally just after your investment which will mean instead of making money you'll actually lose your entire investment.
And if you think the chances of it happening to you are unlikely think again, The Advert Platform scam (which was formerly My Advertising Pays) runs in a very similar way & this parted millions of people worldwide with their investments. The chances of you losing money are actually very real & very high.
The only main difference between that particular program & the BTC Global Team program is that this one operates on cryptocurrency which actually makes matters even worse because cryptocurrency transactions are completely untraceable.
This means that if you do happen to lose money to this particular program then you will have NO chance of getting it back, and with the minimum investment amount required being at least $1,000 essentially this company is asking you to put a heck of a lot of money at stake.
Realistically these companies are set up to make the creators wealthy – sure some people who get in early might ride the wave a little too but the chances are the majority won't, and the majority will lose money not make it. The creators don't care though because as you can see they have kept their contact details hidden from their website so that once it collapses they can simply fire up another company under a different name & continue the scam.
Don't get drawn in.
The BTC Global Team Compensation Plan
Whilst I am actively encouraging you to avoid this opportunity as I believe it poses a huge risk, I know that many people reading this review will still go against my advice & join therefore I figured I may as well give you all the details so that you can make a properly informed decision.
So let me run through the compensation plan with you & show you how much you could actually make as a member of this opportunity (and how you actually make it)…
First things first, you don't have to take part in the affiliate program – you can merely invest & reap the 14% ROI if you wish, but taking into consideration your income is reliant on new members joining the company you will likely want to actively participate in getting new members to join…
Doing so will also boost your income & you will be pushed by the company into promoting it…
Firstly you will need to refer 5 people to BTC Global to unlock their Level 1 affiliate earnings program which will see you earning 4% on the investments made by the members you referred (but you won't begin earning anything until you have successfully made at least 5 referrals).
The commissions are paid out on re-investments too, so if your referrals make money & decide to re-invest into the company to make some more then you will earn another 4% commission on that investment (and again each time they re-invest).
From here you can boost your affiliate earnings by recruiting more people – but as you recruit more people you will also unlock additional earning potential which goes as follows:
Recruit 15 people – you can earn 4% from the members referred by your referrals (another level of earnings)
Recruit 30 people – you can now earn 3% from your level 3 referrals
Recruit 50 people – you can now earn 1% on your level 4 referrals
Recruit 100 people – you can now earn 0.5% on your level 5 referrals
But remember whilst recruiting more people opens up new income opportunities you will only earn additional income if the people you have referred are actually referring members themselves. If they're not, despite opening up new opportunities to earn you won't actually earn anything.
So yeah, basically the company operates a multi-level compensation plan like a network marketing or MLM company & I'll admit that this could prove to be pretty lucrative but sadly there is no real product involved which means it will inevitably collapse. It's a churn & burn money-maker, not a sustainable income solution.
You Might Also Like:
Is BTC Global Team a Scam?
Is the company a scam? Yes and no, it depends on your definition of scam – you can potentially make money with it but it's very risky & it's definitely not a sustainable solution because, in my opinion, it's clearly a Ponzi scheme.
So I won't be recommending it to you because if you do invest funds into BTC Global then they will put under a lot of risk & the chances are that you could end up losing them. It would be silly of me to recommend an opportunity like this to you because I've reviewed hundreds of opportunities on this blog over the years & I know that there are much better ones out there that you should join instead (that don't involve risk like this).
The likelihood is that if you're thinking of investing with BTC Global you've probably already missed the boat – usually, the only people that make money with these companies are the people that get in very, very early & by now it's likely already too late so take my advice & give it a miss.
A Better Alternative
The sad truth is that unfortunately most of the programs promising to help you make money online are scams. I can say that confidently after exposing over 500+ of them here on this blog.
But the good news is that even though most of them are indeed scams, there are actually some very good programs in amongst them - some programs that can truly help you to earn money.
And out of all of the legit programs I've seen, the one I would recommend the most to anybody looking to get started online is Commission Academy. In my own opinion, that's the best place to start.
At Commission Academy, you'll be provided with everything you need (including the training & tools) to begin earning real money by promoting products or services for companies like Amazon online.
The best part is that there's literally no limit on the amount you can earn with it & the process is pretty simple which means that it's absolutely perfect for people that don't have much experience.
Some wealthy affiliates even earn as much as 5-figures per month... Or more!

I mean don't get me wrong, that kind of money won't just fall into your lap without doing any work... But the harder you're willing to work at it, the more you stand to earn with it.
So if you're looking to get started but don't know which route you should go down or which program you should join (and don't want to waste money on bogus things that don't actually work), then I'd highly recommend checking out Commission Academy first. You can learn more about it here.