Through the Passive Income Machines program which has been put together by 2 guys named Paul Nicholls & Trevor Carr, you're led to believe that you'll learn how to easily generate a passive income of $2,000 per month online.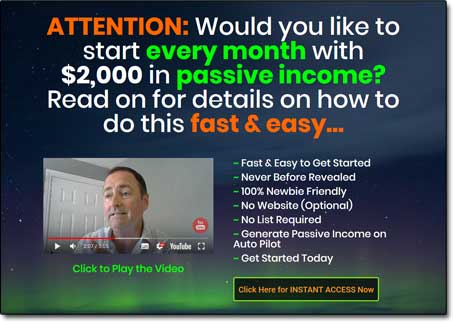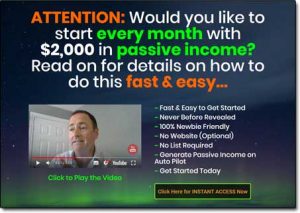 And they claim that you can even rinse & repeat the method over & over again to earn as much money as you like…
But is it actually legit or is Passive Income Machines a scam that'll just end up taking money from you rather than actually helping you make it?
Luckily you've landed in the right place to find out because I've taken a closer look into it all & in this honest review I'll be uncovering their so-called "secret" method & outlining whether or not you can really make any money with it.
What Is Passive Income Machines?   |   How Does Passive Income Machines Work?   |    The Method   |   The Upsells   |   Is Passive Income Machines a Scam?   |   A Better Alternative
What Is Passive Income Machines?
The Passive Income Machines program, as I briefly touched on above has been put together by 2 guys named Paul Nicholls & Trevor Carr. Now, these 2 guys are renowned for creating overly hyped-up money-making programs.

I've come across several of them in the past & whilst I'm not too sure if they've ever worked together on one before, I've definitely seen their names individually linked to other "bogus" money-making programs.
Well, maybe not bogus – I've potentially used the wrong word there, but basically programs that didn't fully deliver on their promises.
Anyway, here they are again, this time together & with a new program called the Passive Income Machines which is going to supposedly provide you with a "secret" method for earning $2,000+ per month all on auto-pilot.

You're told that the whole thing is newbie-friendly, that you can get started fast, and that once you've got everything set up you'll be making a lifelong passive income without having to do any extra work.
And all of this is allegedly accessible for just $9.95… LOL.
So don't go rushing into signing up just yet because as you can probably already guess things are not quite as they seem & in reality this program probably isn't going to help you earn anything at all… But you'll soon see that for yourself when I explain how it all really works below.
How Does Passive Income Machines Work?
Well, basically the first thing I'll say about is that it sure as heck doesn't work as promised. I mean as you'll soon see you do indeed get access to some training, but the likelihood of you going on to make $2,000 per month with it is very small indeed.
So, essentially the whole thing is based on recurring subscriptions… You're told that these are the way forward & that by promoting products as an affiliate that pay recurring fees you can generate a lifelong passive income.
Which is kinda true, and it's kinda not…
You see don't get me wrong recurring subscriptions are great – and I agree that promoting products with recurring subscriptions is often a lot better than promoting products with one time fees… After all, you're putting in pretty much the same amount of effort, yet the end result from promoting a subscription-based product is that you're getting paid multiple times.
However, even the best products in the world have pretty high drop-out rates on their subscriptions. I mean sure, you probably will get a few people that sign up & stay subscribed for years… But you should know that those kind of customers are actually pretty darn rare.
Most people cancel after their first month and those that don't generally only last a couple more…
So all of Paul Nicholls' & Trevor Carr's talk about building a cumulative income is half true, and it sounds good in theory but doesn't really work out in practice.
For example, they make out as if each new subscriber you get will just add onto your monthly passive income, but they don't talk so much about the rate of other subscribers dropping off.

Getting more subscribers each month than the amount that are dropping off can actually be a pretty difficult task… Yet, of course, the guys behind the Passive Income Machines program make it sound easy because they just want to sell their product to make money at your expense. That's what's really going on here.
The Passive Income Machines Method
Honestly, the method they teach is pretty much the same method that's taught in ~99% of the other hyped-up money-making programs, the only difference is that they put a focus on promoting subscription-based products.
The whole thing's actually pretty similar to the IM Niche Domination product that I just reviewed this morning.
Basically you're told that you need to create a capture page, send paid traffic to it, collect email addresses & then promote subscription-based products to the email list.
There's nothing special or revolutionary to be found in the program at all.
Don't get me wrong though for $9.95 the guys behind it have actually put together quite a large amount of training, but ultimately due to the way it's laid out it'll probably just confuse you rather than help you.
"Information overload" comes to mind.
You Might Also Like:
Then There Are The Upsells…
If you think that $9.95 is the last of it then think again as the Passive Income Machines program could actually end up costing you a lot more due to the multiple upsells that are pushed on you inside.
Literally immediately after getting inside, you're presented with an upsell for "extra training" which will cost you $97…
Then right after that, you're presented with another upsell for "advanced training" (LOL) which costs $27…
And finally, you'll be presented with another upsell which will give you license rights to resell the program & earn 100% commissions… Which will cost you $47.
In my opinion, none of the upsells are worth it, and without the upsells it's clear that you're not really getting the full deal… So you can basically expect to spend $133.95 or nothing if you wish to pursue the program.
Is Passive Income Machines a Scam?
Well, it's not a scam, that would be a pretty harsh verdict to come to. After all, you do get access to some training as promised, it's just that in my opinion, the whole thing is totally overhyped. There's simply no way that you're going to be able to generate a passive income of $2,000 per month as they claim…
So for that reason I am not going to be recommending it to you because I feel that if you join the program you'll just find yourself disappointed & what's worse you could have potentially wasted $133+.
The truth is there are actually free training programs out there like Commission Academy which is legitimate & proven to work so there's no need to waste your time or money on bogus systems like the Passive Income Machines which make totally outrageous claims.
But anyway you can do whatever you like, I just hope though that this review has given you a good insight into the program & helped you see how it really works & why you probably want to avoid it.
If you do have any further questions then don't hesitate to leave them below & as always I'll get back to you as soon as I can.
A Better Alternative
The sad truth is that unfortunately most of the programs promising to help you make money online are scams. I can say that confidently after exposing over 500+ of them here on this blog.
But the good news is that even though most of them are indeed scams, there are actually some very good programs in amongst them - some programs that can truly help you to earn money.
And out of all of the legit programs I've seen, the one I would recommend the most to anybody looking to get started online is Commission Academy. In my own opinion, that's the best place to start.
At Commission Academy, you'll be provided with everything you need (including the training & tools) to begin earning real money by promoting products or services for companies like Amazon online.
The best part is that there's literally no limit on the amount you can earn with it & the process is pretty simple which means that it's absolutely perfect for people that don't have much experience.
Some wealthy affiliates even earn as much as 5-figures per month... Or more!

I mean don't get me wrong, that kind of money won't just fall into your lap without doing any work... But the harder you're willing to work at it, the more you stand to earn with it.
So if you're looking to get started but don't know which route you should go down or which program you should join (and don't want to waste money on bogus things that don't actually work), then I'd highly recommend checking out Commission Academy first. You can learn more about it here.